• On This Day In Pro Wrestling History (December 15, 1996) – WWF In Your House 12: It's Time
On this day in Pro Wrestling history on December 15, 1996, the World Wrestling Federation aired 'WWF In Your House 12: It's Time' LIVE on PPV from the West Palm Beach Auditorium in West Palm Beach, Florida.
The main event of this pay-per-view event saw Bret "The Hitman" Hart, who returned from his hiatus a month earlier at Survivor Series, challenging WWF World Heavyweight Champion "Sycho" Sid for the belt.
The Results:
– Flash Funk def. Leif Cassidy
– WWF Tag Team Championship: Owen Hart and the British Bulldog (c) def. Fake Diesel & Fake Razor Ramon
– WWF Intercontinental Championship: Marc Mero def. Hunter Hearst Helmsley (c) via count-out
– Armageddon Rules: The Undertaker def. The Executioner
– WWF World Heavyweight Championship: Sycho Sid (c) def. Bret Hart
• Documentary On Chris Benoit Coming Soon
It looks like Vice is making a documentary on Chris Benoit as a part of their "Dark Side of the Ring" series.
Sister of Nancy Benoit (Chris's wife) posted a video on Twitter and posted the following with it:
"Vice. We did it. Coming soon. How do you heal a family when murder and hate is involved? Well.. your sister #nancybenoit leads the way. I LOVE YOU @IAmJericho & @mexwarrior for giving me my nephew back. ??"
She later deleted the tweet.
Below is what Chris Jericho had to say about this:
"That's fuckkn heavy!"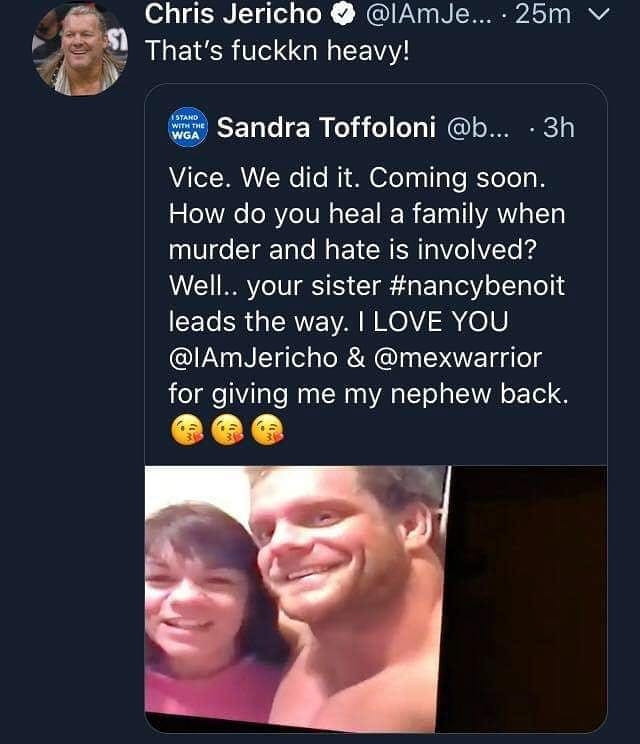 The Wrestling Observer has confirmed that the documentary will include interviews with the following names:
"Sandra Toffoloni (the sister of Nancy Benoit who knows the case better than anyone), Chris Jericho (who has studied the case harder than any pro wrestler because he considered Chris Benoit his best friend in wrestling at one time), Chavo Guerrero Jr. (Who Benoit was close with, often travelled with, and who Benoit texted that weekend), Michael (Chris' father) and David (Chris' son from a first marriage) Benoit."
Also Read: Former WWF & WCW Wrestler Passes Away