• Enzo Amore Has Put On A Lot Of Muscle Mass (Photo)
Enzo Amore was a small cruiserweight guy in the WWE. Well, he's still a cruiserweight, but he's looking a lot different now than he did during his time in WWE.
Amore has put on a lot of muscle mass and has completely changed his look. Below is a recent photo: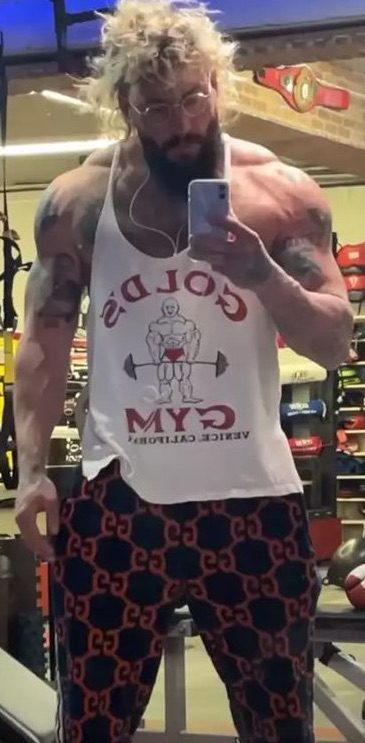 He was fired from WWE in January 2018, after he was accused of rape by a girl.
WWE fired him because he failed to inform them about the investigation going on against him.
Amore then responded through his lawyer that he didn't even know there was an investigation until it was made public.
Enzo took to Twitter to deny the accusations made against him. A few months later, the investigation was ceased because of insufficient evidence.
Amore recently teamed up with WWE Hall Of Famer Bubba Ray Dudley (aka Bully Ray) to lose to "The Titan" Adam Scherr (aka Braun Strowman) and Erick Redbeard (aka Erick Rowan).
He is a former 2-time WWE Cruiserweight Champion.
Also Read: Enzo Amore Explains Why Half The WWE Roster Smokes Marijuana, Reveals How Much WWE Fines Wrestlers For Smoking Pot
WATCH: Non-PG Video Of Drake Maverick's Wife, Renee Michelle:
• On This Day In Pro Wrestling History (February 17, 1996) – ECW CyberSlam 1996
On this day in Pro Wrestling history on February 17, 1996, ECW promoted 'ECW CyberSlam 1996' at the ECW Arena in Philadelphia, Pennsylvania.
This event featured Brian Pillman attempting to pull out his p*nis and pee in the ring, but Shane Douglas, Paul Heyman & Tod Gordon managed to prevent that from happening.
The results can be found here:
The Bad Crew & Judge Dredd defeated Dino Sendoff, Don E. Allen & The Dirt Bike Kid
Spiro Greco defeated El Puerto Riqueño
Taz defeated Joel Hartgood
Buh Buh Ray Dudley defeated Mr. Hughes
The Bruise Brothers defeated The Headhunters
J.T. Smith defeated Axl Rotten
Dog Collar: Francine & The Pitbulls defeated Stevie Richards & The Eliminators
ECW World Television Championship: 2 Cold Scorpio (c) wrestled Sabu to a time-limit-draw
Shane Douglas defeated Cactus Jack
ECW World Heavyweight Championship: Raven (c) defeated The Sandman