• Eric Bischoff Feels Bad For Roman Reigns
During a recent edition of 83 Weeks podcast, former WCW President Eric Bischoff talked about Roman Reigns' heel turn and why he feels bad for the current Universal Champion.
Here's what Bischoff said:
"I'm glad [that the heel turn happened]. I think it was much needed for Roman and WWE, to hopefully create some fresh new storylines that feel very unique from what we've been watching for the last year or two – which is always why something like this is appealing, right?
It's kind of like, in a way, you're kind of wiping the slate clean and all things are possible. For that, I like it.
Part of me feels bad for Roman because a massive heel turn like that, without the advantage of the reaction of a live crowd, leaving a lot of equity on the table… you have no choice, I'm not saying it was an option.
But it's unfortunate that it had to happen now instead of last fall or last spring or last winter, when you would've had the magnitude of power, probably 3-4 times the energy that you've got of watching people on digital. It would've been helpful for the heel turn, probably provided a much stronger foundation."
WATCH: Hot Valet From New Japan Pro Wrestling:
You can download our official WrestleFeed mobile app to check out more Wrestling news & Divas content. Tap here to download.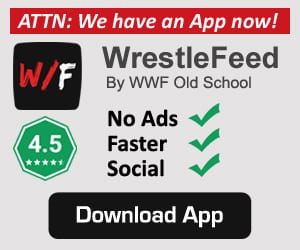 • Old School Wrestling Veteran Celebrates His Birthday
Old School Tag Team Wrestling Veteran Wolfie D (Real name: Kelly Wolfe) celebrates his 47th birthday.
Most Old School fans probably remember him as one half of the Tag Team 'PG-13', teaming with his Tag Team partner J.C. Ice (Jamie Dundee, son of Wrestling Legend Bill Dundee).
PG-13 was a part of the early version of The Nation of Domination in 1996 & 1997, but they also wrestled for Paul Heyman's ECW Extreme Championship Wrestling in 1997 and for Ted Turner's World Championship Wrestling in 2000.
Those fans who watched TNA during their early years in 2002, 2003 & 2004, will also remember Wolfie as "Slash", a member of Father James Mitchell's stable "The Disciples of the New Church".
HAPPY BIRTHDAY WOLFIE D!