• Eric Bischoff On 'Kurt Angle vs. Jeff Jarrett' TNA Storyline Being "Uncomfortable" Due To Their Real Life Situation
While covering the TNA Against All Odds 2011 pay-per-view on a recent edition of his '83 Weeks' podcast with Conrad Thompson, former WCW president Eric Bischoff talked about the Kurt Angle vs. Jeff Jarrett storyline, that involved a real life situation.
Karen Angle was married to Kurt Angle since 1998, but filed for divorce in 2008 and eventually fell in love with Old School WWF/WCW Legend "Double J" Jeff Jarrett, whom she ended up marrying in 2010, thus changing her name to Karen Jarrett.
Here's Eric's take on Total Nonstop Action (now known as 'Impact Wrestling') using this real life based storyline on TV:
"I just tried to stay as far away from the reality of this story as I possibly could, the situation and the stories that I heard about how it all went down with Karen and the divorce and the relationship and the affairs, it's like man, this is too hot for me.
I don't want to be near it at any time, I don't want to talk about it, I don't want to hear about it, if somebody else is talking about it I'm going to leave the room. I don't know.
I don't know how to describe how uncomfortable the whole thing was in real life and then to build it into a storyline was a little unnerving.
I've seen what happens when you bring real life and relationships into a story, Chris Benoit and Nancy Sullivan for example, I've seen what can happen.
I was impressed with how professional and mature Jeff, Karen and Kurt were about it, they were all okay with it, which was impressive and mind numbing all at the same time.
The only thing I didn't like about the story was the stakes, if Kurt wins he gets custody of the kids. That stipulation made it unbelievable to me. Even though the stipulations were on the silly side, the match was still good.
Kurt Angle, I don't think could have a bad match if his life depended on it, if he was being paid to have a bad match he wouldn't know how to do it and the same could probably be said about Jeff.
It's not just Jeff and Kurt, Karen did a phenomenal job in her role as well. A lot of people talk about story but they don't know what the f**k they're talking about, this match had a great story.
You've got to have a great story and great execution and this was a good example of both."
WATCH: Lana In A Hot Outfit (Part 5):
You can download our official WrestleFeed mobile app to check out more Wrestling news & Divas content. Tap here to download.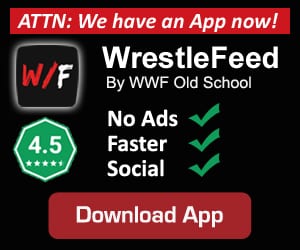 • Old School WWF Veteran Celebrates His Birthday
Old School WWF Veteran Raymond Rougeau celebrates his 66th birthday today.
After wrestling in Canada during the 70s and early 80s, he and his brother Jacques Rougeau Jr. (who was later known as The Mountie) joined the World Wrestling Federation in 1986 as a babyface Tag Team called "The Fabulous Rougeaus".
2 Years later, they turned heel and were joined by legendary manager "The Mouth of the South" Jimmy Hart, before Raymond eventually retired as an active professional wrestler after their loss to The Bushwhackers at the Royal Rumble 1990 PPV.
He became a WWF announcer in 1992, doing play-by-play commentary for all of the French syndicated WWF television shows in Canada, Europe & Africa, as well as being an interviewer and presenter on regular weekly TV shows in the United States, such as WWF Superstars of Wrestling & WWF Wrestling Challenge.
HAPPY BIRTHDAY RAY ROUGEAU!