Up next is an Extreme Rules Match for the SmackDown Women's Championship. Ronda Rousey makes her way out first, followed by the champion – Liv Morgan.
Liv is the only woman in the whole world to hold two victories over Ronda, but she's still the underdog heading into this match.
Rousey is dominating Morgan, but Liv comes back into the match by spraying a Fire Extinguisher in Rousey's face.
Ronda is now assaulting Liv with Liv's own baseball bat. Fans are chanting "We Want Tables".
Rousey uses her Judo Black Belt to assault Liv and is also trying to injure her leg with the baseball bat.
Liv brings a Table into the ring and Ronda is smashing Liv's face on the table, which has been set up in the corner.
Morgan puts Rousey through a Table with a Senton! Liv goes for the cover, but Ronda kicks out and locks in the Armbar immediately!
Liv is trying to pick up Ronda with the Armbar locked-in, but she can't completely.
Rousey modifies the hold and chokes out Morgan to win the match and the Title!
Ronda Rousey def. Liv Morgan (c) in an Extreme Rules Match to win the SmackDown Women's Championship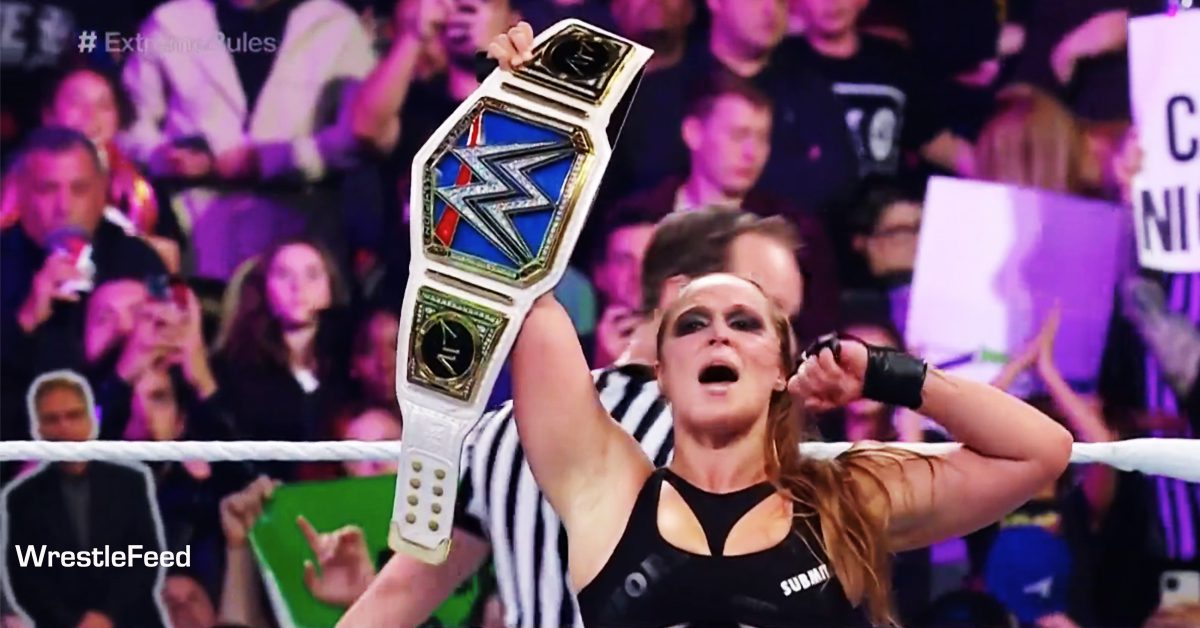 Rousey mocked the crowd after the win, while Morgan just smiled.
Up next is the Strap Match between Drew McIntyre and Karrion Kross. Drew tied the strap to his wrist, but Kross didn't and attacked McIntyre. Due to this, the match didn't officially begin.
Kross eventually tied the strap to his wrist and the bell officially rang after that.
In the end, McIntyre hit Kross with the Future Shock DDT. As McIntyre was looking to hit the Claymore Kick, Scarlett entered the ring and sprayed pepper spray in McIntyre's face.
Kross then hit his finisher to pick up the win.
Karrion Kross (with Scarlett) def. Drew McIntyre in a Strap Match
Up next is a Ladder Match for the RAW Women's Championship. NXT star Nikkita Lyons is ringside for this match.
WWE Women's Tag Team Champions Dakota Kai & IYO SKY of Damage Control interfered in this match after Bianca Belair was about to unhook the Title, but they made her fall off the top of the ladder.
Bianca then took both of them out with a Double KOD at the same time!
In the end, Belair hit Bayley with a KOD on a Ladder and then climbed to the top of the Ladder to unhook her Title.
Bianca Belair (c) def. Bayley in a Ladder Match to retain the RAW Women's Championship
This was the 1st ever Women's Ladder Match on the WWE Main Roster.
Also Read: Ronda Rousey – Extreme Rules Spot Nixed Due To AEW
MUST WATCH: Former WWE Star Chelsea Green (Wife Of Zack Ryder) Exposes Her Knockers (Video & Front-Shot Photos):