• ON THIS DAY IN WCW HISTORY (November 13, 1994) – WCW Main Event
On this day in 1994, Ted Turner's World Championship Wrestling presented an episode of their weekly TV show 'WCW Main Event'.
This episode featured matches, interviews & storyline segments on the road to the 'WCW Starrcade 1994' PPV.
The card can be found below:
Johnny B. Badd vs. Shanghai Pierce (From WCW Worldwide)
Interview w/ Hulk Hogan, Sting, Dave Sullivan & Jimmy Hart
Hulk Hogan/Sting vs. The Bruise Brothers (From WCW Worldwide)
Clash of The Champions Control Center
Stars And Stripes vs. Harlem Heat (From WCW Pro)
The Honky Tonk Man vs. Brad Armstrong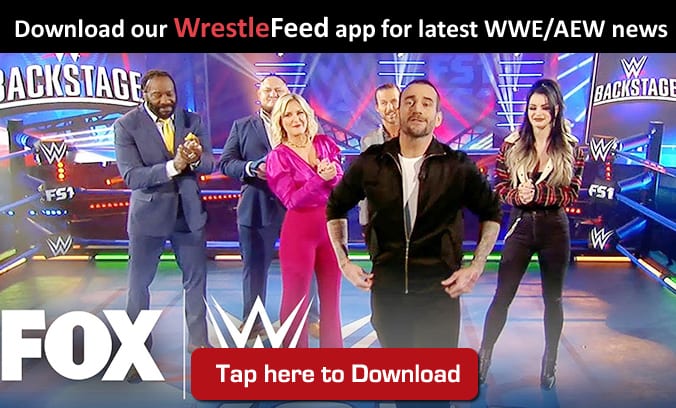 • Fans Call CM Punk A Sell-Out, Punk Still In USADA Drug Testing Pool For UFC
With CM Punk signing with FOX for WWE Backstage show on FS1, some fans weren't happy with Punk being back on WWE programming and called him a sell-out.
You can check out their tweets below:
@CMPunk I liked you more when you refused to be a sell out. I had more respect for you for trying to make it on your own. I'm disappointed that you sold out. I'm even more upset you sold out to the most soul sucking company in the world entire world. You're better than that.

— CaptainMayhem696 (@Jayden_Exiled) November 13, 2019
@CMPunk is a complete sellout #WWEBackstage

— StraightOutDatMafia ? (@thakidd_jc) November 13, 2019
Sellout coming back to the wwe

— mE (@LahRozay) November 13, 2019
@CMPunk sell out. ??

— Retrara Doa (@RetManUnited) November 13, 2019
CM PUNK = SELL OUT

— Colddog69 (@colddog69) November 13, 2019
No he really isn't. Sellout and a loser. His wallet dried up and he came back to @VinceMcMahon with his knee pads and chapstick.

— Josh (@emperorofnihil) November 13, 2019
@cmpunk lost all my respect going back 2 @wwe. All the stuff he said they did 2 him n the lawsuits n getting fired on wedding! He is a sell out going back. If had a backbone would be with @aewrestling

— Brian (@wish_brian) November 13, 2019
Sellout. @CMPunk

— wt. (@WTHallman1) November 13, 2019
Biggest sellout in history @CMPunk

— Christopher (@Ruddy7316) November 13, 2019
Well well well @CMPunk return what happen hero straight outta money what happen to straight edge thinking
Another reason not 2 watch wwe #bootlicker #sellout #nomorecmpunkchants #culturaljoke fu but have a nice day …….

— GTS (@Polarisedsoul24) November 13, 2019
Sellout hypocrite

— Donald Rump (@TronaldRump) November 13, 2019
Fuck the sell out

— Agamento (@abmetalingus) November 13, 2019
Sell out, doing it for the money

— Rocky Roppo (@RoppoRocky) November 13, 2019
Sell out *cough* *cough*

— Cameron Mitchell (@Cameroncavs) November 13, 2019
Speaking of Punk, Fightful is reporting that Punk is still in the USADA drug testing pool for UFC (despite UFC President Dana White saying Punk won't get anymore fights in the UFC due to his poor performances):
"CM Punk remains in the USADA testing pool, and has been drug tested as recently as this quarter."
Also Read: Backstage News On If WWE Is Okay With CM Punk's Return, Who Knew About Punk's Surprise Return?
WATCH: We Bet You've Never Seen Carmella In This Outfit Before: