• Former NXT Superstar Was Discussed As The Undertaker's Long Lost Son
Former WWF/WWE writer Brian Gewirtz took to Twitter and revealed some ideas that were discussed during his time in the company, including The Undertaker's long lost son.
Here's what Gewirtz tweeted:
"Things 'discussed' in my time at WWE:
Vince having midlife crisis, growing beard, wearing Hawaiian shirts and singing Black Eyed Peas songs.
Kaval being Undertaker's secret long lost son.
John Cena losing to Bray Wyatt via singing possessed child… wait, that one actually happened."
Former NXT Superstar Kaval is better known as long time Independent Wrestler Low-Ki, who also spent a few years in Dixie Carter's Total Nonstop Action (TNA) and even had several matches on weekly World Wrestling Federation TV back in the day, when he was used as a jobber on WWF Jakked & WWF Metal.
Below is a photo of Kaval with his WWE pros in NXT, Layla & Michelle McCool (together known as Lay-Cool):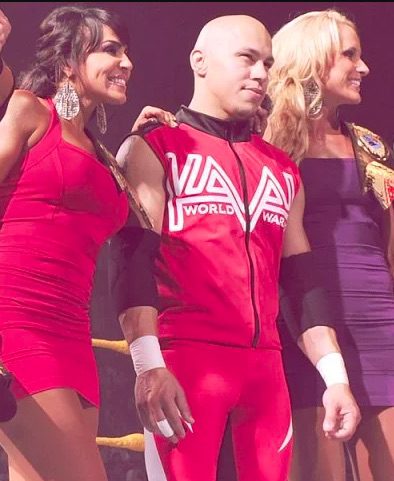 WATCH: Sara (Undertaker's Ex-Wife) In A Bikini – Part 1:
• On This Day In Pro Wrestling History (December 5, 2015) – ECW Veteran Passed Away
On this day in 2015, we lost Old School ECW Wrestler Hack Meyers (Real name: Donald Haviland) due to complications from brain surgery, just 2 days before his 42nd birthday.
Hack Meyers was a regular in the original NWA Eastern Championship Wrestling / ECW Extreme Championship Wrestling promotion back in the mid-90s.
Hack also had brief stints as a "Jobber To The Stars" in Ted Turner's World Championship Wrestling (1997) and the World Wrestling Federation (1999), as well as a one-night-only return to ECW in 1998.
Here's what fellow ECW Original Axel Rotten tweeted that day about his friend's passing:
"Words cannot express the sadness I feel right now. My friend, partner, Brother #HackMeyers has passed away #shaah"
† REST IN PEACE HACK MEYERS
December 7, 1973 – December 5, 2015