Let us take a look at the top 12 stories of the hour from the world of Professional Wrestling:
12. Nikki Bella's Finisher Responsible For Her Injury?
As we noted earlier, former WWE Divas Champion Nikki Bella will be out of action for January 2016 as well. At the end of January, she'll get to know if she needs a neck surgery to repair bulging discs or not. If she requires a suregry, she'll be out of action for a long time.
There is some speculation that her injury could be a result of her finisher, The Rack Attack.
However, Wrestling Observer is speculating that "Rack Attack" finisher cauing the injury could turn out to be a storyline for Total Divas.
11. Alberto Del Rio Debuts New Ring Gear
Current WWE United States Champion Alberto Del Rio debuted his new ring gear at a WWE Live Event. Below is a photo: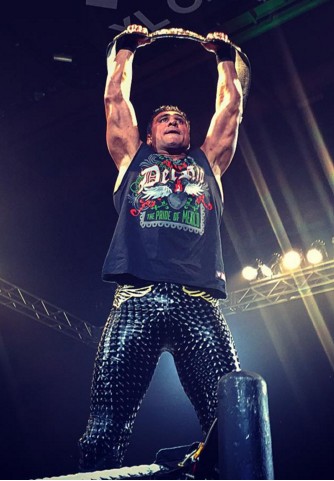 10. "My Match Against Brock Lesnar Was Fun for Everybody…. Except Me!" – Ric Flair
2 Time WWE Hall of Famer Ric Flair talked about facing "The Beast Incarnate" Brock Lesnar back in 2002 on a recent edition of his podcast. Below is what he had to say about their encounter:
"It was fun for everybody except me! Lesnar was twirling me around, and I was going, 'please be careful! Please be careful!' Actually, I've played that match back. It was pretty good! Yeah, it's not because I wasn't afraid of him. I was scared to death of him. I'm 65 years old, and I'm in there with this powerhouse, man! But, once again, another guy that was very careful with me.

Thank you. And then I ended up wrestling him ten times, so it wasn't bad at all. He never did anything, but you couldn't tell me that walking down the aisle."