• Old School WCW Announcer Celebrates His Birthday
Old School WCW Announcer Scott Hudson celebrates his 56th birthday today.
Scott Hudson first became a professional wrestling commentator at the Dallas, Texas based GWF Global Wrestling Federation promotion during the early 90s.
Most of you will remember Hudson for doing commentary on some of World Championship Wrestling's weekly TV shows from 1998 till its demise in 2001.
The last times we saw him, was in the World Wrestling Federation during the infamous Invasion storyline, when he and Arn Anderson did commentary for an exclusive "WCW match" during the July 2, 2001 RAW IS WAR episode, and later in 2003 when he became a backstage interviewer for NWA Total Nonstop Action.
HAPPY BIRTHDAY SCOTT HUDSON!
• Former WWE Champion Says He Doesn't Have The Passion For Pro-Wrestling Anymore
Former WWE Champion & current IMPACT Wrestling star Rob Van Dam recently sat down with Pro Wrestling Junkies for a Q/A session with fans.
A fan asked RVD about always looking hurt after doing the 5 Star Frog Splash these days, about which he said:
"Yeah, it hurts but it's inconsistent. A lot of the times it depends on what I've had going into the match. A lot of times my ribs might be bruised, and in that case, everything hurts! Sometimes, if I'm winded and breathing heavily, it can hurt, and sometimes it's just the way I land. If the guy moves and I land flat, somehow that f**ks me up even worse.
Recently I hit Tommy Dreamer with a [5 Star] Frog Splash. He was kind of far away, but I wanted that challenge. Just being off a couple inches, when I came down, my face hit his shoulder and I gave myself a concussion. His arm was all purple and he actually had to do some therapy on it afterwards, but nobody would even know by watching it."
He then mentioned that the only thing left in his career now is a retirement match.
"A retirement match. Maybe a retirement tour, but even that ends with a retirement match. Besides that, I don't have the passion anymore. I enjoy doing it because I'm a showoff and it's just what I do. It really isn't what I'm all about. It's easy to think of us as fictional characters, and to think that they must hold me back by putting me in a cage because I want to wrestle so bad, but that's not the case.
I'll stick with that answer of the retirement match. I'm not saying it's going to be tomorrow; I'm also not saying it's not going to be tomorrow. That's just the only thing I have left to do. Someday."
WATCH: Non-PG Video Of Rob Van Dam's Girlfriend In Impact Wrestling: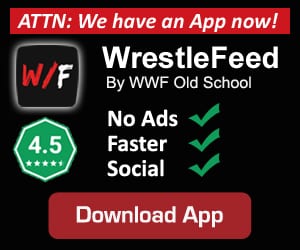 You can download our official WrestleFeed mobile app to check out more Wrestling news & Divas content. Tap here to download.