• Old School Wrestling Veteran's Birthday Today
Old School Wrestling Veteran "Rock n' Roll" Buck Zumhofe (Real name: Eugene Zumhofe) turns 68 today.
Zumhofe spent most of his career wrestling as a mid-carder in Verne Gagne's American Wrestling Association, but also did occasional jobs on weekly World Wrestling Federation TV shows during the 80s & 90s.
He is currently spending 25 years in prison after being convicted (in 2014) of two 1st-degree and two 3rd-degree counts of criminal $exual conduct.
You can find him and others on a list of well known pedophiles in Professional Wrestling by tapping here.
• Former WWE Women's Champion Says Vince McMahon Is An A$$hole For Booking Kurt Angle vs. Baron Corbin At WrestleMania 35
As seen on this week's episode of RAW, WWE Hall of Famer Kurt Angle announced that he'll be facing Baron Corbin in his retirement match at WrestleMania 35.
This didn't sit well with wrestling fans as most of them wanted Angle's final opponent to be 16 time WWE World Heavyweight Champion John Cena.
Below is what WWE Hall of Famer Jim Ross tweeted regarding this match:
Underwhelming. https://t.co/BzUZL4Ip1A

— Jim Ross (@JRsBBQ) March 19, 2019
Angle's wife, Giovanna Angle, tweeted the following response to JR's tweet: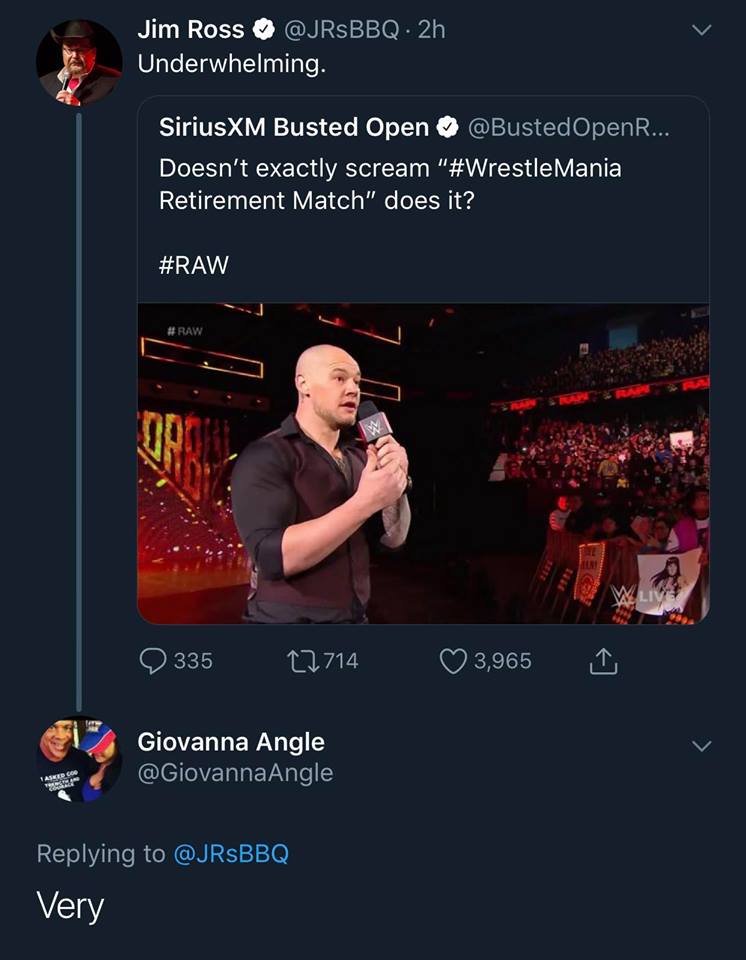 Giovanna later deleted this tweet and then tweeted the following:
Guys, it's pro wrestling. Its like watching a movie. I'm no way upset with my husband wrestling Corbin. Lol I love having fun with yall. But It is really nice to see how many fans support Kurt on how he should be sent off. ❤ #AllLove

— Giovanna Angle (@GiovannaAngle) March 19, 2019
According to PWInsider, Angle wanted a high profile farewell match at WrestleMania 35 (which would've been against someone like John Cena or The Undertaker), but it looks like WWE has better plans for Cena and Taker.
Angle & Corbin have faced off in singles matches before as well and Corbin beat Angle in those matches.
Speaking of Angle vs. Corbin, John Cena posted the following regarding Baron Corbin on Instagram:
View this post on Instagram
Former WWE Women's Champion and TNA Hall of Famer Gail Kim made the following comments about this match on Instagram: