• OLD SCHOOL HISTORY (December 24, 1995) – WWF Action Zone 1995
On this day in 1995, the World Wrestling Federation aired an episode of their weekly TV show 'WWF Action Zone'.
At that time 'WWF Wrestling Challenge' was already canceled, so Action Zone had become the C-show behind RAW & Superstars.
This episode featured matches, highlight videos & storyline segments on the road to the 'WWF Royal Rumble 1996' PPV.
Here's the card:
– Highlights Of In Your House
– The British Bulldog vs. Marty Jannetty From (Superstars)
– A WWF Happy Holidays Vignette
– Highlights Of Jeff Jarrett Smashing A Gold Record Over Ahmed Johnson's Head At In Your House
– Highlights Of Hunter Hearst Helmsley vs. Henry Godwinn From In Your House
– The Brother Love Show: Hunter Hearst Helmsley Is His Guest (Action Zone Exclusive)
– A Happy Holidays Message From Hakushi
– The Smoking Gunns vs. Skip/Rad Radford (From Superstars)
– Jeff Jarrett Singing "With My Baby Tonight" From July's In Your House
– Highlight Video Of The Career Of Shawn Michaels
– Can We Talk With The Following Question: "Can You Name Santa's Reindeer?"
• Former WWF Personality Passes Away
Former WWF Personality Vivian Rosati (one of the Rosati Sisters) passed away on December 22, 2018 after a battle with cancer. She was 54 years old.
She was a big time WWF back and used to appear on Bobby Heenan's "The Bobby Heenan Show" in the WWF.
In an old interview with All Axxess Entertainment, Vivian talked about how she became a WWF fan, becoming friends with Vince McMahon, getting free tickets to WWF shows & more.
Below are the highlights from this interview:
On when did she become a fan of pro-wrestling:
"I actually was about 21 years old when I was bit by the wrestling bug. It all started with a Sports Illustrated magazine that had Hulk Hogan on the cover. I read all 22 pages and was curious to see what all the fuss was about. After watching a morning show on WOR Channel 9 in New York. After that, I was hooked.
My late sister Christine was a fan on and off when she was younger and Diane was not into it at all. I was the one who had them get into it more to the point where it was almost a religion with us. We had to catch all shows when they aired."
On who were her favorite wrestlers and why:
"My all time favorite was and is Hulk Hogan, but I liked Bret Hart,Tito Santana, Junk Yard Dog, George Steele, The Killer Bees, The Rockers. Everyone had something that appealed to me personally.
The Rockers were young and good looking guys, the Bees had great teamwork, JYD was humorous as was Steele, Santana was proud and a great in ring technician as was Hart and Hogan was the all American hero. He made being a proud American cool."
On becoming friends with Vince McMahon:
"By chance, we ladies became friends with Vince McMahon. He took a liking to us with our honest reactions to the matches as well as our catchy signs we would hold up. After knowing us for a year, he granted us lifetime tickets to any show anywhere.
We used to be able to get free tickets to the pay per views, but that has changed since that is where the talent makes their money more by getting a percentage of the gate. That's okay with us. There's plenty of house shows we can go to that more than makes up for that."
On if she watched current WWE:
"We watch on and off. We do like Roman Reigns, Cesaro, Dean Ambrose, The Usos, John Cena, the Luchadors."
On how they the Rosati Sisters become a part of WWF programming:
"We visited Vince at his office in Stamford, CT one day and asked if we could take a still shot on the set of Prime Time Wrestling when it wasn't in use. He told us he'd do one better and put us on the show. That's the birth of the Bobby Heenan Fan Club! The rest is history."
On her health issues:
"3 years ago, I was diagnosed with non Hodgkin's Lymphoma. I was holding my own until this past June when I was diagnosed with Stage 3 Breast Cancer. I have a carcinoma located between my left breast and left armpit. I am currently going for chemotherapy every 3 weeks with a Neulasta shot the following day. I have started to experience hair loss.
I am out on disability from work now. There will be surgery to remove the lump later on and possibly radiation to kill off whatever isn't removed surgically. Diane has sciatica and is currently going to a pain management doctor. Thank you for the well wishes. I fully intend to beat this disease and be stronger than before!"
Below are some photos of the Rosati Sisters: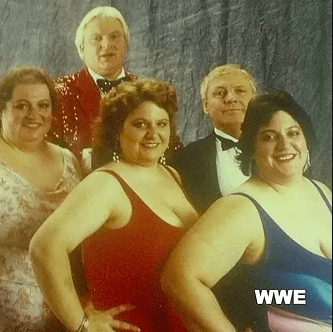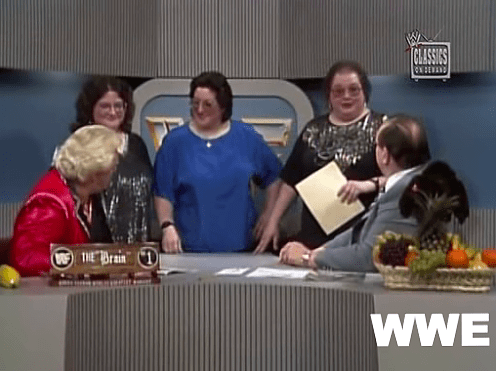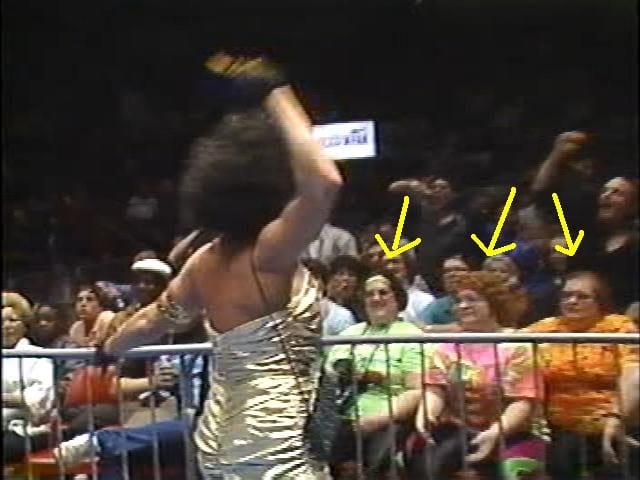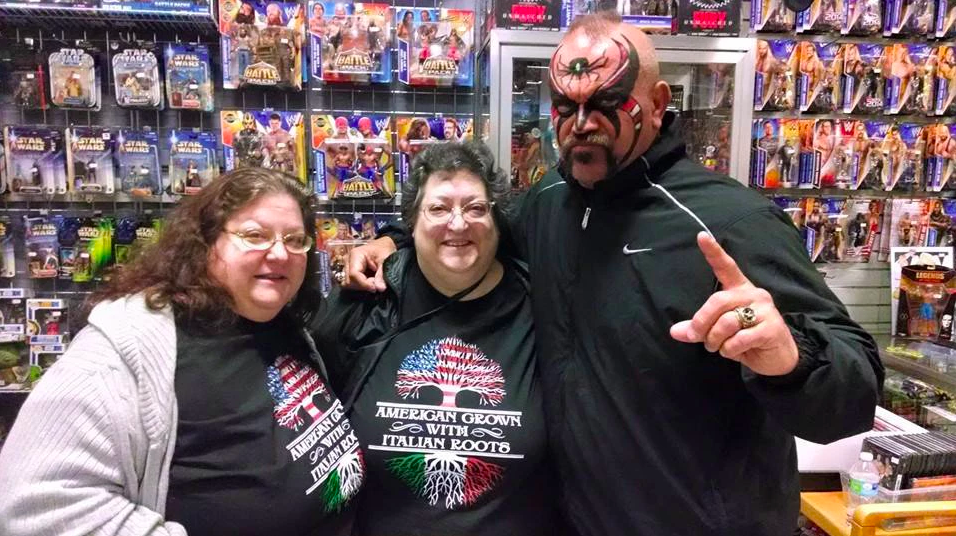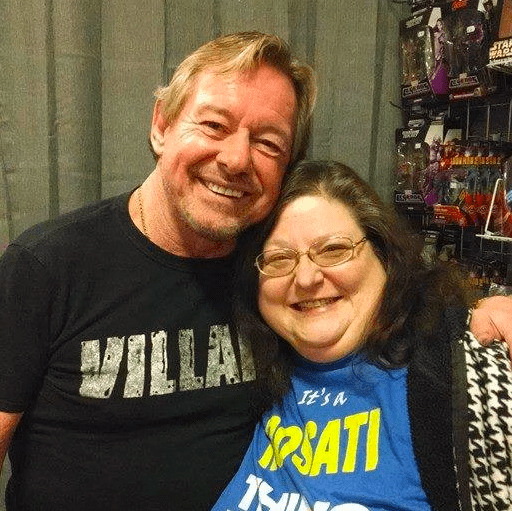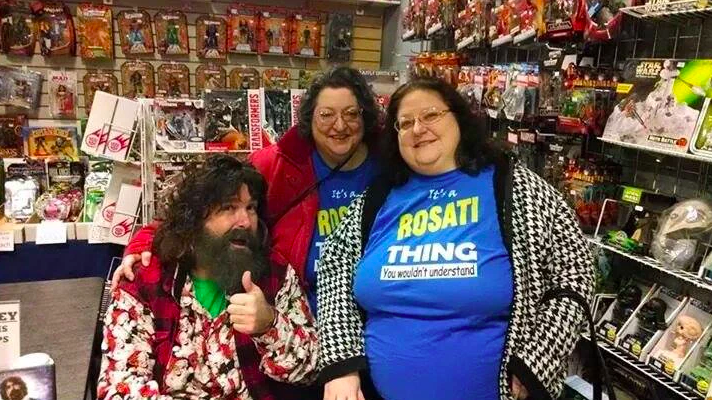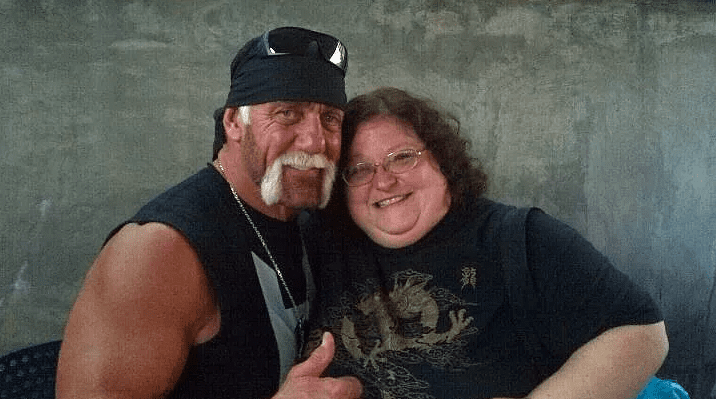 You can read her obituary below:
"Vivian Rosati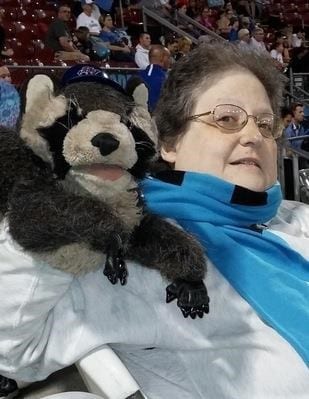 Hopewell Junction – Vivian E. Rosati, 54, an area resident since 1964, died on December 22, 2018 following a courageous battle with cancer.
Born in the Bronx on March 19, 1964, she was the daughter of the late James and Helen Rosati. Vivian had worked at Stop & Shop for many years. She started her career as a cashier, then went on to be a bakery assistant and bookkeeper. She also worked with testing and teaching of new hires in both Wappingers Falls and Somers.
Vivian was a parishioner of St. Columba Church. Vivian and her sister Diane became local legends as some of the Hudson Valley Renegades biggest fans, the "Hansen Sisters." As season ticket holders for many years, they never missed a game from their seats behind home plate, dressed in their Gades gear and cheering on their team with their raccoons in hand. She was also a big WWF and WWE fan, and a friend of Vince McMahon. Vivian loved the NY Yankees and all animals but especially cats, and since her diagnosis, completed several Breast Cancer Walks.
Vivian is survived by her sister Diane Rosati; and several cousins. In addition to her parents, she was also predeceased by her sisters, Christine A. Rosati in 1996 and Linda Mae Rosati Quarto in 2010."
WATCH: Indy Wrestler Cracks His Skull After A Botched 450 Splash: