• Former WWF Personality Wants Riddle To Make A Pass At Stephanie McMahon
During an appearance on Legion of RAW podcast, WWF Attitude Era writer Vince Russo talked about Riddle's booking on RAW.
Russo thinks WWE officials are making a mistake by having Riddle as a babyface.
Here's what Russo said:
"I think his stuff was a shoot, like his exchange with Goldberg, then he had an exchange with someone else, and then he pi$$ed someone else off…
That's the gimmick! The gimmick is that this guy doesn't care what he says to anybody. And bro, that's kind of interesting because the guy is an MMA fighter. So can he back up what he says to a Goldberg, or what he says to Brock Lesnar? Because the guy seems cocky and confident like he can!
To me bro, that's the character. But you look at this guy and he just stinks. Arrogant, cocky, brash, and you just make him a babyface?
I would have went with that, bro. This guy does not care what he says to Vince McMahon! That's how you make that guy, bro…not giving a crap what he says to the McMahon family, making a pass at Stephanie. Whatever the situation is, that's how you make the guy!"
WATCH: Stephanie McMahon Shakes Her Hot Juggs:
You can download our official WrestleFeed mobile app to check out more Wrestling news & Divas content. Tap here to download.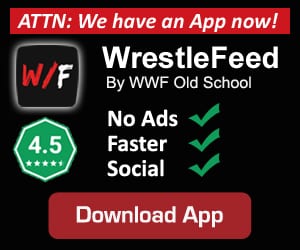 • Old School WCW Veteran Celebrates His Birthday
Old School WCW Veteran Hugh Morrus (Bill DeMott) turns 54 today.
Bill made his WCW debut in 1995 as "The Laughing Man" Hugh Morrus, a member of Kevin Sullivan's evil 'Dungeon of Doom' stable.
For a few months in 2000, he became General E. Rection, leader of the 'Misfits In Action' faction.
When WCW was sold to Vince McMahon, DeMott was signed to a WWF deal in 2001 and they kept him on TV for a while, before turning him into a trainer for various WWE developmental projects, such as Tough Enough, Deep South Wrestling, Florida Championship Wrestling, NXT & more.
HAPPY BIRTHDAY HUGH MORRUS!