• Goldberg Comments On The Undertaker Calling Current WWE Product "Soft"
While appearing on The Joe Rogan Experience, The Undertaker revealed that he can't enjoy watching WWE nowadays.
Here's what The Phenom said:
"I try [to enjoy it as a fan]. It's tough for me because the product has changed so much and it's kind of soft.
I'll probably piss a lot of people off but they need to hear it. It is what it is. But to the young guys, 'oh, he's a bitter old guy.' I'm not bitter, I did my time. I'm good, I walked away when I wanted to walk away.
I just think the product is a little soft. There's guys here and there that have an edge to them, but there's too much pretty and not enough substance right now."
During his recent appearance on WWE's After The Bell podcast, WWE Hall of Famer Goldberg had the following to say about Taker's comments:
"Yes, I believe comparatively [to my era that] the business is soft. But the business is in 2021, so things have to change and things have to be different.
We had mega superstars that were bigger than life, but it's hard in this generation, seemingly, to build those people.
There are a couple of people who have made it beyond relying upon the public to do that, and they forced their way up and they've earned their spot. Drew McIntyre is one of them."
WATCH: Sara (Undertaker's Ex-Wife) In Bikini – Part 1:
You can download our official WrestleFeed mobile app to check out more Wrestling news & Divas content. Tap here to download.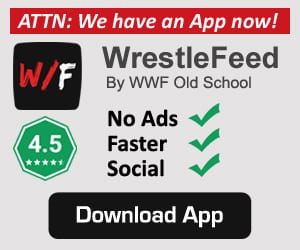 • Old School WWF Veteran Celebrates His Birthday
Old School WWF Veteran Jimmy Jack Funk (Real name: Ferrin Barr Jr.) celebrates his 62nd birthday today.
As "Jesse Barr", he wrestled for several Old School territories, such as Championship Wrestling from Florida, World Class Championship Wrestling, Pacific Northwest Wrestling, World Wrestling Council, … among many others.
In early 1986, Barr joined the World Wrestling Federation as "Jimmy Jack Funk", the storyline brother of Dory Funk Jr. (then known as "Hoss Funk") & Terry Funk.
After Terry Funk & Hoss Funk had both left the WWF by the summer of 1986, Jimmy Jack was soon turned into a "Jobber To The Stars", doing jobs to mid-carders on weekly shows such as WWF Superstars of Wrestling and WWF Wrestling Challenge.
He continued to wrestle for the promotion till June 1987 and then returned to the territories.
HAPPY BIRTHDAY JIMMY JACK FUNK!