1. Good News For Bray Wyatt
When WWE announced that "The Viper" Randy Orton will face Bray Wyatt in a "House of Horrors" match at Payback 2017, it was scheduled to be Wyatt's rematch for the WWE Championship.
However, that's not the case anymore. Word going on is that Orton won't defend the WWE Championship against Wyatt in a "House of Horrors" match as it will be a non-Title match. This is the reason why the WWE Championship is no longer being mentioned while promoting the "House of Horrors" match.
It should be noted that WWE did promote the "House of Horrors" match for the WWE Championship in the past and below is a photo: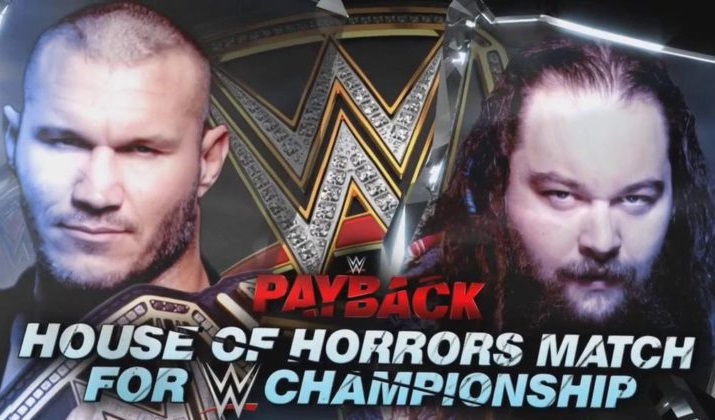 Orton will now defend the WWE Title at Backlash 2017 against Jinder Mahal. Below is what WWE posted on their website regarding the "House of Horrors" match and nowhere is it mentioned that the WWE Title will be on the line:
WWE Champion Randy Orton vs. Bray Wyatt – House of Horrors Match
At WWE Payback, WWE Champion Randy Orton will take on Bray Wyatt in the portentous unknown that is a House of Horrors Match.

After Orton overcame Wyatt and his mystical forces at WrestleMania to recapture the WWE Title, he was quickly dragged back into The Reaper of Souls' wicked agenda.

Seemingly obsessed with avenging his loss, Wyatt interrupted the new titleholder on the first SmackDown LIVE after The Ultimate Thrill Ride to make it clear that he wasn't done with The Apex Predator. Instead, he challenged his adversary to the first-ever House of Horrors Match. Admittedly unaware of what he was getting himself into, Orton agreed to again take on the mystical Superstar.

But what exactly is a House of Horrors Match? Moreover, as of now, Wyatt is on Raw and Orton remains on SmackDown LIVE. Could this be the last time the two Superstars clash in their epic rivalry? With the match being the maniacal brainchild of Wyatt, will The New Face of Fear have a distinct advantage? Or, will The Viper's relentless spirit and resolve lead him to triumphing yet again?
While the bad news here obviously is that Wyatt won't be getting his WWE Title rematch, but the good news is that Wyatt is now expected to win the "House of Horrors" match and end his feud with Orton with a win. A victory over the WWE Champion will give the momentum that Wyatt needs before starting new feuds on Raw.