• Hulk Hogan & Vince McMahon Had A Disagreement Before WrestleMania 6
On a recent episode of WWE's After The Bell podcast, Old School WWF Legend Hulk Hogan revealed that he pitched the idea of turning heel at the end of the famous WrestleMania VI (1990) pay-per-view to Vince McMahon, but Vince turned it down.
'The Immortal' Hulk Hogan originally started as a heel during the 70s, but turned babyface in Verne Gagne's AWA and continued to work as a babyface during his entire 1984-1993 World Wrestling Federation run and also joined Ted Turner's World Championship Wrestling as a good guy in 1994, before finally turning heel at the WCW Bash at the Beach PPV in July 1996.
Here's what Hogan had to say about wanting to turn heel at WrestleMania 6:
"Vince and I had a disagreement. Vince McMahon had an opinion that Hulkamania had his run, and it actually went back to, when was Toronto with [Ultimate] Warrior? WrestleMania 6?
WrestleMania 6, when he asked me to put the Warrior over, I said that's no problem at all, brother, but my question always is, if I'm putting somebody over, what are we doing after that?
And there wasn't really a clear cut answer to that.
I said, 'Well, how about this?' When I put him over and I hand him the belt, and everybody's cheering for him, and I get halfway down the aisle, but I just turn around and go just grind him.
Just drop him and drag him around the ring and just crucify him. And I wanna be Hollywood Hulk Hogan.
I said, 'I wanna be Triple H, Hollywood Hulk Hogan, the ultimate bad guy.'
And he goes, 'No, that'll never work.' I said, 'Vince, I can be a bad guy, I used to be a bad guy when I worked for your father. I know how to do it.'
And he goes, 'No, no no, that'll never work, this Hulkamania thing, I think you just need to slow things down.'
I wanted to turn heel. But I just thought I could have had a hell of a run in WWE as Hollywood Hulk Hogan. But Vince and I had a disagreement.
So finally a few years later, I went ahead and did my thing and left."
Also Check Out: Hulk Hogan Brings Back The Big Gold Belt During The nWo's Hall Of Fame Speech (Photos)
WATCH: Brooke Hogan's (Hulk Hogan's Daughter) Private Photos Leaked:
You can download our official WrestleFeed mobile app to check out more Wrestling news & Divas content. Tap here to download.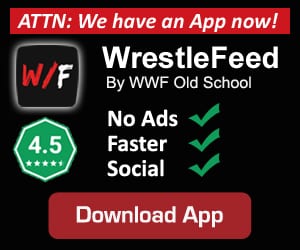 • Old School ECW Veteran Celebrates His Birthday
Old School ECW Veteran Michael Kovac (Real name: Martin Hutter) celebrates his 51st birthday today.
While Michael Kovac is still considered to be one of the most famous wrestlers in all of Europe, the fans in the United States only remember him for his brief 1998 stint in Paul Heyman's Extreme Championship Wrestling, where he was basically used as a Jobber to the stars.
Outside of Europe, where he first made a name for himself in Otto Wanz's Catch Wrestling Association, Kovac also wrestled for several Japanese companies over the years, most famously Battlarts in 1997, which was a (worked) shoot wrestling promotion.
He is currently signed to Qatar Pro Wrestling, where he performs along with well established stars like Alberto Del Rio, The Great Khali, Carlito, Chris Masters, Rob Van Dam, … and many others.
HAPPY BIRTHDAY MICHAEL KOVAC!