Below are the top pro-wrestling (WWE & AEW) news & Divas stories of the day:
• "I feel like I just lost my virginity" – Marty Jannetty Hooked Up With Female Uber Eats Driver After Delivery
Old School WWF Veteran Marty Jannetty took to Facebook to share a recent story of him hooking up with a female Uber Eats driver, who delivered food to his hotel room in Clearwater, Florida.
Here's what the former member of The Rockers posted:
"I tried telling yall, Clearwater is the shiznit..first night here..my life agent ordered me some beef stroking off..this is my Uber delivery gurrrl Tamerka…
I smiled with her so big cause we're gonna go watch Las Vegas beat Dallas on Monday night football that my crystal fire finished tooth from Malaysia fell out..she just laughed and said, "it's ok"..
PS- I'm in a hotel (they paying for it, knew I had to move first of month) right now cause I had ordered crushed electric blue wallpaper to go with my beautiful white llama hait carpet and they putting me up saying they're having a hard time locating Llama hair carpet.
Sometimes when you lose, you win!!! PS- if you was a betting man, what you think gonna happen later tonight?
Lol..all respect tho'
psss- it's not Monday night football..it's a Thanksgiving replay..you think we care? Lol..but does tell me slow my roll.."
Marty later posted:
"I feel like I just lost my virginity…"
Marty Jannetty wrestled for the World Wrestling Federation from 1988 until 1992, then from 1993 till 1994 and then again between 1995 and 1996.
He did have some occasional appearances and matches on WWE TV in 2005, 2006, 2007 and 2009.
WATCH: Non-PG Video Of Bianca Belair & Sasha Banks:
• Complete Spoilers For This Week's AEW Rampage
All Elite Wrestling taped this Friday's episode of AEW Rampage after tonight's Dynamite went off the air.
Below are the spoilers:
– Lucha Brothers (c) def. FTR to retain the AEW World Tag Team Championship
– Nyla Rose, Penelope Ford & The Bunny def. Tay Conti, Anna Jay & Ruby Soho
– Hook (Taz's son) def. Fuego Del Sol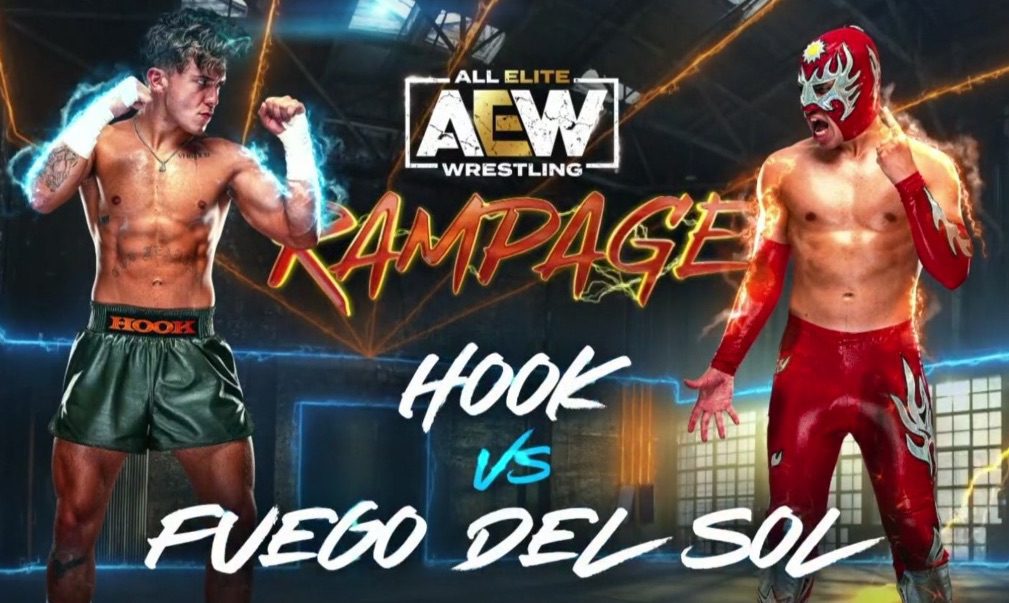 – Adam Cole def. Wheeler Yuta
WATCH: Killer Kross Grabs Scarlett's Knockers At RVD's Wedding:
• Complete Results From Tonight's AEW Dynamite
– CM Punk kicked off tonight's episode of AEW Dynamite by coming out to MJF's theme song in MJF's hometown. Punk made fun of Long Island for being quieter than Chicago. Punk claimed MJF ran the last time when he had the chance to fight him.
Punk said he feels sorry that MJF is the guy for Long Island. Punk said he has his eye on the AEW World Title match next week and wants to be next, but knows MJF wants to be next as well and he wants to settle it. Punk then challenged MJF to a match.
Were you expecting @The_MJF?

Watch @CMPunk on #AEWDynamite LIVE everywhere on @tntdrama NOW! pic.twitter.com/6L9xMH3g8e

— All Elite Wrestling (@AEW) December 9, 2021
.@CMPunk not pulling any punches on Long Island – Watch #AEWDynamite LIVE everywhere on @tntdrama NOW! pic.twitter.com/trzEEtjCjW

— All Elite Wrestling (@AEW) December 9, 2021
.@CMPunk lays out the challenge, he wants @The_MJF one-on-one – Watch #AEWDynamite LIVE everywhere on @tntdrama NOW! pic.twitter.com/nT6tmTUNc7

— All Elite Wrestling (@AEW) December 9, 2021
– MJF & Dante Martin were the final two men left in the Dynamite Diamond Ring Battle Royale after Dante turned on Team Taz and eliminated Ricky Starks. They will face off for the Diamond Ring at next week's "Winter Is Coming" episode of Dynamite.
Good night, @starkmanjones – Watch #AEWDynamite LIVE everywhere on @tntdrama NOW! pic.twitter.com/uWMw3EhDWX

— All Elite Wrestling (@AEW) December 9, 2021
– Jurassic Express & Varsity Blondes def. 2.0 & The Acclaimed (Eddie Kingston came out and told the camera man to follow him backstage where he ran into Ortiz. Daniel Garcia & 2.0 attacked Kingston & Ortiz)
– FTR said they want to become the first 2-time AEW World Tag Team Champions, and want their match against The Lucha Brothers for the Titles on Rampage.
– The Young Bucks def. Chuck Taylor & Rocky Romero (After the match, The Superkliq kept attacking Best Friends and Trent returned to make the save)
– Cody Rhodes addressed TNT Champion Sammy Guevara and said he went to AEW President Tony Khan and got a himself a TNT Title match against Sammy and wished him the best of luck.
Ethan Page & Scorpio Sky addressed Sammy from the crowd. Ethan claimed Sammy dodges anyone in the Top 5 with his Open Challenges and that he needs to stop ducking Sky.
– Riho def. Jamie Hayter (AEW Women's World Champion Britt Baker attacked Riho after the match and put her in The Lockjaw)
– The Varsity Blonds were about to speak, but Malakai Black cut them off. Malakai sprayed his black mist into Julia's face.
– Bryan Danielson def. John Silver (After the match, Bryan said he's a man of his word and promised that he would kick Silver's head in and attempted to do it, but got stopped by the AEW World Champion "Hangman" Adam Page. Hangman told Bryan that he's going to stomp the 'Cowboy Sh*t' out of him at Winter Is Coming next week.
"Next week, I'm gonna stomp the Cowboy Sh#!t outta you!" #AEW World Champion Hangman @theAdamPage makes a promise to No. 1 contender @bryandanielson for #AEWDynamite #WinterIsComing NEXT WEDNESDAY LIVE on TNT! pic.twitter.com/7hikpzZOYt

— All Elite Wrestling (@AEW) December 9, 2021
WATCH: Stephanie McMahon's Bouncy Knockers:
🔥
• Big E Asked If Logan & Jake Paul Have A Place In WWE
During a recent interview with The Sun, WWE Champion Big E was asked if The Paul Brothers (Jake Paul & Logan Paul) have a place in WWE.
Here's what the Powerhouse of Positivity said:
"It wouldn't surprise me at all. In many ways, I'm a fan of the Cesaros of the world and these pure wrestlers…these guys who dedicated themselves to [professional wrestling]. But you know, I think we also need to be open to these spectacles.
That is our industry. That's that circus element of professional wrestling, of WWE. So, yeah, I think there's definitely a place for them."
Both Paul brothers are YouTubers and Boxers. Logan appeared at WrestleMania 37 earlier this year and got hit with a Stunner by Kevin Owens. He also faced Floyd Mayweather in an Exhibition Boxing Match this year.
On the other hand, Jake Paul defeated former UFC Welterweight Champion Tyron Woodley in a Boxing Match recently. He was scheduled to face Tommy Fury (half-brother of undefeated Boxing Heavyweight Champion Tyson Fury) in a Boxing Match this month, but Tommy got injured and Woodley has stepped in as a replacement.
WATCH: Lana Shows Off Her Buns In A Hot Dance Video:
• WWE Hall Of Famer Passes Away
WWE Hall Of Famer Jim Ross just announced on his official Twitter account that Old School WWF Legend Blackjack Lanza has passed away.
He was 86 years old.
Together with his long-time Tag Team partner Blackjack Mulligan, Lanza was inducted into the WWE Hall of Fame in 2006 by their former manager Bobby "The Brain" Heenan.
Here's what J.R. tweeted:
"Just heard from old, Winnipeg friend Bob Holliday that Jack Lanza has passed away at the age of 86.
Jack was our lead agent during the Attitude Era.
Helluva hand."
Just heard from old, Winnipeg friend Bob Holliday that Jack Lanza has passed away at the age of 86.

Jack was our lead agent during the Attitude Era.

Helluva hand. 🙏🤠

— Jim Ross (@JRsBBQ) December 8, 2021
Him and Blackjack Mulligan formed the legendary Tag Team 'The Blackjacks', a Team that won World Tag Team Titles in various promotions such as the WWWF and Verne Gagne's AWA.
After Lanza retired, he started to work for Vince McMahon Jr.'s World Wrestling Federation as a Road Agent.
We extend our condolences to Lanza's family, friends and fans.
• Reason Behind WWE Booking Roman Reigns vs. Brock Lesnar At The Day 1 PPV
As seen on last week's episode of SmackDown, Brock Lesnar returned and made Sami Zayn get his Universal Title match against Roman Reigns on that night, instead of the WWE Day 1 PPV.
Lesnar then talked to Sonya Deville and made it official that the winner of this Title match will defend the Title against him at Day 1.
Before the main event, Lesnar assaulted Zayn. Roman then quickly defeated Sami to retain the Universal Title.
The main event of the WWE Day 1 PPV will now be Roman Reigns vs. Brock Lesnar for the Universal Championship.
According to the Wrestling Observer, WWE wants to establish 'Day 1' as one of their biggest annual shows and that's why they booked their biggest match possible for January 1, 2022:
"To establish this as a traditional big show, and the idea is to make this one of the biggest shows of the year, you need to establish it. Brock Lesnar vs. Roman Reigns is the strongest match they've got. So, that's the match they chose to establish it.
The feeling is that Royal Rumble didn't need it. They're trying to establish January 1st as one of the biggest shows of the year and so, they're gonna put their biggest match in there."
WATCH: Candice Michelle Stripped (Part 2):
🔥
• WWF Legend Announces That He's Cancer Free
Old School WWF Legend "Hacksaw" Jim Duggan shared good news today on Twitter. He posted a video and announced that he's cancer free now!
Here's what he said:
"Hi, everybody. I just wanted to share with everybody the great news that I just received that my cancer is all incapsulated inside my prostate. They checked my bones, that came out clear. The surrounding tissue came out clear. The lymph nodes came out clear.
So, thank god, I'm cancer free. You know, this is my second bout with cancer. 20 Years ago, I had kidney cancer. Now, prostate cancer. Folks, remember, early detection saves lives.
And Merry, Merry Christmas! Ho, Ho, HOOOOO!"
Let's kick off the day with an update from Hacksaw! Hoooooo! pic.twitter.com/iN40n38Rsv

— Hacksaw Jim Duggan (@OfficialHacksaw) December 8, 2021
WATCH: Natalya's Sister Appears Without Clothes In New Video
• WWE's New Annual Plan Revealed
WWE will be doing their Day 1 pay-per-view on January 1, 2022.
This isn't going to be a one-off show. This is the beginning of an annual tradition.
According to the Wrestling Observer, the 'Day 1' PPV is WWE President Nick Khan's idea and a new Holiday tradition for the WWE.
Below is the current match-card for WWE Day 1:
– Universal Championship Match: Roman Reigns (c) vs. Brock Lesnar
– WWE Championship Match: Big E (c) vs. Seth Rollins vs. Kevin Owens
– Edge vs. The Miz
– RAW Tag Team Championship Match: RK-BRO (Randy Orton & Riddle) (c) vs. The Mysterios OR The Street Profits
– SmackDown Tag Team Championship Match: The Usos (c) vs. The New Day
Speaking of Nick Khan, the Wrestling Observer also reported that Nick could be in line to replace Vince McMahon one day:
"I mean it's kind of a Board of Directors thing, but probably (Nick Khan being Vince McMahon's replacement), yeah. Unless they went and hired somebody else from the outside, but probably Nick Khan, yes."
WATCH: Unseen Non-PG Footage Of Becky Lynch From Survivor Series 2021