Below are the top pro-wrestling (WWE & AEW) news & Divas stories of the day:
• "I hope it is not those same things that have happened in the past" – Bubba Ray Dudley On Jeff Hardy Being Sent Home
As we reported before, Drew McIntyre, Jeff Hardy & Xavier Woods defeated The Bloodline (Universal Champion Roman Reigns & SmackDown Tag Team Champions The Usos) in a 6-man tag team match in the main event of Saturday's WWE Live Event in Edinburg, Texas.
Hardy spent most of his time inside the ring during this match, getting worked by Reigns & The Usos.
You can watch it below:
Jeff reportedly became more sluggish as the match went on. He then tagged in McIntyre and left the match. Hardy went to the back through the crowd with security guarding him. He didn't return for the post-match victory celebration.
You can watch Hardy leaving below:
For those asking, this is the full video of Jeff Hardy last night #wwe #jeffhardy pic.twitter.com/yZdYiUGIbb

— That wrestling guy (@Rymont14) December 6, 2021
According to PWInsider, WWE sent Jeff Hardy home and he didn't work Sunday's Live Event at the American Bank Center in Corpus Christi, Texas. He was replaced by Rey Mysterio.
On his Twitch stream, AEW star Matt Hardy said the following about this situation involving his younger brother:
"I did speak to Jeff for a little bit today, and he's OK, he's good, and I think he'll be fine, but once again this isn't my business, and if he wants to go into it in more detail, then he'll do it himself. But like, Jeff is OK, he is at home, and he's OK."
On a recent edition of Busted Open Radio, WWE Hall of Famer Bubba Ray Dudley had the following to say about this situation:
"Listen, complete speculation as to why Hardy decided to go home, leave. You never know. Life on the road is difficult.
I've explained this before. Lots of things can be going on in somebody's personal life. With Jeff unfortunately there is history and what history will tell us is that sometimes Jeff gets himself in a little bit of trouble.
I hope it is not those same things that have happened in the past."
UPDATE: Jeff Hardy Released From WWE, Reason Revealed
WATCH: Candice Michelle Stripped (Part 1):
🔥
• Released WWE Wrestlers Reacted Negatively To Recent Edge & Becky Lynch Segments
On last week's episode of RAW, WWE Hall Of Famer Edge mentioned John Morrison's release from WWE during his segment with The Miz.
Here's what Edge said:
"You use this to get notoriety for your next endeavor, for your next reality show, for your next dance competition while you leave your partners high and dry to get fired."
On the other hand, during the Becky Lynch – Liv Morgan promo segment, Liv said the following:
"You're the reason why your friend is gone just like the reason why your big, fat greedy contract is the reason why MY friends are gone. How does it feel knowing you became everything you despised?"
According to Fightful, recently released WWE wrestlers & employees weren't happy about WWE using the firings in on-screen storylines:
"It happened several times during this show, and I had former WWE wrestlers, former WWE producers, and a current WWE wrestler, that were all telling me how bad a taste they thought that was."
WATCH: Natalya Suffers V-Slip:
• Bray Wyatt Will Appear At An Event During WrestleMania 38 Weekend
Former WWE Champion "The Fiend" Bray Wyatt will appear at the WrestleCon 2022 event in April.
This event will take place in Dallas, Texas during the WrestleMania 38 weekend.
Wyatt was shockingly released from WWE earlier this year.
According to various reports, the relationship between Wyatt and Vince McMahon started to deteriorate this year, when Wyatt stopped holding back and raised his voice whenever he thought the creative was bad.
Also, Randy Orton and Wyatt weren't happy with the finish of their WrestleMania 37 match getting changed two days before the show.
Wyatt reportedly strained his relationship with Vince by being outspoken and this resulted in his release from WWE.
There were some reports that Wyatt was getting difficult to work with.
Bray hasn't appeared for any wrestling promotion since his release from WWE.
WATCH: Former WWE Ring Announcer JoJo (Bray Wyatt's Girlfriend) Shows Off Her Huge ASSets:
• "If CM Punk would've married Stephanie McMahon, he would've become a bigger star" – Booker T
During his promo war with MJF on AEW Dynamite, CM Punk took an indirect shot at WWE Hall Of Famer Triple H.
Punk said MJF will only get to the top in AEW if he waits long enough for AEW President Tony Khan to have daughter and then MJF marries her (referring to Triple H marrying Vince McMahon's daughter Stephanie).
2-Time WWE Hall Of Famer Booker T didn't like this shot and said the following on his Hall Of Fame podcast:
"It ticks me off a little bit, I've worked with Hunter since WCW. Hunter was a bigger star than CM Punk was before he even married Stephanie McMahon and that's just a fact.
As far as becoming a bigger star after that, of course he was going to become a bigger star after [marrying Stephanie], he was in the family now.
Look here, if CM Punk would've married Stephanie McMahon, he would've become a bigger star, perhaps.
But, CM Punk was a big star in WWE and they were treating him like he was a big star in WWE. I don't see how or why anyone could think that CM Punk wasn't treated like a mega star."
Triple H and CM Punk have faced each other in singles matches two times (on an episode of SmackDown in 2010 and at the WWE Night Of Champions 2011 PPV), with The Game winning both matches.
They were scheduled to face off at WrestleMania 30 as well, but Punk quit the company a few months before the show.
WATCH: WWE Doctor Touches Stephanie McMahon's Knockers:
• Emotional Scene After Tonight's NXT 2.0 Went Off The Air (Photos)
In the main event segment of tonight's NXT 2.0, Johnny Gargano came out and addressed the fans. He said NXT is the only place he has ever felt special in his life. He's loves and believes in NXT so much that he never left this brand for RAW/SmackDown.
He said change is scary, but it needs to happen. He said he's going to start the most important job of his life in February 2022, as he will officially become a father.
He said doesn't know what the future holds for him and then he got attacked by Grayson Waller. He powerbombed Gargano through the announce table to end the show, as fans chanted "piece of sh*t".
WHAT. HAS. GRAYSON. WALLER. DONE?!?!#WWENXT @GraysonWWE @JohnnyGargano pic.twitter.com/2ijknxygUQ

— WWE (@WWE) December 8, 2021
What did we just witness?#WWENXT @GraysonWWE @JohnnyGargano pic.twitter.com/CGFXD4gX2p

— WWE NXT (@WWENXT) December 8, 2021
After the show went off the air, Gargano had emotional moments with other wrestlers. Below are the photos: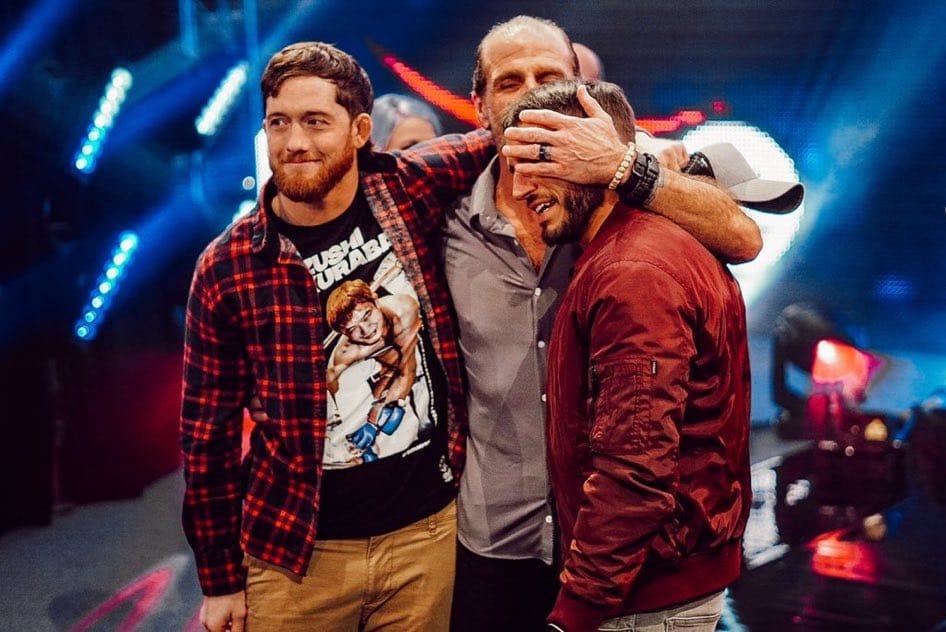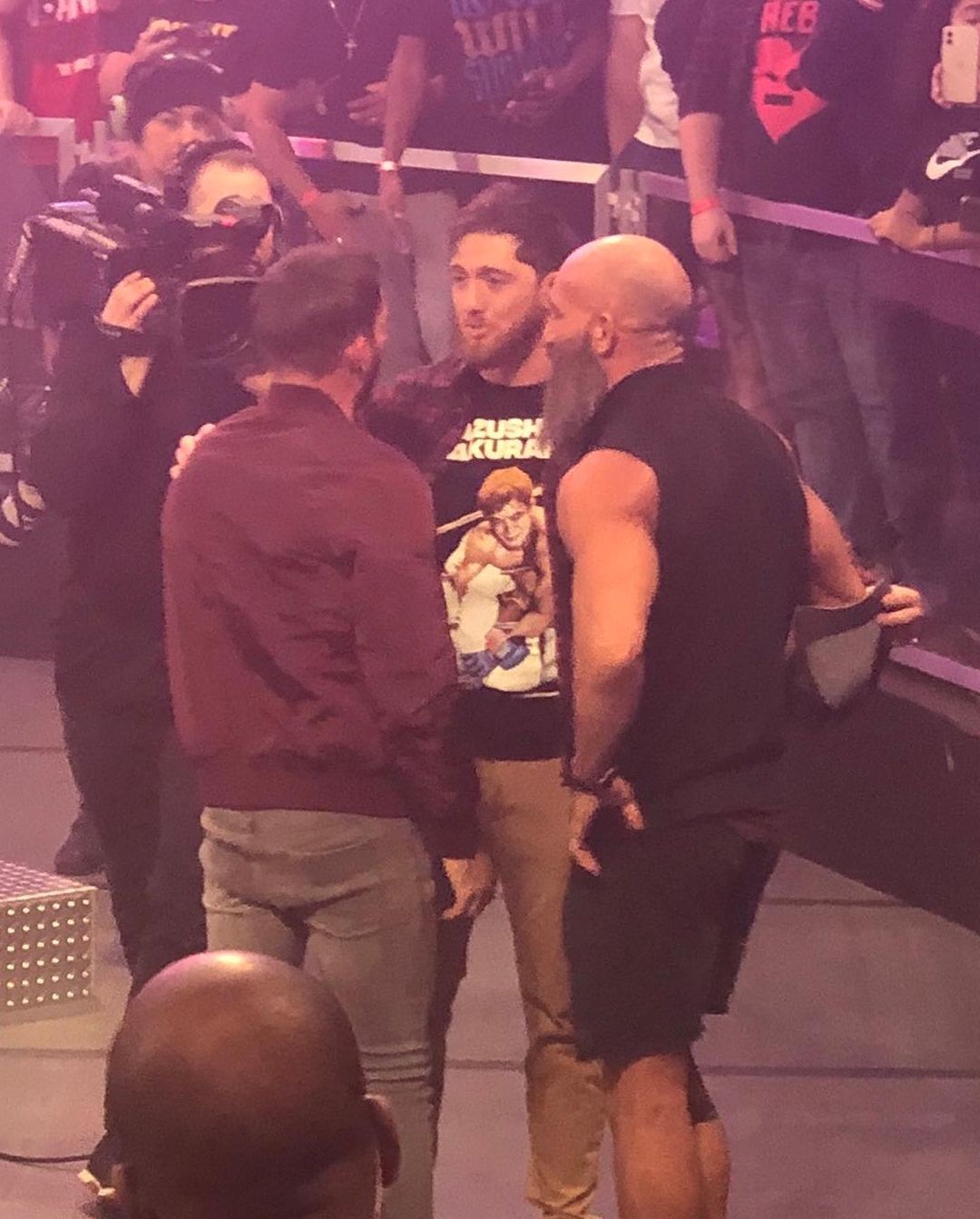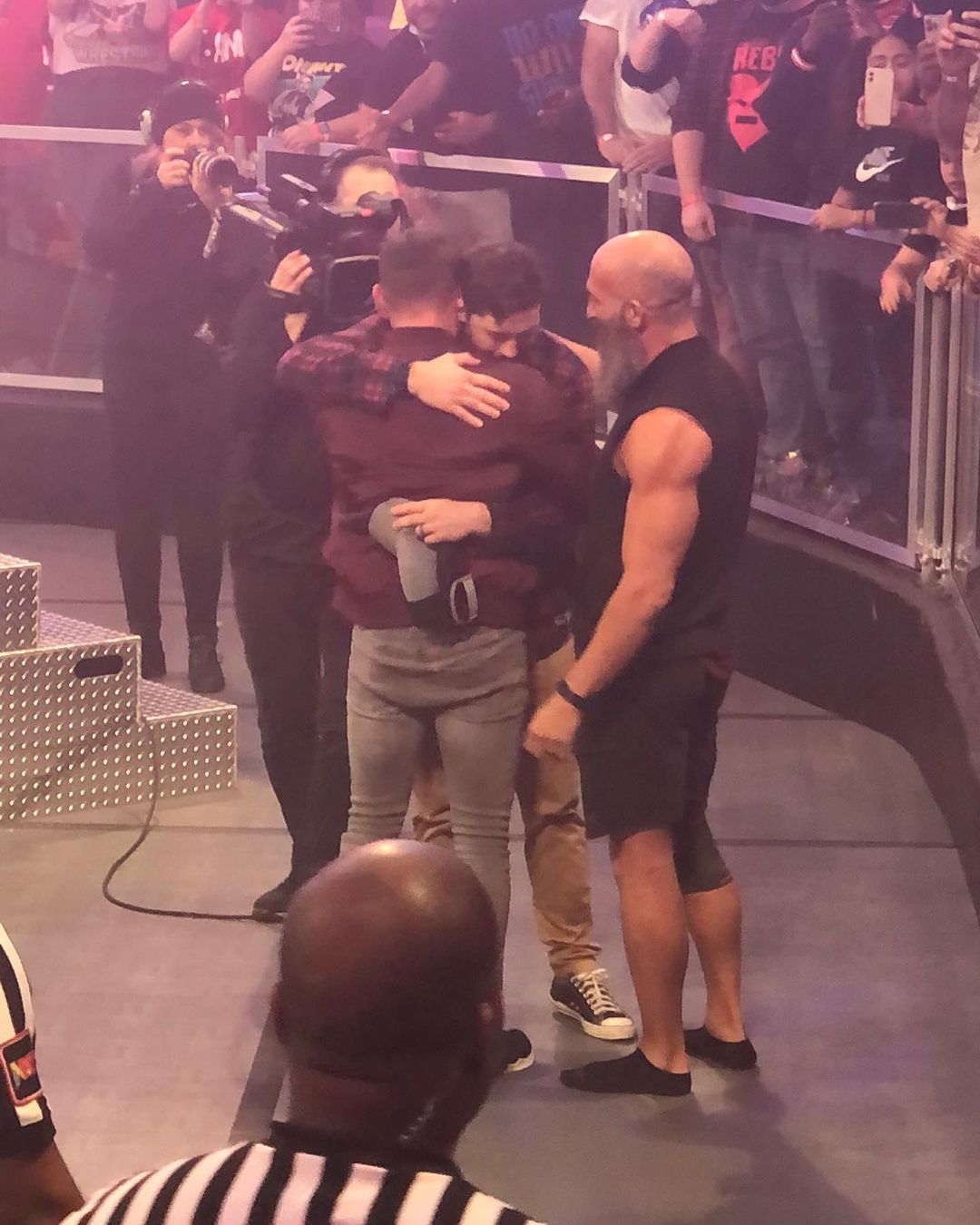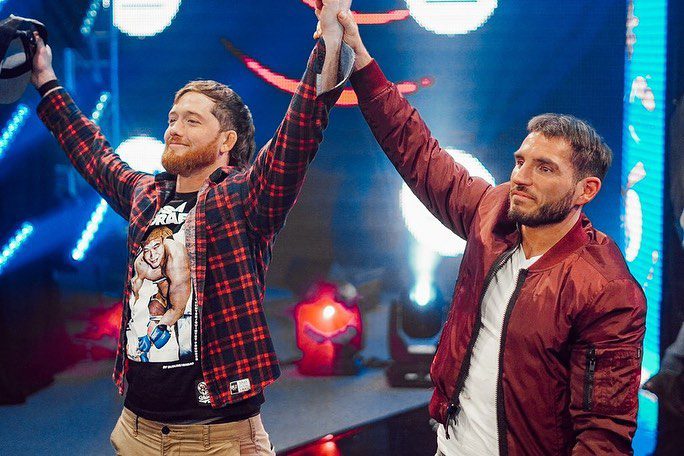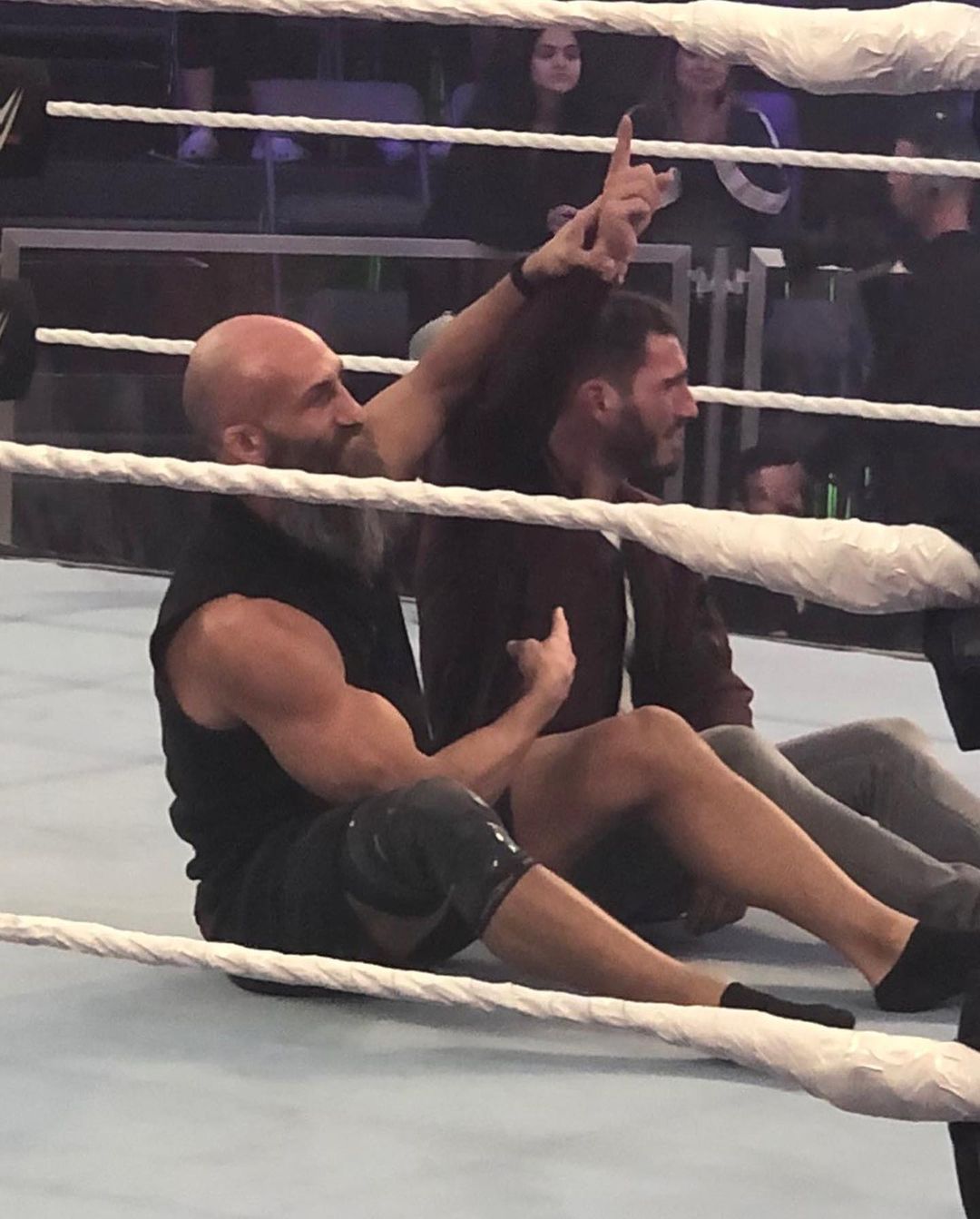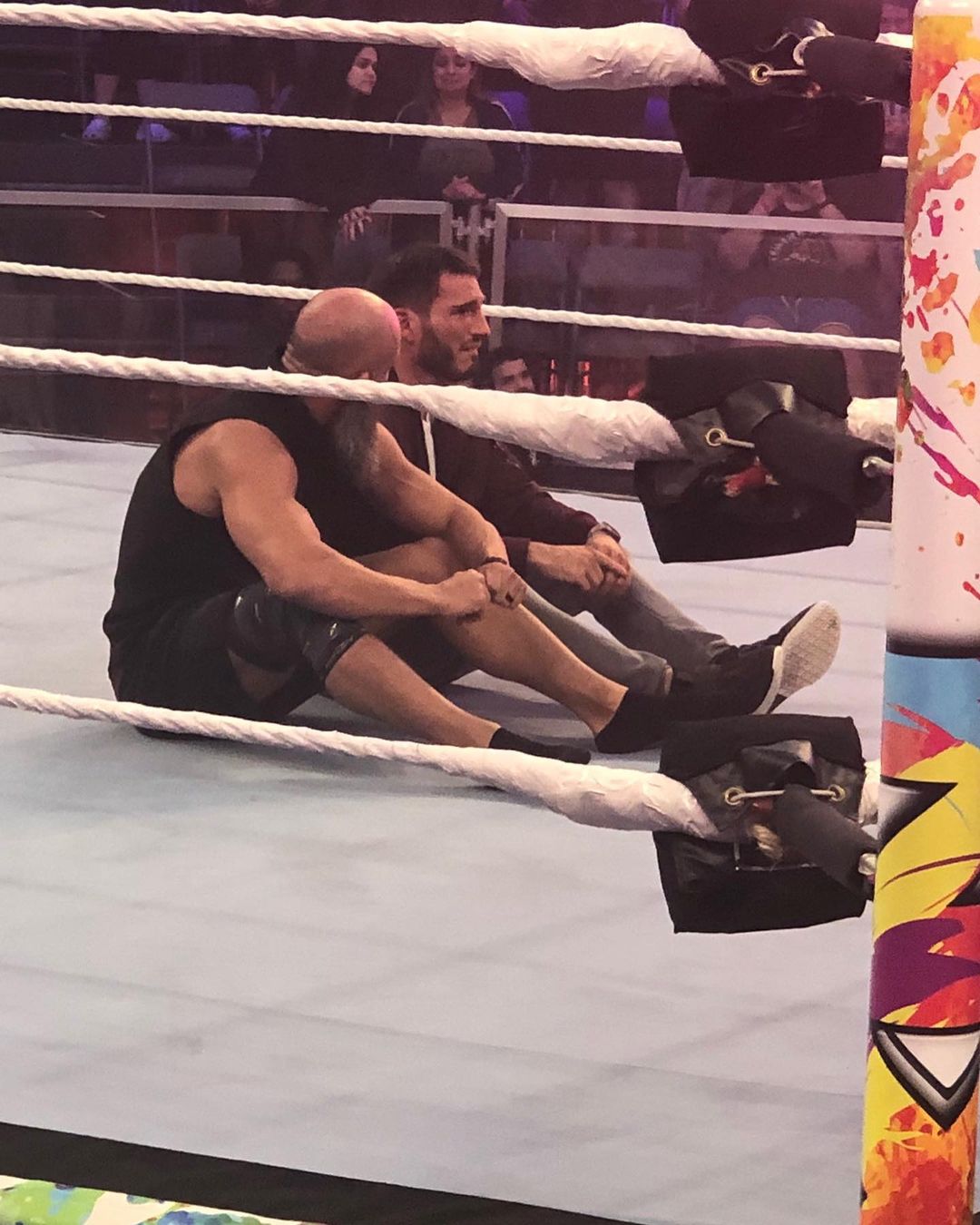 #ThankYouJohnny @JohnnyGargano #WWENXT 📷🙌👏 pic.twitter.com/FGpDid4KOR

— Kim (@kimberlasskick) December 8, 2021
#ThankYouKyle #ThankYouJohnny #WWENXT 📷👏 @KORcombat @JohnnyGargano pic.twitter.com/vy3N1pFLry

— Kim (@kimberlasskick) December 8, 2021
💜💜💜 @CandiceLeRae @ShawnMichaels #WWENXT pic.twitter.com/1nrWoBhvVa

— Kim (@kimberlasskick) December 8, 2021
D I Y 👋 👏 📷 #WWENXT @JohnnyGargano @NXTCiampa pic.twitter.com/PebqtNq4u9

— Kim (@kimberlasskick) December 8, 2021
Tap here to read the complete results from tonight's NXT 2.0.
WATCH: Fan Slaps Alexa Bliss' Buns:
• Wendy's Reacts To Carmella Eating Their Burger In Underwear
As we noted earlier, WWE Women's Tag Team Champion Carmella posted photos of her eating a Wendy's Burger in her underwear and wrote the following:
"Me: let's get Wendy's
Corey Graves: ok, as long as you eat it in your underwear
What can I say, I'm gonna make a great wife. 💁🏼‍♀️ 🤗 "
Wendy's replied the following to the "Most Beautiful Woman In All Of WWE":
"Wendy's and Mella as tag team champs when?"
Wendy's and Mella as tag team champs when?

— Wendy's (@Wendys) December 7, 2021
Corey Graves commented the following after seeing these pictures:
"This was a top 5 moment for me. Ever. In life. 😍 😍 😍 "
Corey & Carmella recently got engaged.
Also Check Out: Bayley Says She's Going To Post A Photo Of Her In Lingerie Just Like Carmella
WATCH: Revealing Footage Of Carmella In A Pool:
• Backstage News On Why Paige Hasn't Been Released From WWE
It's been almost 4 years since former WWE Divas Champion Paige had a match.
She was forced to retire due to a neck injury, and she officially announced her retirement on RAW after WrestleMania 34.
After retiring, Paige became the General Manager of SmackDown in 2018, but that run came to an end in the same year.
Paige has made WWE appearances every now & then since.
A lot of fans are wondering why Paige (who isn't doing anything in the company right now) hasn't been released from WWE, while multiple top stars got released from the company due to COVID-19 related budget cuts.
Here's what the Wrestling Observer reported:
"They feel there's value in her in appearances and as far as things like that that. Her name's strong enough to keep her employed and worth it for the company and also the injury and the career-ending nature of it, there might be some feelings on that as well."
You can watch Paige's retirement speech below:
WATCH: Girl Plays With Paige's Knockers:
• AEW Star Confirms He's Officially Retired From In-Ring Competition
Earlier this year, WWE Hall Of Famer Mark Henry revealed that he has dropped 80 lbs to get in shape, and is looking to end his in-ring career with a match in AEW.
He confirmed in multiple interviews that he will wrestle in All Elite Wrestling:
"Well, it's definitely gonna happen in AEW. It's not gonna be anytime soon I think. I want to be a 100%. I'm still nursing injuries from 4 years ago. Like, wrestling business is a tough business, it's not meant for everybody.
Um, being in my home state it'll be cool to be able to do that but just not this current time. I'm here in Austin, can't wait to get to Garland, three-hour drive."
However, Henry has now confirmed that he has changed his mind and won't be returning to the ring ever again.
Below are the highlights from his interview with i95's Large Dave:
On if he'll have one final match in All Elite Wrestling:
"HA HA HA HA HA HA! I mean, Man, you made me laugh, I'm not getting back in there! If somebody hits me, I'm callin' the police!"
On his role in AEW:
"Man, I am a Jack of all Trades, I've been blessed to be able to master a few of them, I'm new to the announcing, and the backstage announcing, but I'm doing pretty good, and I'm enjoying doing it, but I'm most proud of being a part of our community team.
To touch all of the members and fans of the communities that we go into, before we do our shows, that's something special, we leave the place better than we found it."
Mark Henry's final match took place in 2018, at the Greatest Royal Rumble PPV in Saudi Arabia, where he competed in a 50-man Royal Rumble match.
His final singles match took place in 2017, where he was defeated by Braun Strowman.
WATCH: Kaitlyn In A Pool:
🔥
• Chris Jericho Reveals If He's Considering Retirement
During a recent interview with Newsweek, WWF Legend & current AEW Superstar Chris Jericho talked about his longevity in pro-wrestling, retirement & more.
Below are the highlights:
On if his in-ring retirement is near at the age of 51:
"I think a lot of times people always kind of want to put a bow on everything but it really doesn't work that way. I think part of the reason I've had such longevity is that I go with the flow and I follow my heart. Did I ever expect to be 31 years on the job? I can't say that I did, but I can't say that I didn't.
I don't think when you're 19, you really think about [retirement]. I never really said OK, 'I'm going to do it this long,' and I still don't. I don't know how long I'm going to do the sport because I don't think that way.
When people ask 'how long are you going to do this,' I say 'I don't know. When I feel like I don't want to do it anymore.' I don't feel that way right now."
On his longevity:
"I think one of the reasons why I've had such a long career, wrestling-wise, is the diversity and constant evolving and re-inventing that I do.
I can vividly remember, in about the year 2000, really thinking about how do I constantly stay relevant in what I'm doing? There's a way to do that but you have to take chances and you have to be confident in your ability as a character and as a performer."
WATCH: Stacy Keibler Licks Torrie Wilson's Knockers: