• "I never heard Triple H refuse to do a job for anybody" – AEW Personality
On the latest episode of Grilling JR with AEW commentator Jim Ross and Conrad Thompson, the Survivor Series 2000 pay-per-view was covered.
During the conversation, Thompson mentioned that Triple H didn't job to anyone on a pay-per-view between 1996-2000.
Below is what JR said about it:
"I never heard Triple H refuse to do a job for anybody. He certainly would not tolerate that today if he had talents in NXT or wherever that didn't want to put somebody over. He wouldn't go along with it. Sometimes those things are overstated.
I didn't realize until we read our notes that Triple H hadn't put anybody over on PPV since 1996. To my knowledge in the years I worked with him, and I signed him to his biggest contract because I believed in Triple H from early on, I don't think that was ever a huge issue. It worked out to where it could be made a case.
If you didn't like Triple H or you didn't like his relationship with Vince and his relationship with Stephanie, now you are getting into a whole different area. You are overanalyzing the personal side of this. It's not necessary.
For my money, if I could go back in those days, if you exclude Rock and Austin, there is no match I would rather call than Stone Cold and Triple H. I have that much respect for them because I always knew they were going to bring it. They were going to tell a logical story that I could invest in and follow and as a broadcaster, hopefully, embellish and make better.
That whole thing became political, well, she's the boss' daughter. That's all sh*t. Come on. The guy is a hell of a hand and I thought some of that sh*t was unfair. But I get it. I'm not kissing his a$$ because I want him to hire me. I'm good. I'm just telling you the truth the way I see it and from my heart. He's a hell of a heel."
WATCH: Stephanie McMahon's Buns Exposed By Triple H:
You can download our official WrestleFeed mobile app to check out more Wrestling news & Divas content. Tap here to download.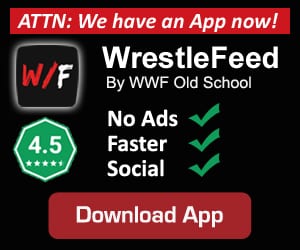 • On This Day In Pro Wrestling History (November 26, 1987) – NWA Starrcade 1987: Chi-Town Heat
On this day in Pro Wrestling history on November 26, 1987, Jim Crockett Promotions aired 'NWA Starrcade 1987: Chi-Town Heat' LIVE on PPV from the UIC Pavilion in Chicago, Illinois.
This was the 5th out of 18 annual 'Starrcade' events that aired between 1983 and 2000.
The first 5 Starrcades (1983-1987) were promoted by Jim Crockett Promotions, while Ted Turner's World Championship Wrestling (who bought JCP in 1988) promoted all the ones that followed (1988-2000).
On this night, Jim Crockett Promotions went head-to-head with their competition, when the WWF ran their first ever Survivor Series event LIVE on PPV against the NWA's annual Starrade, which was also LIVE on PPV that night.
Vince McMahon not only ran directly against the National Wrestling Alliance's biggest show of the year, he also told several PPV providers, that they would not be allowed to show WrestleMania IV, if they would even feature this year's Starrcade.
Starrcade 1987 had Ric Flair trying to regain his NWA World Heavyweight Championship from champion Ron Garvin, while Survivor Series 1987 was main evented by a 5 on 5 elimination match featuring Team Hogan vs Team André.
The results are here:
Eddie Gilbert, Larry Zbyszko & Rick Steiner wrestled Jimmy Garvin, Michael Hayes and Sting to a time-limit-draw
UWF Heavyweight Championship: "Dr. Death" Steve Williams (c) def. Barry Windham
Skywalkers match: The Rock 'n' Roll Express def. The Midnight Express
NWA and UWF World Television Championship – Unification: Nikita Koloff def. Terry Taylor
NWA World Tag Team Championship: Arn Anderson and Tully Blanchard (c) def. The Road Warriors via DQ
Steel Cage – NWA United States Heavyweight Championship: Dusty Rhodes def. Lex Luger (c)
Steel Cage – NWA World Heavyweight Championship: Ric Flair def. Ron Garvin (c)