• "I think the steroid thing gets a bad rap. It's not a death drug" – Jim Ross
On a recent episode of his weekly podcast "Grillin' JR", Jim Ross talked about the use of anabolic steroids in professional wrestling.
Just like pretty much everyone with enough knowledge on the actual topic, J.R. realizes that there's a safe way of using them under doctor's watch, as opposed to abusing steroids.
Keep in mind that yes, there are side-effects when doing them, but there is not a single documented death that is officially caused by the stand-alone use of anabolic steroids.
Human Growth Hormones (HGH) can possibly kill a man over time. Same goes for street drugs, pain killers, somas, xanax, uppers, downers, etc., especially when mixed together or mixed with alcohol.
Classic Anabolic Steroids (such as Testosterone, Deca Durabolin, …) on the other hand have never killed a single person and are not lethal whatsoever, as long as they are taken stand-alone during the entire cycle, because that way the liver can handle it perfectly fine.
If a steroid user takes any other substances while doing a cycle (mixes the steroids with any of the above mentioned stuff for a certain period of time), then it's too much for the liver to handle and a stroke or a heart attack will eventually follow.
Also Read: "I couldn't get that way when I was on steroids" – Undertaker Doesn't Understand How Some WWE Stars Are So Big Despite Steroid Testing
Here's what the 2007 WWE Hall of Famer and current AEW commentator said about the topic:
"I think the steroid thing gets a bad rap. It's not a death drug, it's not unlike any other pharmaceutical that is consumed without a doctor's care and supervision.
The thing I've always talked to guys about with steroids is we take for granted the schedule that they had and the fact that they do their own stunts, they take flat back bumps hundreds of times a year which your body is not built for and it's a recovery drug as well. Nobody wants to talk about that aspect of it.
I'm a little bit more benevolent to the steroid issue in general, but I'm not for it to be done without a talent being under a doctor's care. A lot of guys didn't want to go to a doctor, some doctors had an open mind.
I'm not advocating for anybody to do it but if you're going to do it, do it under your doctor's care."
Also Read: Jim Ross Says Steroids Shouldn't Be Banned In Pro-Wrestling
WATCH: Maryse (The Miz's Wife) Suffers Wardrobe Malfunction:
🔥
You can download our official WrestleFeed mobile app to check out more Wrestling news & Divas content. Tap here to download.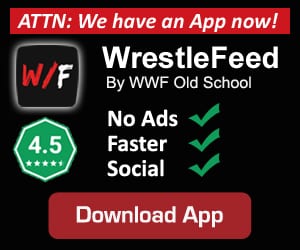 • ON THIS DAY IN WWE HISTORY (March 17, 2003) – WWE Monday Night RAW
On this day in 2003, World Wrestling Entertainment aired another LIVE episode of their weekly TV show 'WWE Monday Night RAW'.
This episode was broadcasted from the Savvis Center in St. Louis, Missouri and featured matches, interviews & storyline segments on the road to the 'WWE WrestleMania XIX' PPV.
You can find the card below:
1. RVD & Kane vs. Chief Morley & Lance Storm
2. Maven vs. Rico
3. The Hurricane vs. Rodney Mack
4. Stevie Richards & Victoria vs. Trish & Jazz
5. Christian & Chris Jericho vs. Test & Scott Steiner
6. World Heavyweight Title: Triple H vs. Goldust
7. No DQ Match: "Stone Cold" Steve Austin vs. Eric Bischoff