• "I couldn't get that way when I was on steroids" – Undertaker Doesn't Understand How Some WWE Stars Are So Big Despite Steroid Testing
On The Joe Rogan Experience, The Undertaker discussed WWE's drug testing and it starting because wrestlers started taking pain medications, alcohol and marijuana for relief due to WWE's work schedule.
Below is what he said:
"You got to cope with the pain somehow. Everything's kind of led up to this drug protocol now. We didn't have doctors or trainers back then. Now we travel with trainers, doctors, there's all kinds of protocols. Our industry has come a long way, they really take good care of our athletes nowadays.
There was a time where everybody had to be jacked. Especially with the big guys there was a stigma that you have to be 300 pounds, in our heads [the wrestlers], I got to be 330 pounds. Now, we test for everything."
When Rogan asked him if WWE does steroid testing, he responded:
"They have for a while. Which I don't understand because there's some big motherf***ers out there and cut. I don't know how they did it, I couldn't get that way when I was on steroids."
Taker, who's under a Legends contract now, gave details on how many tests talents have to go through every year.
"Under a regular contract you have to have 4 mandatory piss tests and 2 blood tests every year.
They'd get to the end of the year and I'd get a call [to do a piss test]. I hadn't been in the ring for 6-7 months but they'd look in their book and say sh*t, we forgot about him. They're totally random, they just show up, you never know when they're going to show up. I was home, that's why I didn't get tested until the very end.
I know what the protocol is and if anybody would've got out of it, it would've been me and I didn't get out of it."
He also talked about WWE Chairman Vince McMahon being in great shape.
"Whatever he's on, I wish I was on. That guy, that's what he does. His love is working out. He's phenomenal, man. He'll call me out of the clear blue and say 'Hey, you workout today?' He's a workhorse, his company and working out, that's his love, that's his passion."
Also Read: Joe Rogan Thinks Braun Strowman Used Steroids
WATCH: Michelle McCool's (The Undertaker's Wife) Exposing Video:
You can download our official WrestleFeed mobile app to check out more Wrestling news & Divas content. Tap here to download.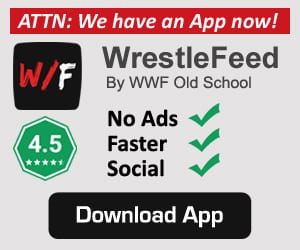 • On This Day In Pro Wrestling History (January 24, 1988) – NWA Bunkhouse Stampede 1988
On this day in Pro Wrestling history on January 24, 1988, Jim Crockett Promotions aired 'NWA Bunkhouse Stampede 1988' event LIVE on PPV from the Nassau Coliseum in Uniondale, New York.
This was the first and only 'Bunkhouse Stampede' event that aired as a pay-per-view.
It was held on the same night as the World Wrestling Federation's Royal Rumble 1988, which was on free television though.
Below are the results:
– NWA World Television Championship: Nikita Koloff (c) wrestled Bobby Eaton to a time-limit-draw
– UWF Western States Championship: Larry Zbyszko defeated Barry Windham (c)
– NWA World Heavyweight Championship: Road Warrior Hawk defeated Ric Flair (c) by DQ
– Steel Cage Bunkhouse Stampede: Dusty Rhodes defeated Arn Anderson, The Barbarian, Ivan Koloff, Lex Luger, Road Warrior Animal, Tully Blanchard and The Warlord