• "I was told at every turn to be skinnier and to be smaller" – Kaitlyn
Former WWE Divas Champion Kaitlyn (Celeste Bonin) revealed on Instagram that she was told to lose weight during her time in WWE.
You can read her post below:
"What is your relationship with your body?
Mine has been a f***ing rollercoaster.
I started working out when I was 14 because I wanted to be strong and tough and impenetrable. I thought being physically strong would prevent me from feeling emotional pain – that I didn't know how to process. I started competing in figure competitions at age 19 and after my first diet and competition I had already developed disordered eating.
The cycle of getting super lean and then immediately gaining 30+ lbs afterward went on for a few years.
Then I got into the entertainment business (WWE) where I was told at every turn to be skinnier and to be smaller.
I literally hated my body bc I felt like it was my only worth and my only value and when it didn't look lean and "perfect" it meant that I wasn't sh*t.
Sound familiar? It's been quite the healing journey. It started from within and then eventually showed outwardly.
I'm now 34. I LOVE MY BODY and I'm grateful for my internal and external scars. I eat without restrictions and eat to nourish my body which is my home.
It took me a long time to realize how much pain I was in underneath all of it. I thought having the "perfect" body would change the way I felt about myself. No matter how lean I got or how good I looked, it never made me happy.
That meant I had to heal the wounds that led to my skewed perception and self loathing.
Does this resonate?
Start with acknowledging the experiences in your childhood that shaped your relationship with your body. Acknowledge your relationship with food and how it developed. What did you learn from your parents? Did they also struggle with self acceptance? We all do. And that's OK.
The things that happened to you and shaped you are not your fault but it is 100% your responsibility to own this present moment and create a beautiful and loving relationship with yourself.
It is possible to love and accept yourself unconditionally. It takes a lot of courage and inner strength to bring your shadows into the light to be loved and acknowledged. It is a never ending journey, but one that is worth every single step."
View this post on Instagram
WATCH: Kaitlyn's Exposing Photoshoot (2019):
You can download our official WrestleFeed mobile app to check out more Wrestling news & Divas content. Tap here to download.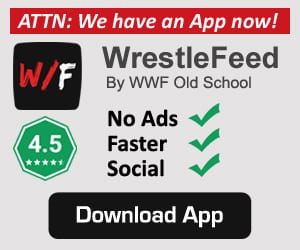 • ON THIS DAY IN NWA HISTORY (March 19, 1988) – NWA PRO Wrestling
On this day in 1988, Jim Crockett Promotions aired an episode of their weekly TV show 'NWA PRO Wrestling'.
This episode featured pre-taped matches, interviews & storyline segments on the road to the 'NWA The Great American Bash 1988' PPV.
The card can be found below:
– Shane Douglas vs. Trent Knight
– Sting, Lex Luger & Barry Windham vs. The Cruel Connection & Chance McQaude
– Jimmy Garvin vs. Rick Steiner
– The Road Warriors vs. Bob Emory & Bob Riddle
– The Midnight Express vs. Gene Ligon & Scrub
– Larry Zbyszko vs. Max MCgyver
– The Powers of Pain vs. George South & Gary Royal