Below are the top pro-wrestling (WWE & AEW) news stories of the day:
• "If you sit, you die" – AEW Star On How He Stays Alcohol & Drug-Free These Days
Old School WWF Legend Goldust (aka 'The Natural' Dustin Rhodes, currently working in AEW) was interviewed on an episode of the 'Way of the Blade' podcast, where he revealed how he manages to stay alcohol & drug free these days, despite his well known history of problems with both of them.
Here's what the oldest son of 'The American Dream' Dusty Rhodes had to say:
"Let's face it, my knees are hurting. My shoulders are hurting. I need replacements, and I've put on little band aids from time to time to get through. And I do a good job of it and I take care of my body, and I try to stay in shape.
I'm always on the go because I truly believe that if you sit down and just relax, it's going to catch up to you real quick and you're going to die, that's it. If you sit, you die. I believe in that, truly. So I've got to keep stepping, and that's one of my sayings, keep stepping. If you stop, it's going to catch up to you and hit you in the face. And I learned that from dad.
Dad told me that a lot, and this stuck with me because he started saying 'keep stepping' to me when I got out of drug and alcohol rehab. From that day, he just said that every day to me. So that's my saying, and not a lot of people know that but that's where I learned that saying…keep stepping.
I take it to heart. And 13 years of no alcohol, no drugs, no foreign drug or anything in my system, that's saying something, and I do owe that to my grit, my hard work and my family being beside me, and a good support system.
And the only way I see is one way, and that's to keep going forward and get my body in the best shape as possible or stay as the best shape as possible so I can perform at such a high level with these youngsters. Because let's face it…they're getting faster and faster, and they need direction. And I'm there to slow them down. I'm their coach, too. They listen."
Dustin wrestled for the World Wrestling Federation (later WWE) in late 1990 – early 1991 and later returned to the company as Goldust in 1995 but left in 1999, only to return several more times (2002-2003, 2005-2006, 2008-2012, 2013-2019) later on.
WATCH: Lana In A Hot Outfit (Part 5):
• Change Being Made To The WWE Title Match At Day 1?
In the opening match of tonight's RAW, WWE Champion Big E defeated Kevin Owens in a Steel Cage Match.
After the match, a brawl broke out between Big E, Owens & Seth Rollins, which ended with Big E standing tall. Bobby Lashley then attacked all 3 men during the commercial break.
On RAW Talk, it was teased that the Triple Threat Match for the WWE Championship between Big E, Owens & Rollins at the WWE Day 1 pay-per-view could turn into a Fatal 4 Way match, with the addition of The All Mighty.
The change hasn't been made official yet, but we'll keep you updated.
Below is the current match-card for WWE Day 1:
– Universal Championship Match: Roman Reigns (c) vs. Brock Lesnar
– WWE Championship Match: Big E (c) vs. Seth Rollins vs. Kevin Owens
– Edge vs. The Miz
– RAW Tag Team Championship Match: RK-BRO (Randy Orton & Riddle) (c) vs. The Mysterios OR The Street Profits
– SmackDown Tag Team Championship Match: The Usos (c) vs. The New Day
WATCH: Lana In A Hot Outfit (Part 1):
• "I wanted to cry. It was awesome and such a great feeling" – WCW Veteran On His AEW Debut
WCW Veteran Crowbar (aka Devon Storm) recently appeared on ECW Legend Tommy Dreamer's House of Hardcore podcast, where he spoke about his All Elite Wrestling debut in October 2021, that saw him lose a match to Joey Janela on an episode of AEW Dark: Elevation.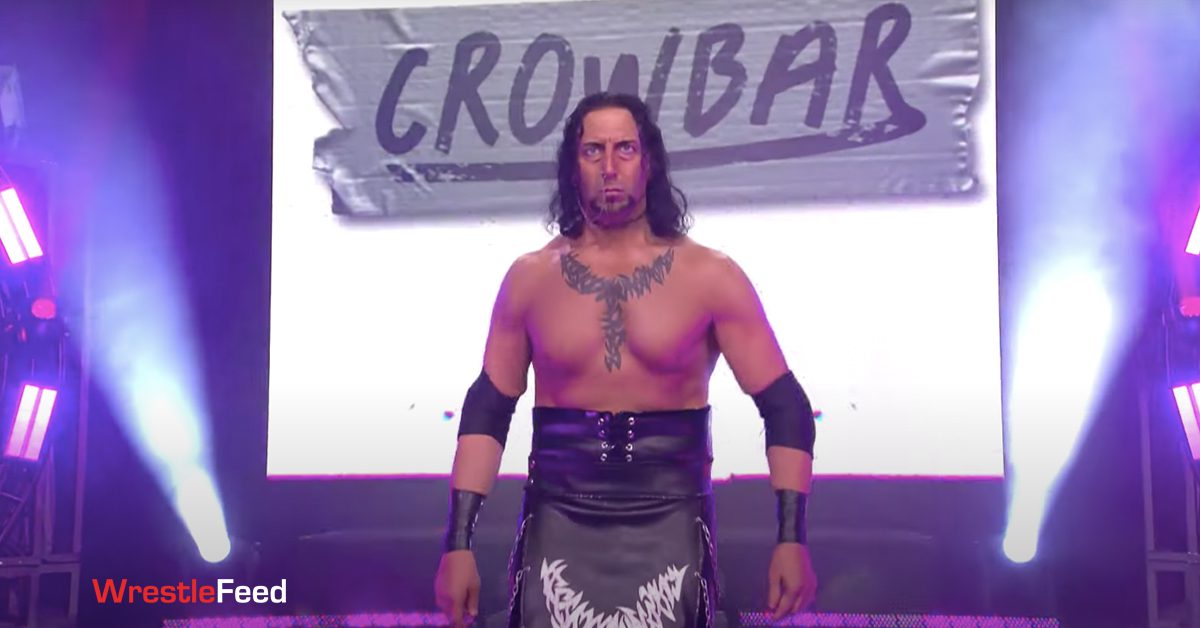 Here's what Crowbar said about his AEW debut:
"The pandemic starts to come to an end and my first match back was the ECWA Super 8, which I did 25 years ago. They give me a call, it's at 3:30 in the afternoon the day of the Super 8. Way back when, if you got a call for a date last minute, you could go and do a solid match and give the people their money's worth.
Now, almost everything is going to go to YouTube or something. You can't sh*t the bed. I haven't had a match in 14 months. I wanted to do this and in the car, we're talking it through, 'Ricky Morton is having an issue with travel, can you show up?'.
I wanted to do it and it's on FITE TV or IWTV and I ask myself, 'Should I do this?' It sounds cliche, but I thought it was God giving me an opportunity. I had been working the whole pandemic to stay in shape because I wanted to return.
I go, 'If you don't take this, you're going to miss out. You're meant to take this.' I go and have two matches. From that date, I get a date for JCW in Atlantic City against Rickey Shane Page and we tear it up.
From those two shows, I had video that I was able to send to QT Marshall. In wrestling, you'll get a call from somebody, 'I'm in shape, yada yada,' then they show up and it's not the case.
Before I even contacted (AEW), I wanted to show them what I could do and that I was still capable of doing. I sent (the tape) down, about a month and a half goes by, I'm on vacation in Disney and I get a text, 'We're going to bring you in when we're in New Jersey.'
I wanted to cry. It was awesome and such a great feeling. We hadn't had a vacation in two years because of COVID and I had the cleanest diet anyone could have on a Disney vacation.
I was so hyped up and working out twice a day. It was such a great call to get and if it's a one-off and that's it, that's all it is, it was worth it. It was incredible. You feel alive, you feel grateful. Just being able to go out there again in Philadelphia was just amazing. I love it."
You can watch Crowbar's AEW debut below:
ECW Veteran The Blue Meanie accompanied Crowbar to the ring for that match.
WATCH: Lana In A Hot Outfit (Part 4):
• "The idea of not working with Shawn Michaels every week was a tough pill to swallow" – AEW Wrestler
During an episode of the 'Rasslin with Brandon F Walker' podcast, AEW wrestler Adam Cole discussed his relationship with WWF Legend Shawn Michaels in NXT and how it was affected after Cole left NXT a few months ago.
Here's what the former NXT Champion had to say:
"That, 1000% was a fact, and a big one. Because I have formed, and to this day, I still do have that relationship with Shawn. But again, I look at him as the greatest professional wrestler of all time. At least for what I like in pro wrestling. Whether he was a babyface or a heel, on the microphone.
My favorite thing about Shawn was that when you look at him, you can say that a lot of people's best matches were with Shawn Michaels. That's like the ultimate compliment to Shawn Michaels. He was so incredibly helpful in so many different ways. I really did form a friendship with him as well. So, the idea of not seeing him every week or working with him every week was a tough pill to swallow.
Because again, I idolized him. Fortunately, we have still been able to stay in contact which is amazing. But yeah, when I was sitting there weighing up the pros and cons of what I was going to do, the idea of not being around Shawn anymore was a factor."
Independent Wrestling Veteran Adam Cole joined WWE's developmental brand NXT in August 2017 and wrestled for them till August 2021. He joined Tony Khan's All Elite Wrestling on September 5, 2021.
WATCH: Lana In A Hot Outfit (Part 3):
• Jim Cornette On Why AEW's TV Viewership Is Declining
On a recent episode of his weekly 'Jim Cornette Experience' podcast, the legendary NWA/WWF Manager explained why the TV viewership of Tony Khan's All Elite Wrestling shows are declining lately and continue to do so.
Here's what Cornette said:
"People always ask me on Twitter, 'Cornette, ratings have gone down even with your boys, [CM] Punk and [Bryan] Danielson on the show'. I mean, I already said earlier that they are making them less special now.
Over the last 4-5 weeks, they have gone down again from 1.2 million to 800,000. They put themselves in a position where once something works for them, whether it is somebody on TV or whatever, they hotshot a couple more weeks, and then they take away the freshness and go back to 800K.
I have been saying this for months, it is a pattern. New talent, big name, hotshot deal, 1.2 million, and then they drop back again because you cannot hotshot every week and have a surprise debut every week. And if they had held back, hold it back so CM Punk only wrestled once in 3 weeks.
You won't be happy hearing a Punk promo? No! Instead, they use it up, and they are back where they started from. And then they bring in the next one, and ratings are back up because it is not the matches, it is the debuts that are usually brand new in the company."
James E. Cornette, who used to be a manager on WWF TV from 1993 until 1998, is widely considered AEW's biggest critic by far.
WATCH: Lana In A Hot Outfit (Part 6):
• Spoiler On The Plans For The Ongoing Roman Reigns vs. Brock Lesnar Rivalry
As seen on last week's episode of SmackDown, Brock Lesnar returned and made Sami Zayn get his Universal Title match against Roman Reigns on that night, instead of the WWE Day 1 PPV.
Lesnar then talked to Sonya Deville and made it official that the winner of this Title match will defend the Title against him at Day 1.
Before the main event, Lesnar assaulted Zayn. Roman then quickly defeated Sami to retain the Universal Title.
The main event of the WWE Day 1 PPV will now be Roman Reigns vs. Brock Lesnar for the Universal Championship.
According to the Wrestling Observer, this upcoming PPV match won't be the end of their feud:
"Regarding Roman Reigns vs. Brock Lesnar as the main event for Day 1, this is scheduled to be a multi-match series and this being one of the matches in the series."
Roman Reigns & Brock Lesnar have wrestled each other in several big main event matches since 2015.
Below is a list of their past singles matches:
– WrestleMania 31 (Seth Rollins cashed-in his Money In The Bank contract during the match and won)
– WrestleMania 34 (Brock Lesnar won)
– WWE Greatest Royal Rumble 2018 (Brock Lesnar won)
– WWE SummerSlam 2018 (Roman Reigns won)
– WWE Crown Jewel 2021 (Roman Reigns won)
So they are basically even (2-2) when it comes to winning singles matches against each other, which makes their upcoming WWE Day 1 PPV match on January 1st even more interesting.
WATCH: Lana In A Hot Outfit (Part 2):
• Complete Results From Tonight's RAW
– WWE Champion Big E def Kevin Owens in a Steel Cage Match to kick off tonight's RAW (After the match, a brawl broke out between Big E, Owens & Seth Rollins, which ended with Big E standing tall. Bobby Lashley then attacked all 3 men during the commercial break)
– WWE Women's Tag Team Champion Queen Zelina Vega def. Nikki A.S.H.
– A fan asked for an autograph backstage. Nikki A.S.H. thought the fan wants her autograph, but the fan said she wasn't talking to her, she meant Jerry "The King" Lawler, who then showed up.
– The Street Profits def. AJ Styles & Omos via count-out (After the match, Omos walked away from AJ. Riddle asked AJ what's going on between him & Omos, AJ claimed it's just a minor miscommunication)
– Damian Priest (c) def. Robert Roode to retain the United States Championship (Dolph Ziggler superkicked Priest after the match)
– Bianca Belair def. Doudrop via Count-Out
– Edge appeared on Miz TV and set up his match with The Miz at the WWE Day 1 PPV on January 1, 2022.
It's ON at #WWEDay1!@EdgeRatedR vs. @mikethemiz https://t.co/S2DJSPVQlE pic.twitter.com/EpxntVjdxN

— WWE (@WWE) December 7, 2021
– The Mysterios (Dominik & Rey Mysterio) def. Alpha Academy (Otis & Chad Gable) [The Mysterios will face The Street Profits next week, with the winners facing RK-BRO for the RAW Tag Team Titles at the WWE Day 1 PPV]
– Finn Balor def. T-BAR (Austin Theory attacked Balor after the match)
– In a backtage segment, Reggie saved 24/7 Champion Dana Brooke from getting pinned by Tamina.
– Becky Lynch (c) def. Liv Morgan to retain the RAW Women's Championship (Becky pinned Liv by holding the bottom rope, the same way she pinned Charlotte Flair at Survivor Series 2021)
Same, Liv Girl.
Same.#WWERaw@YaOnlyLivvOnce pic.twitter.com/enNH8e9tL8

— WWE (@WWE) December 7, 2021
Tonight was just not the night, unfortunately…@YaOnlyLivvOnce @BeckyLynchWWE #WWERaw pic.twitter.com/5ZP9eZ5pI8

— WWE (@WWE) December 7, 2021
WATCH: Charly Caruso's Buns Exposed: