• "I'm not afraid to fight you" – Shawn Michaels To Former WWF Champion
During a recent episode of his podcast, former WWF Champion Kurt Angle talked about the time he was actually working stiff in the WWE.
It was revealed that he was stiff on television on the road to his WrestleMania 21 match against "The Heartbreak Kid" Shawn Michaels, a match that many said was among the best wrestling matches ever.
Here's what the 2017 WWE Hall of Famer said:
"It's like hitting a Grand Slam, it's like winning the Super Bowl, it's like winning an Olympic Gold Medal, when you nail it, and you know you did, you can't be happier. I enjoyed doing that more than wrestling and you know how much I love getting in the ring and wrestling.
Being entertaining was the most important thing to me and I got away from it for a while and got into the more intense, wrestling machine Kurt Angle and that's because Vince McMahon wanted me to start portraying myself as more serious.
I loved making an a$$ out of myself and throwing myself out there, that's the biggest test to show your confidence. If you can go out there and perform and do stuff you're not doing, and you can do it pretty well, that's a sign of somebody who has talent.
Vince McMahon, when I started he didn't know the talent that I had. He thought I was just going to be a technical wrestler but when I proved myself that I could be entertaining, that's when the lightning bolt went off in his head and he said I have someone special right here, I'm going to continue to use him and push him very hard.
Me showing I was just as good an entertainer as I was a technical wrestler gave Vince the confidence to start utilizing me in more entertaining segments. It was a huge compliment from Vince but he did the right thing. I was pretty good at it, it was a lot of fun and I had fun doing it.
When I did the Kurt Angle invitationals, Vince McMahon wanted me to be really stiff, he wanted me to lay in. I laid into these guys, it was a bully technique and Vince wanted me to bully everybody during the invitational and I did that. That's the only time I ever laid into talent.
I was in shock, the last time I really spoke to Shawn before that was Survivor Series where I told him 'Hey, you're pretty good.' I didn't know Shawn, he was out when I started with injury and he didn't come back till a couple years after. The next time I see him he knows he's wrestling me and decides to come up and I guess he just wanted to tell me he's not afraid of me.
He said, 'Listen, I'm not scared of you. If it goes down, it goes down. I'm not afraid to fight you.' I was like okay, I don't know why you're saying this but alright I respect that.
I guess because I was a shooter and I had a little bit of a reputation of being stiff in the ring so I think that might have added to it. I respected that.
I was shocked because I've been professional up until then, I was in the company for 5 years and never did anybody wrong and not sure why he said it. It was the shock factor, it was really crazy that he said this to me, it blew my mind."
Also Read: "Don't ever do that again. She is a woman" – Vince McMahon To Kurt Angle After Match With Chyna
WATCH: Alexa Bliss' Booty Shake:
You can download our official WrestleFeed mobile app to check out more Wrestling news & Divas content. Tap here to download.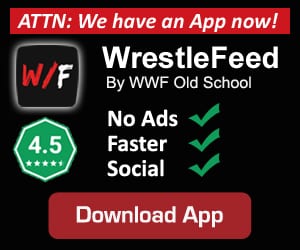 • Old School Attitude Era Veteran Would Have Celebrated His Birthday
Today would have been the 46th birthday of Old School WWF Attitude Era Veteran Test (Real name: Andrew Martin).
Test wrestled for the World Wrestling Federation (later renamed WWE) from 1998 till 2004, but returned to their ECW brand in 2006 before they let him go again in 2007.
There's a longtime rumour that Test was named after the most common anabolic steroid, Testosterone, but Bruce Prichard claimed that wasn't the case.
Test wasn't married. He dated WWE Divas Stacy Keibler (from 2001 to 2005) and Kelly Kelly (from 2007 to 2009).
HAPPY BIRTHDAY & † REST IN PEACE
March 17, 1975 – March 13, 2009