• OLD SCHOOL VIDEO HISTORY (November 18, 1989) – WWF Superstars of Wrestling
On this day in 1989, the World Wrestling Federation aired an episode of their weekly TV show 'WWF Superstars of Wrestling'.
This episode was pre-taped at the Expocentre in Topeka, Kansas and featured matches & storyline segments on the road to the 'WWF Survivor Series 1989' PPV.
Here's the card:
– Brutus Beefcake vs. Scott Colton
– Rick Rude vs. Warren Bianchi
– Jim Neidhart vs. Bobby Jaggers
– Nikolai Volkoff & Boris Zhukov vs. Red Tyler & Scrub
– Mr. Perfect vs. Tito Santana
• James Ellsworth's Accuser Reveals ECW Legend Sent Her Creepy Messages As Well
As we noted before, former WWE wrestler James Ellsworth has been accused by an underage fan of sending her inappropriate photos & videos of his private parts.
I have Ellsworths nudes ??

— Kenzie (@Kliqkid) November 16, 2018
Literally all screenshots for people who think I'm lying

SMH pic.twitter.com/FYfth6CQnb

— Kenzie (@Kliqkid) November 16, 2018
Hmu for ellsworths nudes cause at point IDGAF

Multiple people have hit me up including wrestlers saying how he tries to get with fans and wrestlers 24/7 pic.twitter.com/nqO63Xo9K1

— Kenzie (@Kliqkid) November 16, 2018
straight up pervert pic.twitter.com/xr7L0Af6dT

— Kenzie (@Kliqkid) November 16, 2018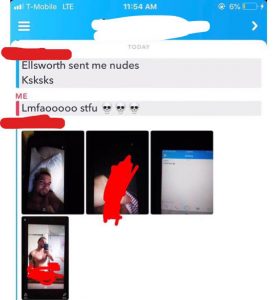 After hearing about these allegations, Ellsworth issued the following statement:
My client, James Morris, known publicly and professionally as James Ellsworth has become aware of a number of baseless allegations. Mr. Morris has the utmost respect for women and categorically denies these inflammatory and despicable accusations. Bates & Garcia, Attorneys at Law

— James Ellsworth (@realellsworth) November 16, 2018
The underage girl, Kenzie, later shared a video where she opened up about this incident. You can watch it below:
Here's the story behind the shit with Ellsworth

Of course people are gonna be on his side, but just know I'm not lying and would never lie about something this serious pic.twitter.com/HWDnSbT2d6

— Kenzie (@Kliqkid) November 16, 2018
Kenzie also said the following:
"He is a celebrity, so obviously he's going to bring an attorney into this, but my family and I are considering pressing charges."
Ellsworth was scheduled to work a Big Time Pro Wrestling event today in Raleigh, North Carolina, but he was told to leave when he arrived at that event due to these allegations.
Below is the poster for this event:
Following these allegations, Ellsworth also got fired from Grim's Toy Show on YouTube:
Guys thank you all for the concern be assured we feel the SAME way. We will no longer have Ellsworth as part of our youtube show. More information here: https://t.co/Tk6LyFG3pR https://t.co/PTRddXb3Dh

— Grim's Toy Show (@GrimsToyShow) November 17, 2018
After these allegations, it's safe to say that you've already seen the last of James Ellsworth in WWE.
In an update to this situation, Kenzie noted that ECW Legend Sabu sent her creepy messages as well.
Below is a screenshot: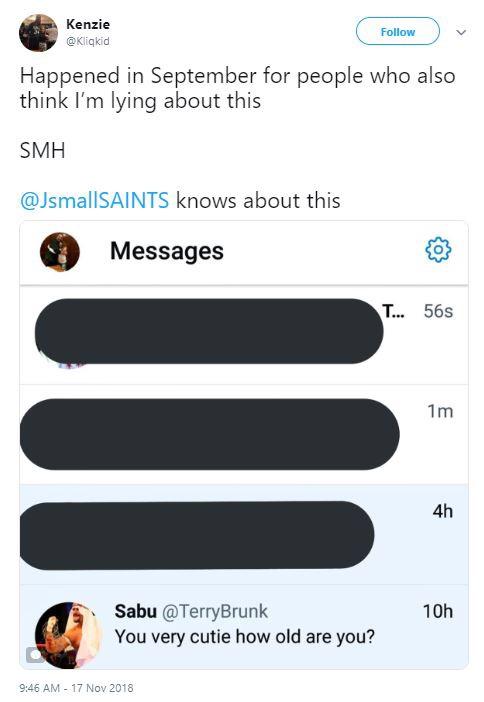 She also tweeted about it:
What is it w wrestlers hitting on me

First Sabu calls me cute in my DM and then Ellsworth sends me nudes ??‍♀️

— Kenzie (@Kliqkid) November 16, 2018
Also Read: ECW Legend Says He Hopes Jim Ross Dies After Recent Accident
In the meantime, Ellsworth's career keeps getting affected due to this situation as he got pulled from another appearance:
Looking forward to our LIVE SHOW Sunday at the premier place to watch wrestling and EAT.. @JimmysSeafood !Schedule change: James Ellsworth is no longer appearing, joining Robbie E, Francine, & Matt Koon will be (cue music) GILLBERG! Come one come all , it's going to be a party!

— Why it Ended (@whyitended) November 17, 2018