• John Cena & Shay Shariatzadeh Spotted Outside Courthouse (Video)
As we noted before, 16-time WWE World Heavyweight Champion and Hollywood star John Cena tied the knot with his girlfriend Shay Shariatzadeh on Monday, October 12th.
According to PWInsider, they held a private wedding ceremony in Tampa, Florida, which was attended by their families and close friends.
HeelByNature has released a photo of Cena & Shariatzadeh's marriage license and you can check it out below: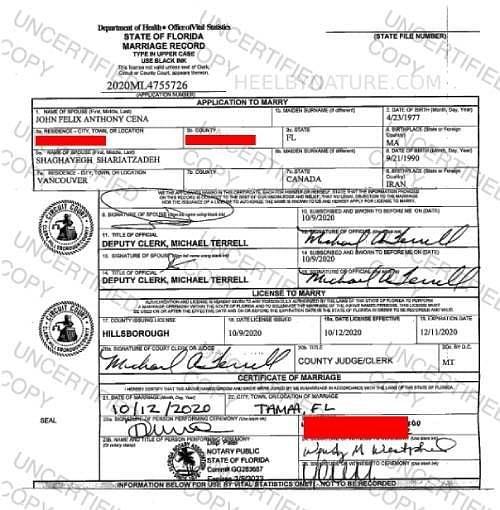 You can watch their video outside the courthouse after getting married below.
WATCH: Revealing Photos Of John Cena's Ex-Wife Go Viral:
• Old School WCW Veteran Would Have Celebrated His Birthday
Today would have been the 55th birthday of Old School WCW Veteran The Renegade (Real name: Richard Wilson).
He debuted for Ted Turner's World Championship Wrestling promotion when WCW World Heavyweight Champion Hulk Hogan announced an "Ultimate Surprise" for 'WCW Uncensored 1995', thus implying that The Ultimate Warrior would join him at the PPV.
The gimmick of The Renegade was basically that of Old School WWF Legend The Ultimate Warrior, which made him a clone and a copy-cat, completely rejected by pretty much everyone watching, critics & fans alike.
It wasn't his fault though, but just a bad booking decision that hurt his career before it even began.
Despite winning the WCW World Television Championship from Old School WCW Legend Arn Anderson in 1995, he was eventually turned into a 'Jobber To The Stars' a year later in 1996.
Renegade was fired from the promotion in January 1999, which resulted in severe depression, that led to him committing suicide by shooting himself in the head with a gun on February 23, 1999.
HAPPY BIRTHDAY & † REST IN PEACE
October 16, 1965 – February 23, 1999