• ON THIS DAY IN WCW HISTORY (October 17, 1992) – WCW Worldwide
On this day in 1992, Ted Turner's World Championship Wrestling aired an episode of their weekly TV show 'WCW Worldwide'.
This episode was pre-taped from the Municipal Auditorium in Columbus, Georgia and featured matches, interviews & storyline segments on the road to the 'WCW Halloween Havoc 1992' PPV.
The card of the show can be found here:
– Brad Armstrong vs John Peterson
– Brian Pillman & Steve Austin vs Tommy Angle & Chris Sullivan
– Erik Watts vs Mark Cantabury
– The Barbarian vs Joey Maggs
– Scott Steiner vs Ricky Steamboat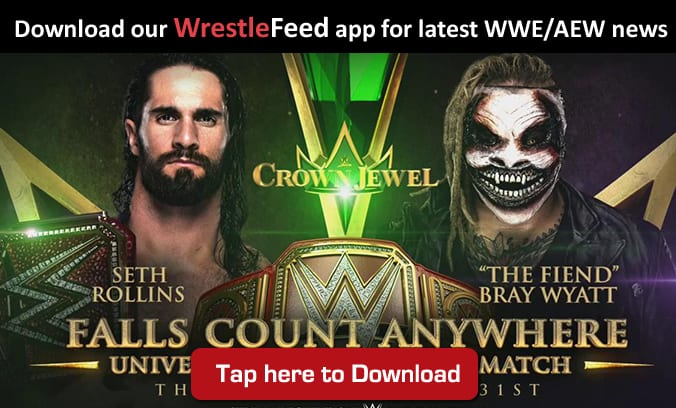 • Jon Moxley Says Renee Young Is Completely Invaluable In WWE, If She'll Leave WWE For AEW
During a recent interview with Screen Geek, AEW wrestler Jon Moxley (f.k.a Dean Ambrose in WWE) was asked if his wife, Renee Young, would leave WWE for AEW.
Below is what Moxley said:
"Uh, she's got A LOT of stuff on her plate. Alot of things she wants to do. I mean, you'd have to ask her what all her goals and aspirations are, but she has a lot of them outside the wrestling business.
Right now she's just like, right now over there she's completely invaluable. She has a lot of great opportunities with Fox, and uh, which is great for her, and uh, her, you know, I uh…her future is in her hands, she can do whatever she wants, and she's uh…It's good to be her right now.
A lot on her plater right now, a lot on her plate. It's very cool, you know?"
Moxley was also asked about how AEW is going to prevent their wrestlers from getting stale and below is what he said:
"I think that's important. To see guys fight every single night for 8 weeks, 8 weeks later you're kinda sick of them fighting. I think we gotta – One thing we have to make sure we have like the 'Big Fight' feel. Because we're gonna have just four big PPV's a year.
The big fight's are gonna have to have the big fight feel. Like the first time you seen them square off in the ring. Like, we got through all the press, we got into town, and when the bell rings it's like 'Woah okay!'.
I think a lot of wrestling on t.v. over the last few years is everybody is fighting everybody all the time and everybody is pinning everybody, everybody's beating – champions are getting pinned every night. You get a title match because you beat the champion. Well, then he's not the champion anymore, is he?
I think we need to preserve the old school, big fight feel. It will be easier for us with only four PPV's a year, we may end up doing more, but I think that'll be easier on us to do that because we won't need so much content."
WATCH: Former WWE Diva Kelly Kelly Shows Off Her Hot Buns: