• How Did WWE Prevent Randy Orton's Surprise Return From Being Leaked?
Last week we reported that Randy Orton had been spotted at the WWE Performance Center training for his in-ring return. However, his return was unknown to everyone and him appearing at Extreme Rules was a shocker for the fans.
It looks like WWE went through some trouble to try and keep Orton's return as close to the chest as possible too. According to PWInsider, Randy Orton was hidden backstage in a bus for about 30 minutes before he made his return. Very few people, except those who were involved in the US Title match, knew about The Viper's return.
Orton's wife was also brought to ringside to see him returning to the ring. He recently went through a knee surgery to deal with some minor issue which had been causing problems for him to wrestle.
• Kane's Future On SmackDown Live Revealed
As we noted before, WWE announced that former WWF Champion Kane suffered an ankle injury at Extreme Rules 2018. Below is the announcement:
Kane suffers broken ankle
"At WWE Extreme Rules, Kane suffered an injury at the hands of The Bludgeon Brothers. Despite returning to action to help his Team Hell No tag team partner Daniel Bryan, X-rays taken on The Devil's Favorite Demon later revealed that he has suffered a broken ankle."
The reason behind WWE doing this injury angle is that Kane was injured heading into the PPV. Kane was seen wearing a 'medical walking boot' at a recent event and was limping.
Below is a photo: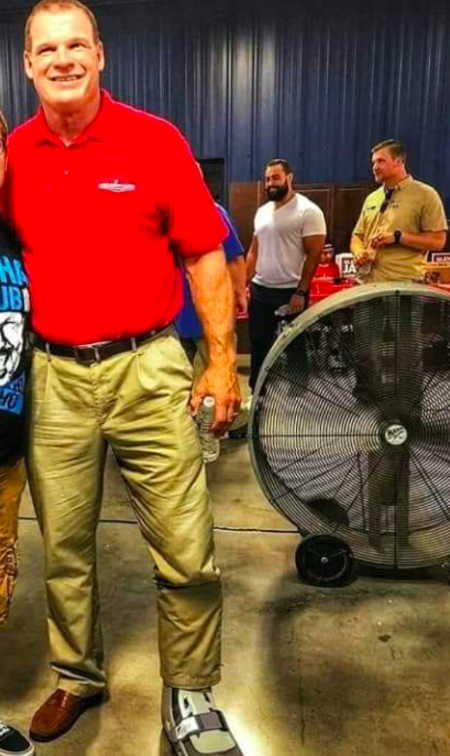 In an update to this situation, it looks like WWE has written Kane off WWE programming with this injury. In WWE's SmackDown Live preview, WWE mentioned under the Daniel Bryan storyline that Kane is 'on the shelf' due to this injury, thus indicating that Kane's current run on SmackDown Live might be over.
Below is what WWE posted:
Will Daniel Bryan bounce back from Team Hell No's defeat?
"After a vicious beating at the hands of The Bludgeon Brothers, Daniel Bryan had the unenviable task of facing Harper & Rowan by himself for most of their SmackDown Tag Team Title Match on Sunday. Though Kane came out to even the odds, he did so in a walking boot for a broken ankle, leaving the door open for The Bludgeon Brothers to retain their titles.
With his tag team partner on the shelf, how will Bryan rebound? Find out tonight on SmackDown LIVE at 8/7 C on USA Network!"