• Kevin Nash Jokes About Former Universal Champion's Injuries
NXT Champion Finn Balór suffered a fractured jaw in his match against Kyle O' Reilly in the main event of NXT TakeOver 31.
He underwent surgery last week to get his jaw repaired, and then gave the following update on it on his Instagram account.
"Recovering from a successful surgery with @dr.anuppatel, @dr.edgarsosa and nurse @verolaguera
Last Friday, i underwent surgery for 2 fractures of my jaw, including one going into my tooth.
After the tooth was removed, I was wired shut to restore my bite and help align the fractures. Then 3 plates where screwed in to fixate the fractures for a quick recovery.
Thankfully no wires were needed after surgery!"
WWE Hall Of Famer Kevin Nash joked about Balór getting injured frequently, just like he used to suffer frequent injuries back in the day.
He commented: "Buddy are we brothers? We get a surgery every 18 months. Want to go do karate in the basement?"
Balór responded: "@realkevinnash big kev, only if you let me use your drum set this time!!!"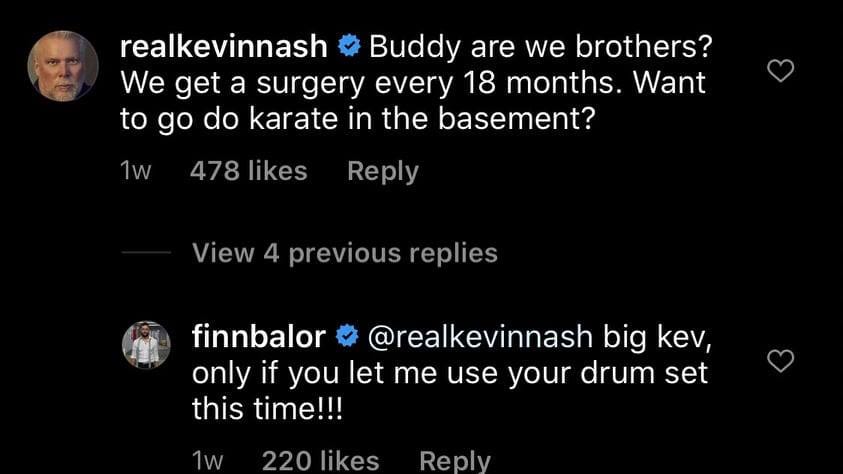 Balór had to relinquish the Universal Championship just a day after winning it at SummerSlam 2016 due to a shoulder injury, and he got injured soon after winning his second NXT Championship earlier this year.
WATCH: Maria Kanellis Was So Hot:
• On This Day In Wrestling History: Old School Wrestling Legend Passed Away
On this day in 2014, we lost Old School Wrestling Legend Ox Baker (Real name: Douglas Baker Sr.) at the age of 80 due to complications from a heart attack.
Baker most famously competed in several different territories during his long, illustrious career, including the WWWF/WWF, NWA (JCP), AWA, NJPW, WCCW, GCW, CWF, CWA, AJPW, … & many more.
Those of you who weren't fortunate enough to see him in the ring during his professional wrestling career, will certainly remember him for his role in John Carpenter's movie "Escape from New York", where he was fighting Kurt Russell.
† REST IN PEACE OX BAKER
April 19, 1934 – October 20, 2014