• Khabib Nurmagomedov Comments On Conor McGregor Mocking His Father's Death
After Conor McGregor's loss to Dustin Poirier at UFC 264, former UFC Lightweight Champion Khabib Nurmagomedov tweeted the following:
"Good always defeats evil. Very happy for @DustinPoirier I hope you will get the belt end of the year."
Conor tweeted the following in response to the above tweet:
"Covid is good and father is evil?"
Conor later deleted his tweet.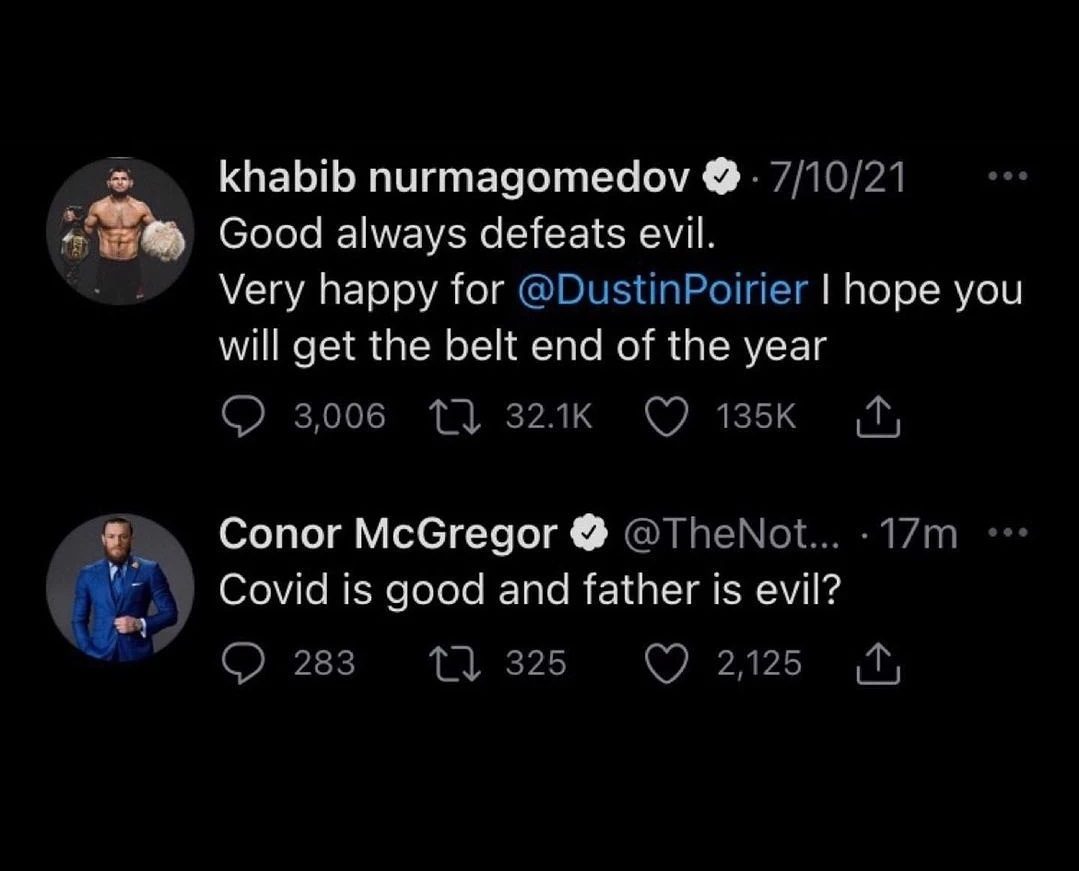 For those who don't know, Khabib's father died last year due to COVID-19.
During a recent appearance on Mike Tyson's Hotboxin' podcast, Khabib had the following to say about Conor's comments:
"When he talked about this, only evil can talk about your father, like wife, kids, religion. If you're a normal human, you're never going to talk about this stuff.
For me, I think he posted this tweet drunk too much or something. He always delete these tweets. When he become normal, and said, 'Oh, what I did.' Then he delete. This is my opinion, what he does all the time.
When someone is not with us, he is not even alive, this shows you what you have inside, this shows, like, how dirty you are.
When you are one of the best in the world, and you come and you punch someone like 70 years old, like an old man [in a pub], this shows your heart. This shows who you are inside, how dirty you are. When you have parents and you have kids, how can you show yourself like this? I don't understand why his close people don't tell him, 'Hey, what's going on?'
When you become rich, when you become famous, some people, they lose real people around them. They lose them. Because real people who love you, they're going to tell you the truth. But fake people? They always say, 'You're good. You're good. You're good.' They never say to you nothing, because they don't want to upset you, because they know they'll lose this comfortable spot.
Real people, they don't care about this. They were with you before you became famous and rich, and they don't care about your money, they don't care about your fame. They just love you. And when they say to you the truth, you don't like this because of your ego.
I think he lost a lot of people around him. I don't think he has people who were with him before when he became champion. Everybody needs someone who reminds you, 'Hey you're doing this, this is bad, this is good.' This is life."
Also Read: Conor McGregor Threatened To Kill Dustin Poirier After UFC 264 Loss
WATCH: Lana Teases Fans With Her Hot Body In A Bikini:
• ON THIS DAY IN WWF HISTORY (August 7, 1993) – WWF Mania
On this day in 1993, the World Wrestling Federation aired an episode of their weekly TV show 'WWF Mania'.
It featured pre-taped matches, interviews & storyline segments on the road to the 'WWF SummerSlam 1993' PPV.
The match-card can be found right here:
– Ted DiBiase vs. 123 Kid (Challenge 8/1/93)
– Jim Cornette debut (RAW 8/2/93)
– Bastion Booger vs. Scott Vito (Challenge 8/1/93)
– Mr. Hughes vs. Jason Headings (Superstars 7/31/93)
– Men on a Mission vs. Brooklyn Brawler & Brian Costello (Superstars 7/31/93)