• Natalya Comments On Working With Ronda Rousey On The WWE UK Tour
In her recent Calgary Sun column, former SmackDown Women's Champion Natalya wrote about Sasha Banks and Bayley welcoming her to RAW, working with Ronda Rousey on the WWE UK Tour and Ember Moon who debuted on RAW a couple of months ago and more.
Below are the highlights:
On Sasha Banks and Bayley welcoming her to RAW:
"I have also enjoyed spending time with Sasha Banks and Bayley, who were also my tag-team partners on the tour. They always made sure I had first dibs on everything from the food in catering to my seat on our tour bus and the charter plane we flew on because as Sasha put it, 'You have veteran status, Nattie! You deserve it!'
They went above and beyond to welcome me into the Raw locker room and to show me such respect. They are not only great friends, but good people. Bayley truly makes every hug count and trust me, I never take them for granted. I have also loved collaborating with Sasha on our matches. She is so creative and really loves competing in the ring. She has a very unique style that makes me really appreciate her as a tag partner, but also makes me excited about competing against her in the future. Oh, the magic we can make."
On working with Ronda Rousey on the WWE UK Tour:
"Ronda Rousey has also been one of my teammates on our tour, during which we've shared everything from locker rooms to long bus rides and flights. During that time, I've learned that I like her even more than I did before. It's hard not to like her because she's a very genuine person and is also sentimental, which I can relate to. For instance, when we were in Vienna, she talked about what the city meant to her and how she had competed there earlier in her career and that her favorite song was 'Vienna' by Billy Joel and she made me listen to the words of the song as she serenaded me in catering.
As much as Ronda is a 'student of the game,' I can tell that there's a part of her that wants to teach others about her life experiences and how she has grown from all of it. It was also very cool being a part of Ronda's second match in WWE during our tour stop in Geneva, Switzerland. I loved the childlike excitement that she had where everything felt new again. Ronda's energy made me extra excited to compete in Switzerland that night and to watch my friend discover the same passion that I have for what we do in WWE."
On Ember Moon who debuted on RAW a couple of months ago:
"Ember Moon debuted less than two months ago on RAW. Prior to that, she was part of NXT and held the Women's Championship. Ember loves video games and Game of Thrones and every city we were in, she wanted to try to see a site or taste a certain cultural food specific to that country. In the ring, she's an incredible high-flyer. I loved watching her during our tag team matches."
• Lackluster Matches Being Advertised For Extreme Rules 2018 PPV
As of right now, the following two matches are being advertised for next month's Extreme Rules 2018 PPV:
– Daniel Bryan vs. Big Cass
– Roman Reigns, Braun Strowman & Bobby Lashley vs. Jinder Mahal, Kevin Owens & Sami Zayn
The Bryan vs. Cass has already been done at Backlash 2018 and will take place once again at Money In The Bank 2018 PPV.
If the above mentioned 6 man tag team match ends up being the main event, then it would be another Backlash PPV type scenario where the outcome of the main event doesn't mean anything.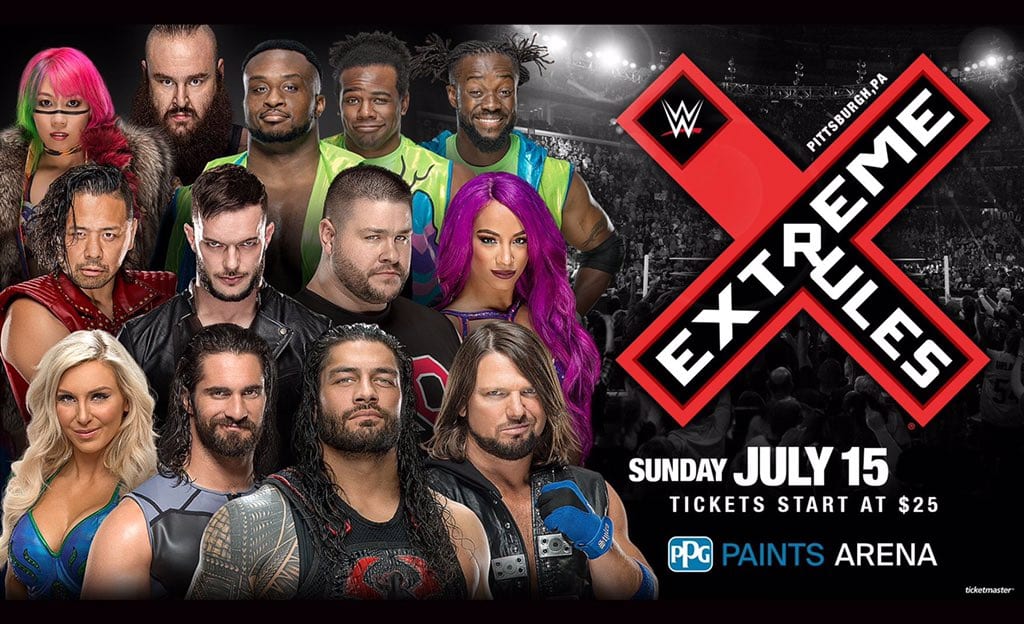 Let's hope these two matches are just the early advertised matches for Extreme Rules 2018 and will get changed later.