• Major Update On Angel Garza's Injury
In a video released on his YouTube channel, WWE RAW's Angel Garza gave an update on the injury he suffered at Clash Of Champions and revealed that he isn't going to be out for a long time.
Garza also added that the injury didn't come from the Spanish Fly, as many people speculated.
You can read the full update below:
"My injury did not come from [the Spanish Fly]…An injury from the Spanish Fly could have been worse. Thank goodness that the injury came later and not from the Spanish Fly. In the Spanish Fly, I landed on my neck. I was not standing fully right on the ropes and Montez Ford launched himself when I was still not fully planted on the rope. It was a matter of moments that my mind went like, 'Spin' and that's the result that you saw [at Clash of Champions].
Unfortunately, the injury came afterwards. Montez went for a kick and I grabbed the kick. When I lowered it, I went for the knee, but I put in a little too much force into it. I thought when I was going to do it, [Ford] was a little too far from where I was and I didn't measure myself properly. When I tried to stretch my leg towards him, the other leg that was supporting it couldn't handle it and was stretched out too much.
That's when I heard a small pop, like a balloon exploding. Everything around that area started to get really hot and when I tried to move the leg, I had that tension close to my groin and it was my quadriceps, almost reaching my hip. That's what I felt.
They told me to get an MRI and I got the results and thankfully, it wasn't anything involving the tendons or with my hip as some outlets have reported. It was a quad tear and we already began treatment. I've been putting ice on it and bandages for the tear.
Right now, I just came from an evaluation and we have been advancing through it incredibly. Thank God I just started to feel good. I still have more evaluations to do, but if all goes well, I think I might be out from a week to maybe 15 days.
Thank God that it wasn't anything long-term like 5 or 6 months. They told me if I had continued, I could have completely torn [the quad] and would have been out for a very long time.
I don't think it will even be a month to fully recover…I'm not going to be needing surgery, I'll probably be only out for a week to three weeks since the injury."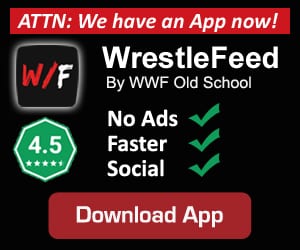 WATCH: Becky Lynch Shows Off Her Butt (Part 4):
You can download our official WrestleFeed mobile app to check out more Wrestling news & Divas content. Tap here to download.
• Old School WWF Veteran Celebrates His Birthday
Old School WWF Veteran Man Mountain Rock (Real name: Darryl Peterson) turns 59 today.
After wrestling in Memphis, Japan & Europe for a while, he joined Ted Turner's World Championship Wrestling in 1993 as Maxx Payne, but was fired in 1994 by WCW President Eric Bischoff.
By early 1995, Vince McMahon had signed him to a World Wrestling Federation contract, where he was known as Man Mountain Rock, a character who played a large electric guitar.
Injuries as well as his drug & pain killer addictions eventually led to his release from the WWF in the fall of 1995.
HAPPY BIRTHDAY MAN MOUNTAIN ROCK!