In 2020, a man named Phillip A. Thomas II from South Carolina was arrested by Hillsborough County Police for trying to kidnap WWE wrestler Sonya Deville.
Deville had a friend with her, who she escaped with, when she saw Phillip. That friend was her best friend and then WWE wrestler, Mandy Rose.
Sonya went to bed at about 1:15 AM. At 2:41 AM, her security alarm went off. She ran to a keypad by the garage to disarm the system, which was showing a family room door was open.
She woke up Rose, who was in the house at the time and ran to the family room.
"As I was ensuring the sliding glass door lock was secure, I looked up and on my back lanai was Phillip."
When Phillip began to approach her, she rushed to Rose's room and said:
"There's a man in the house, we have to go."
She grabbed her keys, went to the garage and the two sped away.
Deville called 911. When Hillsborough County deputies arrived, Phillips was still at the home.
Sonya watched video from her security system and saw that Phillips had followed her.
"He thought I ran up the stairs, leaving me and my friend just enough time to escape."
After learning Phillip's identity from deputies, Deville typed his name into her Instagram account and found hundreds of messages from his account dating back to March 2019.
"The nature of the messages from this account were obsessive, suicidal, idolizing, saying, 'You are the only person I will ever love.'"
She saw another account without a profile photo that contained what she described as similar grammar and "disturbingly threatening."
The last message from that account arrived at 12:16 AM:
"Look outside, baby, by your pool. I'm here. I'm gonna k*ll that little b*tch you have inside with you."
The other messages from that account began on July 5.
One message said:
"I found your home address."
Along with it was Deville's residential address.
In other messages, the sender threatened to decapitate or go after her friends and relatives by name and described $ex acts.
One message included a photo of a penis.
She further wrote:
"I'm a public figure with a social media following of almost 1 million so all his messages were in my 'request' folder, which is filled with thousands of messages from people I do not follow."
According to the arrest report and the motion filed by prosecutors, Phillip admitted to driving from South Carolina. He parked his car — a green, two-door 1997 Ford Thunderbird with South Carolina plates — about a third of a mile away from the home, at Idlewild Church off Dale Mabry Highway and Van Dyke Road, and walked to the home carrying items including a knife, mace, plastic zip ties, window punches and duct tape.
He cut a hole in a patio screen and remained on the patio three to four hours while watching and listening through the windows. After Deville and Rose fled, Phillip remained in the house thinking they were hiding upstairs.
The prosecution motion said:
"The defendant admitted that his intention was to take Mrs. Berenato [Deville] hostage by spraying her (with) pepper spray, binding her hands with the zip ties, and wrapping duct tape around her arms to prevent from fighting back.
He stated that he intended to keep Mrs. Bernato hostage, preventing her from attending a planned event schedule for the following week, and that he was not going to leave her residence without her answering all of his questions."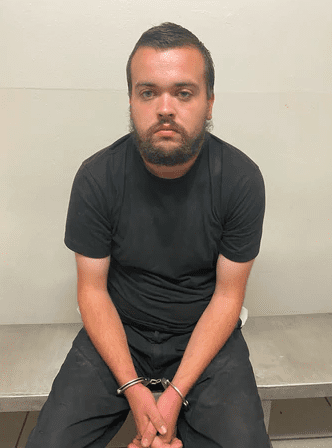 In an update on this situation, FOX 13 is reporting that Phillip has been sentenced to 15 years in prison for the attempted kidnapping after coming to a plea agreement. He was also sentenced to 15 years of probation.
WATCH: Sonya Deville Shows Off Her Buns: