• On This Day In Pro Wrestling History (May 16, 2017) – Old School Wrestling Veteran Passed Away
On this day in 2017, we lost Old School Wrestling Veteran "Pretty Boy" Doug Somers (Real name: Douglas Somerson) at the age of 65.
Most Old School Fans remember Somers from his AWA days, where he formed a Tag Team with "Playboy" Buddy Rose.
Their feud with the Midnight Rockers, Marty Jannetty & Shawn Michaels, is legendary and they had some of the best matches in the long and illustrious history of Verne Gagne's AWA territory.
In 1991, he had a brief stint in WCW as "Doug Summers", where he lost to Van Hammer at the annual Halloween Havoc PPV.
Doug jumped ship the following year in 1992, when he worked for the World Wrestling Federation as an enhancement talent, putting over WWF Superstars like Bret Hart, Tatanka, Jim Duggan, El Matador, Owen Hart & The Big Bossman.
† REST IN PEACE DOUG SOMERS!
September 22, 1951 – May 16, 2017
• Martha Hart Comments On Vince McMahon Suing Her After Owen Hart's Death
Old School WWF Legend Owen Hart's widow, Martha Hart, was a guest on the latest edition of Talk Is Jericho.
She was there to promote the upcoming episode of Dark Side Of The Ring on her husband, and share stories about him as a person outside the ring.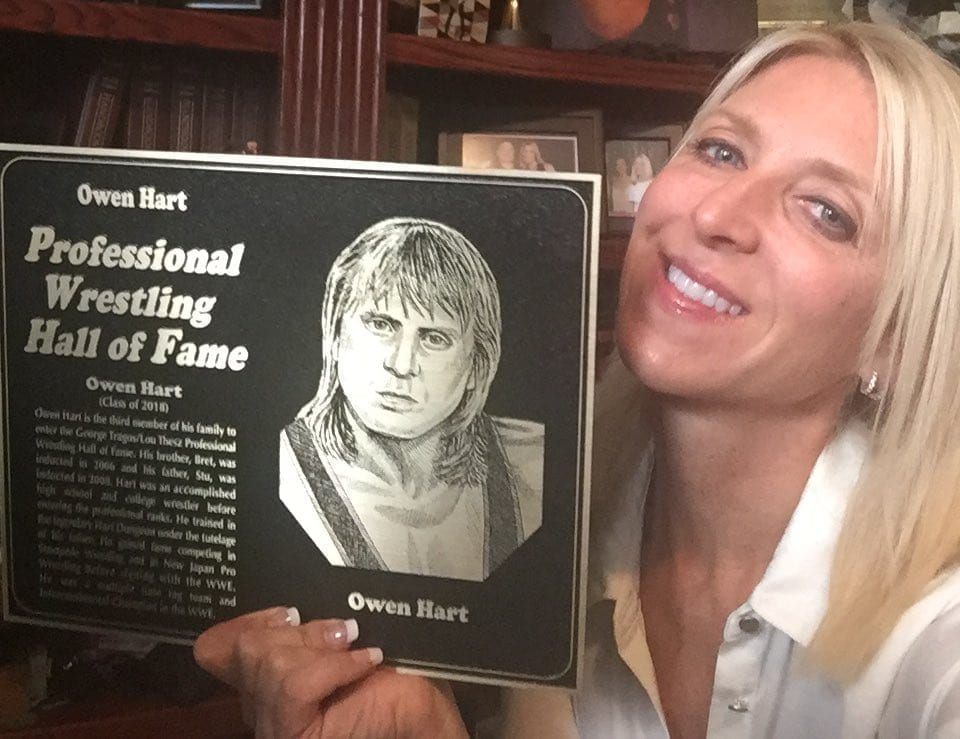 Below are the highlights:
On Bret Hart leaving WWF after the Montreal Screwjob & WWF not letting him [Owen] out of his contract:
"That was a really difficult time for Owen. Even though he didn't sort of share the same philosophy as Bret as far as wrestling would go, he knew that was really crushing for Bret what had happened with Vince and everything and he felt bad for his brother but he was also beholden to a contract at that time.
WWF had just introduced a few years before that — contracts where you were locked in for 5 years. Owen was locked into his contract. So he requested that he be let go when everything happened with his brother and they said now that they weren't gonna let him go.
Emotionally it was difficult for him to see his brother so upset and betrayed and yet have to stay and fulfil his commitment that he made to the company so it was a hard time. He preferred to leave but they wouldn't let him go."
She revealed that WWE gave him a raise because they were worried he would quit the wrestling business. Owen had planned to do so when he had saved up enough money.
About his interests out of the ring, she said that Owen was good at building bikes, and he had planned to open a bike shop after retiring.
She then discussed the Canadian Stampede pay-per-view, where she was in the ring with the rest of the [Hart] family at the end of the show. She said that it was the last time that all of them were together at the same time.
On if she still has a relationship with the Hart family today:
"Unfortunately I don't and that's really unfortunate. I don't know if people are aware of everything that transpired with my lawsuit.
The family weren't that supportive of my lawsuit against WWE and the worst part of it was that some of the family actively worked against me and other ones just remained silent and that was almost as hard as the ones that worked against me so when you break the trust and I felt really betrayed and sort of left alone without any support.
I've forgiven them and I'm totally past that and I wish them well. My life hasn't been easy and I certainly wouldn't wish harm on anybody. I hope life has been kind to all of them. The damage is done and you just can't repair it and that's one of the unfortunate casualties of war. The damage is irreparable and it can't be repaired and I let it go and I wish them well, I really do."
She revealed that WWE had sued her for breach of Owen's contract and said that there had to be a judge in the room to conduct depositions because things got so vicious between lawyers. The legal issues led to her creating the Owen Hart Foundation.
On Vince McMahon suing her after Owen's death:
"It was the craziest thing because they had in their contract that you could only sue them in Connecticut. I wasn't suing them about Owen's contract, it was totally different [wrongful death lawsuit], but through that process of the lawsuit they were trying everything and anything to muddy the waters and intimidate me so they were throwing everything at me.
Then Vince sued me because he wanted the case moved to Connecticut because in Missouri you're allowed punitive damages, but in Connecticut you're not. He was so worried like 'Oh my god there's so much negligence here that the punitive damages are just going to be like through the roof.'
So he sued me which was really tough because I had to hire lawyers in Connecticut to fight that lawsuit while I was battling the wrongful death lawsuit in Kansas City."
WATCH: Clear Close-Up Footage Of Bret Hart Getting Attacked At WWE Hall Of Fame 2019: