• "My attempt to get chair shots to the head back for the boys, but safely, was a failed attempt" – AEW Wrestler
At AEW Fyter Fest 2019, Shawn Spears hit Cody Rhodes with a chair shot to the head, which was meant to be a gimmicked chair, but it busted Cody open as the lid of the chair hit Cody in the back of the head and opened him up.
You can watch it below:
On AEW Unrestricted this week, Cody recalled the chair shot and said that he wanted to show how it could be done safely for the boys in the back.
"It's entirely my fault, what happened. The whole thing. The scene, when I came (to the) back. I did not have a concussion, but I was shell shocked. I saw [Jon] Moxley and Tony Khan just ripping Spears to shreds. I hadn't seen that side of the boss and I hadn't see that side of Moxley.
It was cool to see it because he cared about my health and the product. I could see him pantomiming to Spears on how he was supposed to do it. He was wrong because I'm the one who told Spears to swing from the side. The last words I told him were, 'swing for the fences'.
Here was my objective, and I want people to understand this; wrestling is violent. If we're going to be held to the same standard as TV and film, which some people like to do because we have a comparable reach. Then, if Captain America can be swinging his shield around and hitting people in the head with it, no one is crying 'head shots.' No one is blaming this modern generation for whatever the hell they did with Mick [Foley], Rock, [Ken] Shamrock. That's not our fault. I wanted to take chair shots to the head back for the boys. I wanted to do it, safely.
The plan was, we do a chair shot to the head, but we gimmick the chair. Gimmicking the chair, it would have been nice to have a person who knew how to do that. The plan was, the seat of the chair would be sanded until it was a cookie sheet, a cookie sheet can't hurt anybody, but it sounds good. [Security guard Charlie Ramone] was going to sand it and I wanted to see it. I wanted two of them in case we needed to test one.
The night before the event, Tony Khan was adamant that Charlie hit him with the chair. I was like, 'No, you're not taking a headshot. We're sanding this thing down and we can't dent it.' Perhaps we should have. I still wouldn't want Tony to take it, but he was banging it against his own head. 'See, it's nothing.'
What I told him was, 'We get a lot of heat for what goes down. Say to whatever sources you want to and tell them that it was a gimmicked chair.' In the fiction and the actual product, we're not addressing it, but off the record, he is addressing it, so no one could get mad.
We should've coordinated the plan with everyone. Matt and Nick Jackson, I left in the wilderness on this. Kenny [Omega], I don't think I said a word to about this. That's where the term 'gimmick chair' came from.
In the end, he did sand the chair down. It was sheet metal and beautiful. My advice to Spears to swing from the side, and he did swing for the fences, the top bar is what ate the back of my head. I knew it went bad, but it was a great moment. Matt and Nick went on the scrum and said it was gimmicked, Tony said it was a pilot error, and it became a big thing and 'we're never going to do chair shots to the head again.'
My attempt to get chair shots to the head back for the boys, but safely, was a failed attempt. Maybe it never should have been attempted. It was a big lesson for me. Would I do it again? Of course."
WATCH: Zelina Vega's New SuperHOT Shots:
You can download our official WrestleFeed mobile app to check out more Wrestling news & Divas content. Tap here to download.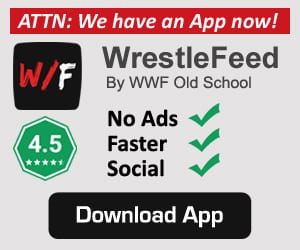 • Old School WrestleMania Celebrity Celebrates Her Birthday
Old School WrestleMania Celebrity Rhonda Shear celebrates her 66th birthday today.
Rhonda Shear was the guest timekeeper at WWF WrestleMania X in the Lex Luger vs. Yokozuna match for the WWF World Heavyweight Championship.
She used to be a famous TV personality and actress, who appeared in famous TV shows such as Dallas, The A-Team, Full House and Married with Children.
HAPPY BIRTHDAY RONDA SHEAR!