• "My son got to see me not only in a WWE ring but live on TV" – Attitude Era Veterans Comment On Their Return To WWE
Old School WWF Attitude Era Veterans The Headbangers, Headbanger Mosh & Headbanger Trasher, recently spoke to Wrestling Inc about their 2016 return to WWE on SmackDown.
The Headbangers originally wrestled for the World Wrestling Federation from 1996 until 2000, but were brought back to the company in 2016 after the roster split, when WWE needed more Tag Teams.
Here's what the former WWF World Tag Team Champions had to say about their return.
Mosh:
"Well, how it originally came was I actually got a text from Road Dogg. He said, 'Are you guys available to do SmackDown Tuesday?' And I went, 'Yeah, that's funny. Who's this? Why are you ribbing me?' And then immediately after I sent that back, he called me, and they actually wanted us the week before, but they were up in Boston or whatever it is. The casino where you had to have blood work done, a physical, the whole nine yards, so we wouldn't have had time to get all that done.
So Brian said to me, 'I don't know if we're going to be able to hold off this angle for another week. So I'll call you next weekend,' and I was like, 'Okay.' At that point, it had been 15 – 16 years since I've heard from anybody, and one of the things I always wanted to do was, my son at that time was 12, but one of the things I always wanted to do was, he's seen us do so many indy shows that he's bored, and he falls asleep during our matches. It's amazing. One of the things I wanted was for him to see me in an actual WWE ring, so they do a lot house shows around here, couldn't get on it.
When I saw Brian a couple times, Brian knew about it. So I said to him, 'Hey, appreciate the thought.' No big deal but anyway, end up calling the next weekend and flew us into Dallas, and we did it. It was amazing to be back. It was amazing to see everybody. It was an awesome feeling, and my son got to see me not only in a WWE ring but live on TV, which for me, made it even better."
Thrasher:
"Before anybody gives Chaz sh*t about dabbing on TV, that was strictly done for his son, there were so many comments. 'Oh look, The Headbangers, they're dabbing.' There was meaning behind that. So everybody who gave us sh*t about it, up your f**king a$$. It was also cool for me because we went to Dallas and everything else, and we got in the ring with Heath Slater & Rhyno.
We waited 16 years, and then what do we do? We leave them in a ring bloody in a mess. And then we're like, 'Oh Jesus Christ. It took us 16 years to come back. We're never coming back again.' It was almost less than a month, I think, we got a callback for that in the tournament for the Survivor Series stuff, and that one was in New Jersey where we're from. So it was really cool for me. That time, my oldest kids, actually got to come to the arena and see it live. Now, my oldest daughter's 27.
She remembers daddy when he wrestled, and daddy had a different job than everything else, but she doesn't really remember going. She was actually with me when we won the tag belts in Louisville.
So it was neat, and then my other one who is 23, she doesn't remember. When she would go backstage, she would wrap her arms around Steve Austin's leg and thinks that was daddy because all bald guys are same. It was neat for me to go back to Jersey and have my oldest kids come and actually say, 'Hey, this is why my dad was taken away from me when I was growing up'."
WATCH: Mickie James Kisses Trish Stratus:
You can download our official WrestleFeed mobile app to check out more Wrestling news & Divas content. Tap here to download.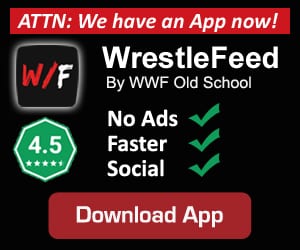 • ON THIS DAY IN NWA HISTORY (February 11, 1984) – NWA Maple Leaf Wrestling
On this day in 1984, Jim Crockett Promotions aired an episode of their weekly TV show 'NWA Maple Leaf Wrestling'.
This episode featured pre-taped matches, interviews & storyline segments featuring the 1984 NWA Wrestling Superstars.
Below is the match-card:
– Leo Burke vs. Bobby Bass
– Jay & Mark Youngblood vs. Tony Russo & Hans Schroeder
– Greg Valentine vs. Roddy Piper
– Terry Kay & Rudy Kay vs. Joe Marcus
– Leo Burke vs. Nick DeCarlo