• Old School WWF Diva Celebrates Her Birthday
Old School WWF Diva Tori (Real name: Terri Poch) celebrates her 56th birthday today.
Tori joined the World Wrestling Federation at the peak of the Attitude Era in late 1998, first portraying an obsessed fan of famous WWF Diva Sable.
Tori wrestled for the WWF Women's Championship many times, but never managed to win the title.
In early 2000, after being Kane's valet for some time, she joined D-Generation X during their "McMahon-Helmsley Era" days, but got hurt in the Summer and eventually left the Federation in 2001.
HAPPY BIRTHDAY TORI!
• Naomi On How Jimmy Uso Saved Her From Getting Fired From WWE
WWE SmackDown wrestler Naomi was the special guest on this week's New Day's Feel The Power podcast, where she discussed her first meeting with her husband, Jimmy Uso, making new friends and the training she went through.
Below is what she said about her training to become a wrestler.
"It was very overwhelming just learning how to bump. Just going through that first beginning part of getting your body used to the bumping, and then the social environment, and just learning the rules of wrestling, and the etiquette of wrestling. And to be in all of that by myself for a long time, I'm just like, 'What the f*ck am I doing?' and, 'if this don't work out, and if I don't pick this up, or if I don't make it-'. And then seeing so many people through developmental that didn't make it, and all the new talented people coming in, I was always very insecure in the beginning because there was just so much I didn't know.
So, that bothered me. I was just scared for a long time until I got to that next level, and, 'OK, I'm going to be alright.' Just making friends and meeting all the people down there that did encourage me, and that did work with me, and did help me. And then, of course, meeting my husband [Jimmy Uso]. That's really what got me through because this was, boom! I was struggling. Yeah, it was crazy now that I think back on my life."
She then revealed how Jimmy Uso saved her job by teaching her the etiquettes a trainee must follow.
"This is where Jon [Jimmy Uso] comes in, and he probably saved my damn job because I was so green. And I remember one time I was new, and after practice, I finished and I was like, 'Well, thank you, guys! Bye, everybody! I'll see you guys tomorrow!' I left out the front door, and everybody was looking like, 'Where the hell is she going?!'
I didn't help break down the ring. I wasn't the last one to leave. Practice was over, and I thought everybody just left. I didn't know that you stay, you help, you break down. And you're new, you need to be the last one out the door, not the freaking first one out the door.
I remembered Jon pulled me to the side and 'Hey, you can't leave like that.' I was like, 'What are you talking about?' He was like, 'No, it's rude and disrespectful. You got to stick around, make sure your locker room is clean, make sure you help clean up. You just got to pay your dues,' and then he gave me that talk.
And I remembered the next day I came back. I was so embarrassed because people were talking about it. So, I had to come back, and correct, and apologize. It's little lessons like that that can really mess you up if you don't know… It was a bunch of little lessons like that where the boys really helped me to learn."
WATCH: Paige's Big Juggs (Part 1):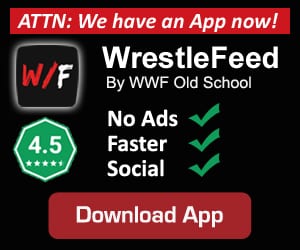 You can download our official WrestleFeed mobile app to check out more Wrestling news & Divas content. Tap here to download.