– ECW Legend On WWE Putting Tom Phillips In A Really Bad Spot
During a recent edition of "The Taz Show" podcast, ECW Legend Taz discussed this week's episode of SmackDown Live, the Bobby Roode vs. Dolph Ziggler feud coming to an end, WWE putting Tom Phillips in a really bad spot & more.
Below are the highlights:
On WWE putting Tom Phillips in a really bad spot:
"Tom Phillips, they put this guy in a really bad spot. He was back from assignment and they put him in a really bad spot. They made a mistake with him.
You can't have your SmackDown lead play-by-play guy, who's been gone for a couple of weeks for whatever reason, be back where he is obviously Pro SmackDown because he's the lead voice on it. You can't have him promoting Raw's 25th anniversary. You can't do that guys.
I'm just being frank and I'm telling you, you can't have Tom Phillips voiceover a promo for Raw's 25th anniversary. Instead of just burying it, I'll give you an alternative WWE. And you could do this with your eyes closed.
Just run a package, a self contained video package, with a generic voiceover or have Michael Cole voice it and run it in SmackDown. Don't let Tom voice it.That's really bad. I guarantee you."
On Bobby Roode & Dolph Ziggler competing in a 2 out of 3 falls match:
"I've not been proposing two out of three Falls with these guys. A lot of people got confused. I've been proposing a two out of three or best of three out of five series. Now for those that understand there's a big difference.
We're not proposing for what they did. What they did was cool. Two out of three Falls is in a match. That's one big large match with three Falls or two Falls of someone back to back.
What I was proposing was three out of five, which is they have a series of matches. Not in one match. Five matches. That's some people I think were confused on what I was saying. So they hacked me, but they didn't hack me.
So Roode qualifies for the SmackDown deal for Survivor Series. So right now, team SmackDown is locked in almost. They need one more guy in. They got Shane McMahon, who named himself the captain. You got Randy Orton in there. You got Shinsuke Nakamura in there. You got Bobby Roode in there. I like this so far.
On the Raw side you got Kurt Angle and you got Braun Strowman. So Kurt announced after Raw because of the impact that Braun put out on Raw – Hey he is the first member next to Kurt Angle on Team Raw for Survivor Series. So this seems to be shaping up pretty good here. I like it, I mean from a fan's perspective."
– Natalya & Zack Ryder Continue Having Fun Regarding Natalya Grabbing Ryder's Crotch Incident (Photo)
During SmackDown Live's invasion of Raw, SmackDown Women's Champion Natalya accidentally grabbed Zack Ryder's crotch. Below is a meme that's been going around on the Internet regarding this: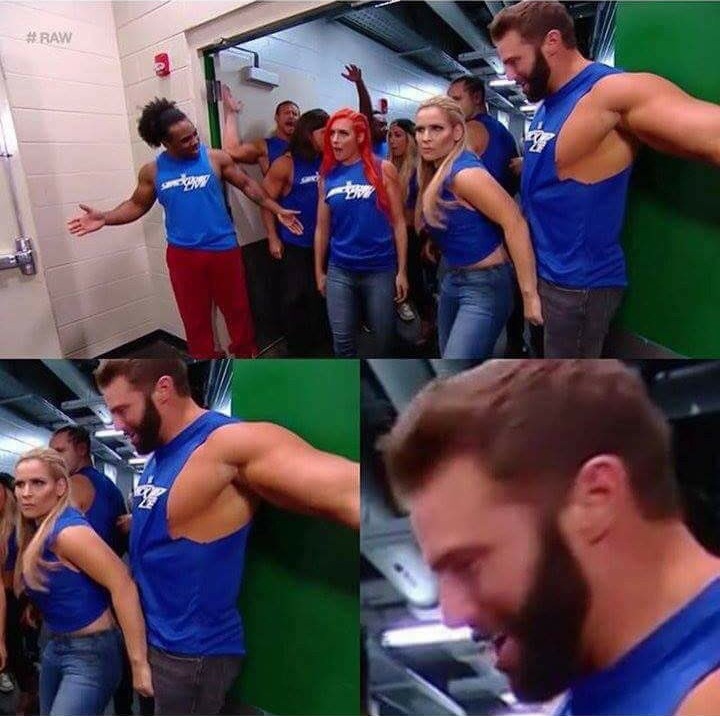 Below is what Natalya tweeted about this:
All I can do is laugh!!! I'm sorry @ZackRyder … wasn't intentional! And everyone settle their tea kettles!!! ? https://t.co/wWmBlqqYgI

— Nattie (@NatbyNature) October 27, 2017
Below is what Ryder replied:
— Zack Ryder (@ZackRyder) October 27, 2017
Natalya & Ryder continued having fun regarding this incident as Natalya tweeted the following photo of them:
Let's be friends @ZackRyder ? pic.twitter.com/o41Gw4dyZa

— Nattie (@NatbyNature) October 31, 2017