• Shawn Michaels Comments On If The Young Bucks Should Be In WWE
During a recent appearance on X-Pac 12360 podcast, WWE Hall of Famer Shawn Michaels talked about why he wants The Young Bucks and other indy guys to join WWE, James Vick and other guys using the Superkick, Triple H wanting him to be a coach in NXT & more.
Below are the highlights:
On why he wants The Young Bucks and other talented guys to join WWE:
"I have met them (Young Bucks), but it was a pretty brief encounter, but I hear great things about them, you know phenomenal workers and that Kenny Omega kid. I get it that people don't wanna be part of the WWE for one reason or another, and I totally 100 percent understand that. I just want the most talented guys that are doing this line of work to be able to do it in a place where they can reap the most rewards.
There are people that think they are making a phenomenal living away from the WWE, and I have no doubt that they are, but I still hope there comes a day where all these guys will come to the WWE and have the opportunity to do it on a bigger stage. I enjoy the world being able to appreciate what is we do. And if you can do it at a phenomenal level, I'd like everybody to see that and WWE is the place where you can show that and that's not to take anything away from everybody else. If a dude like me can make a living surely those guys can."
On James Vick and other guys using the Superkick:
"Yeah it was James Vick… I wanna say he's like 6'7" or something like that, he's a big kid, a big tall kid and he tweeted me a picture of it. One could argue that there are a lot of the guys that do that during a fight, but to watch a dude that is 6'7"… you know just the fact that they watch our stuff, because I certainly watch theirs. I am appreciative.
The Young Buck guys, they do the superkick, I think that's cool. I guess people feel like it's done too much and look, you can make that argument all day long. I feel like most of them were watching me when they were younger, that's nice. (laughs) They can beat it into the ground it's certainly never gonna affect me. The fact that they thought it was neat enough to do, that's cool."
On Triple H wanting him to coach the guys at NXT:
"Hunter mentioned to me that we (NXT) have a whole lot of people who haven't been where you've been and what you have done. (Triple H -) 'I just feel like you'll bring in a different perspective. You've done a lot of WrestleManias. You've been through a lot of experiences good, bad and otherwise. There is a value in that, a lot of do's and don'ts, good and bads. You certainly can help guys face every possible situation that they're going to come up against.'"
• Official WrestleMania 34 Poster Revealed, Major Name Missing
Below is the official poster for next month's WrestleMania 34: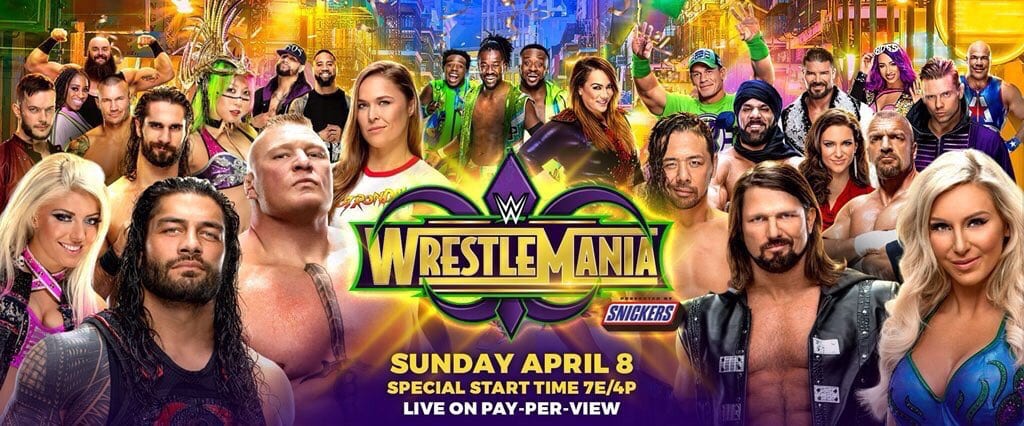 It should be noted that The Undertaker (who's scheduled to face John Cena) is missing from the poster. That's because WWE hasn't confirmed Cena vs. Taker yet. So he'll be added to the poster once the match is made official.