2 Years ago today, a dream match took place – The Undertaker vs. Goldberg.
WWE Super ShowDown 2019 pay-per-view featured "The Phenom vs. The Icon" for the first time ever in the main event, and it was a disappointment.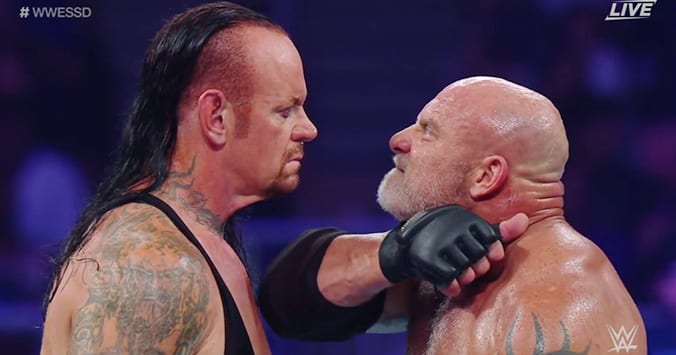 The Undertaker discussed this match on an episode of his "The Last Ride" docuseries, where he said this match was "catastrophic" and he was inches away from death.
While you will find people only saying negative things about this match, that won't be the case on our website.
People blamed their age for whatever happened and told them to retire. But was it ONLY the age? I mean, the age obviously played a factor, but there were some other factors that played a bigger role in the match being a disappointment.
The fact that Goldberg got knocked out and was bleeding profusely after banging his head in the ring post, and the temperature in Saudi, both men being out of the ring for a long time – WWE just shouldn't have booked this match in the year 2019.
So here's an unpopular opinion about this match – The match was going just fine before Goldberg got knocked out.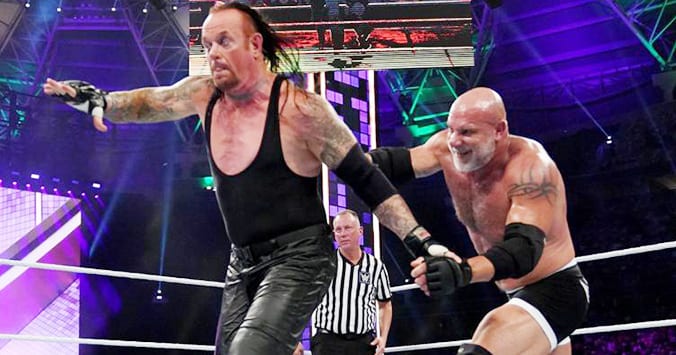 Taker & Goldberg were having a normal match, something that all Old School wrestling fans would appreciate at this point, given how we don't get Legend vs. Legend matches of this magnitude nowadays, and then everything went downhill.
But unlike others, we'll give credit where it's due – Goldberg showed that night that he's got balls of steel. You can say whatever you want about him, but to finish the match after getting knocked out by accidentally hitting his head on the ring post and then getting dropped on his head during the Tombstone Piledriver, nothing but respect for him.
On the other hand, you gotta appreciate the shape Undertaker was in for this match. Earlier in 2019, Taker dropped 25 lbs and was in phenomenal shape for this match.
It's sad how the match turned out, but it is what it is.
You can watch the full match below:
Here's something most people don't know – Undertaker & Goldberg were scheduled to have a total of 3 matches (second one at SummerSlam and the third one inside Hell in a Cell), but those plans were dropped after the first match was a failure.
While the match obviously didn't live up to the hype, but you know what was AWESOME about this match? The pre-match promo. If you have never seen it before, then we highly recommend you to go to the WWE Network and check it out.
Also Read: Michelle McCool Reveals What The Undertaker Said To Her After Match With Goldberg
WATCH: Goldberg Collapses After Losing To The Undertaker At WWE Super ShowDown:
Below are the results from WWE Super ShowDown 2019:
– The Usos def. The Revival (Kickoff Show)
– Universal Championship Match: Seth Rollins (c) def. Baron Corbin to retain the Title (Brock Lesnar tried to cash-in his Money In The Bank contract after the match, but Rollins laid him out with a Stomp)
– Intercontinental Championship Match: "The Demon" Finn Balor (c) def. Andrade to retain the Title
– Shane McMahon def. Roman Reigns
– 3 On 1 Handicap Match: Lars Sullivan def. Lucha House Party
– Randy Orton def. Triple H
– Braun Strowman def. Bobby Lashley
– WWE Championship Match: Kofi Kingston (c) def. Dolph Ziggler to retain the Title
– Mansoor won a 51 man Battle Royal
– The Undertaker def. Goldberg
WATCH: Michelle McCool's (The Undertaker's Wife) Exposing Video: