• OLD SCHOOL HISTORY (October 13, 1991) – WCW Main Event
On this day in 1991, Ted Turner's World Championship Wrestling aired an episode of their weekly TV show 'WCW Main Event'.
This episode featured pre-taped matches & storyline segments on the road to the 'WCW Halloween Havoc 1991' PPV.
The card can be found below:
– Ron Simmons vs. Mike Fever
– Cactus Jack vs. Bobby Eaton (from WCW Worldwide)
– Michael Hayes & Jimmy Garvin vs. Chris Sullivan & Joey Maggs
– Rick Steiner vs. Larry Zbyzsko
• Paige Reacts To Alberto Del Rio Taking Shots At Her Mental Health Issues
As we noted before, former WWE Champion Alberto Del Rio posted a photo on Instagram where he was seen sitting next a woman (possibly his girlfriend).
You can check it out below:
A fan commented the following under this photo:
"She's waaaay better looking than Paige.. yes even Paige Latina version 2018."
Del Rio then replied the following about his ex-girlfriend Paige:
"yes and this one doesn't have more than 9 police reports against her , or 3 arrests in different states or committed in 2 mental hospitals like the one you mentioned did"
"and with real evidence not just lies from her LOSER BROTHER"
Below is a screenshot of this: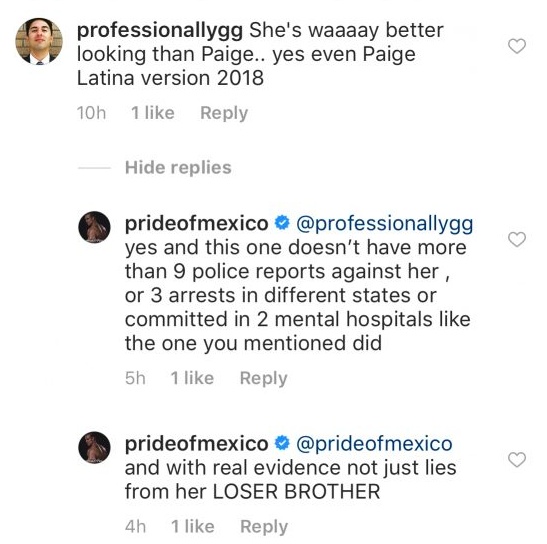 Del Rio continued taking shots at Paige's family by tweeting the following:
Not taking bs anymore from the bs of that loser brother on Facebook, me,my fam,my children,my job were affected by this people and enough is enough. DONT FORCE me to hit you with real evidence from authorities not just bs REAL evidence

— Alberto El Patron (@PrideOfMexico) September 28, 2018
Paige appeared on Lilian Garcia's podcast and had the following to say about this:
"I chose not to reply to it. It hurt my feelings but I didn't want him to know that it hurt my feelings at that point. But it wasn't like it hurt my feelings because I can't believe he said those things about me, it was more about the fact that he was making fun of someone with mental health issues. Who does that?
I am glad that he has moved on and found someone. I love that. I want him and his family to be happy, but I just wanted him to leave me alone. So, I thought that over a year of us not being together, I never expected him to bring me up again.
So, I was just like, I am not going to respond to that right now. I wish him the best of luck, but you don't make fun of someone with mental health issues because he knows at that point of how depressed and how I was at the bottom and how I wanted to kill myself so he knew all of that stuff.
I am literally the happiest I have ever been at this stage of my life, so for someone like him to try and bring me down, I get it. He may not be as successful as he wants to be, I don't know. I don't know if it is jealousy, I don't know. I just don't have time for that type of stuff.
He is 41 years old. Don't talk about a woman like that for everyone to see, especially when you are in the public eye. If you don't like me that is fine, just keep your mouth shut. We haven't had any contact in over a year so it baffled me. I was like, what? Just leave me alone. It is almost laughable in the end. He was the one that looked sad.
I am building an image where I can now help other women. On an episode of Total Divas, I went into a shelter of women who were mentally and physically abused, any kind of abuse, and I just wanted to help.
It's like, I am too wrapped up in helping people than responding to a 41-year-old dude. He wants to make fun of the fact that I went into a mental health institution, like, come on. We got bigger fish to fry."