• On This Day In Pro Wrestling History (October 31, 1991) – Old School Wrestling Legend Passed Away
On this day in 1991, we lost Old School Wrestling Legend Gene Anderson (Real name: Eugene Avon Anderson) at the age of 52 due to a heart attack.
Since his debut in 1958 Gene wrestled for various different territories, but most Old School fans remember him for teaming up with kayfabe brother Lars Anderson and later Ole Anderson (another kayfabe brother) as 'The Minnesota Wrecking Crew'.
The team won several different tag team titles in various NWA promotions such as GCW Georgia Championship Wrestling and NWA Mid-Atalantic Championship Wrestling (Jim Crockett Promotions).
He retired in 1985, but continued to train future pro-wrestlers, including most famously WWF Attitude Era Superstar "The World's Most Dangerous Man" Ken Shamrock.
REST IN PEACE GENE ANDERSON!
• Paige Wanted To Get Physical On RAW
As seen on this week's episode of RAW, WWE Women's Tag Team Champions The Kabuki Warriors turned their back on their manager, Paige. Asuka spit the green mist in Paige's face and let her know that they don't need her anymore.
You can watch it below:
According to Brad Shepard, Paige wanted to be put in the Asuka Lock during this segment to get the Kabuki Warriors over, but she isn't cleared for any kind of physical action and the WWE medical staff didn't allow it.
As we noted earlier, Dave Meltzer of the Wrestling Observer noted that WWE booked Asuka & Kairi to turn their back on Paige to stop the fans from cheering The Kabuki Warriors, as they're supposed to be heels:
"Just a way to try and get them heel heat because everyone is cheering them at the house shows and they turned. I mean even in Australia they cheered them against the IIconics who are the local women, but they've been cheered at every house show.
So they needed to do something because they need to be heels even though there are probably few people in the entire company who are better suited to be a babyface than Kairi Sane."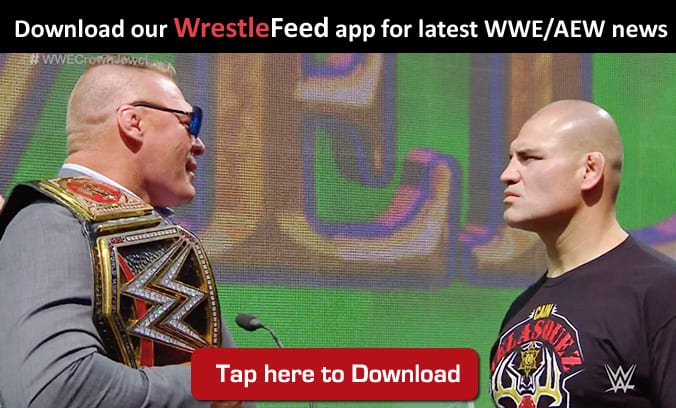 • Video Of Special Effects That Will Be Used During Tyson Fury's WWE Crown Jewel 2019 Entrance
As we noted before, a new technology will be used for special effects today at WWE Crown Jewel 2019.
You can check out the special effects that will be used during Tyson Fury's entrance at Crown Jewel below: