• Paige's Mother Reacts To Her Daughter Saying She Can't Deal With WWE Anymore
As we noted earlier, former WWE Divas Champion Paige got emotional on her Twitch stream and went on to rant about WWE trying to control wrestlers' lives, after a number of wrestlers suspended their Twitch/Mixer/Cameo accounts due to the company's recently introduced policy regarding talents engaging in third party activities.
Here's what Paige said:
"You guys. We have to make this — You guys. There may be a time where I have to stop streaming. So, I think just in case I walk away, I have to walk away, let's make these next two streams crazy. I have to go off. If I have to leave, we have to make today and Saturday f***ing crazy before I have to leave. Because it might have to come to that.
I've honestly got to the point [where] I cannot deal with this company anymore … So now I have to make a very important decision…I'm f***ing tired, man. I broke my f***ing neck twice — twice — for this company. Over f***ing worked. I broke my f***ing neck twice for this company…All I wanted was to — they don't realize that this community isn't just about f***ing subs. It isn't about that.
We built a wonderful community, a wonderful f***ing family where this is an escape for a lot of people, including myself. I can't wrestle anymore. I was worked so hard in WWE that I can't wrestle anymore. My neck is f***ed. My whole dreams got taken away from me, dude. And I had to have something that fulfilled even a small part of that huge f***ing void that I lost with wrestling. A huge f***ing void.
I couldn't wrestle anymore, something I lived, breathed, f***ing sh*t wrestling since I was a fetus, dude. And it got ripped away from me. And I had to find something that even filled a little bit of that. And Twitch was such a wonderful thing for me. It's such a wonderful place for me.
And I understand. I understand if they're like, 'Hey, if you're wrestling every day, if you're doing shows every day, if you're on TV constantly,' that's fine. But I'm a f***ing injured wrestler, I can't wrestle anymore.
I get used for media stuff, sometimes, you know? But at the end of the day, I'm in my f***ing house. I'm going f***ing crazy, dude. I need something to keep me sane, man. And Twitch was my escape from that, you know? Right now, I'm just sitting on my f***ing a$$.
I had a terrible couple of years, where I had a tape leaked about me, where I popped a couple of drug tests because I was in an abusive f***ing relationship, dude. And that's the only thing I could f***ing do.
See, people think I should be thankful that I still have a f***ing job, right? And I am, but it doesn't mean I should be treated like f***ing sh*t.
I had my neck taken away from me twice. You can't take away my Twitch too. I'm gonna keep streaming, we'll see how that goes. I haven't been used on TV in a year. This is our fun and where we can be ourselves. That's why we're here and on Twitch.
We also have a wonderful community. What's the pocket change we're getting compared to the billions these people are getting? We're not hurting anybody or doing anything harmful, we're just having a good time. People are on YouTube, have merchandise, wrestling schools, and Twitch gets taken down?
People don't realize, I'm outspoken as f**k. I will say how I feel, I don't care who you are. I will say how I feel because I don't like being walked all over.
You know what, I'm gonna start looking more into unionization. I've been learning about it by a unionization lawyer. This is bigger than Twitch, it's about taking f***ing control over your own life and not being controlled by anyone.
I gave 10 years, man. I poured my f***ing heart and soul into this. I had a bad couple of years like every motherf***er has. I'm not the only one who is f***ing controversial around here. I'm not the only one. It's f***ing louder when it comes to me because I'm a f***ing female. I hate using that face because I'm a woman but it's because I'm a woman and women don't usually stand up for themselves."
Heartbreaking to hear Paige open up about WWE / Twitch situations. WWE needs to make this right. pic.twitter.com/lJLdZAWVSR

— Macho T 💪 (@ItsMachoT) October 30, 2020
Paige's mother, Saraya Knight, posted the following after this (and later deleted):
"Make a change, stand firm, you know whats right, you have the backing, be heard."
Also Read: Paige Gives An Update On Her Future
WATCH: Paige Shows Off Her Implants (Part 1):
You can download our official WrestleFeed mobile app to check out more Wrestling news & Divas content. Tap here to download.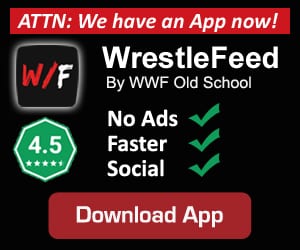 • ON THIS DAY IN WRESTLING HISTORY (October 31, 1973) – AWA House Show
On this day in Pro Wrestling history on October 31, 1973, Verne Gagne's American Wrestling Association held a House Show at the International Amphitheatre in Chicago, Illinois.
The show included several matches featuring the 1973 AWA Superstars.
Here's the match-card:
Nick Bockwinkel & Ray Stevens vs. Billy Robinson & Red Bastien COR
Jimmy Valiant vs. Bull Bullinski
Bob Ellis vs. Larry Heiniemi
Superstar Billy Graham vs. Wilbur Snyder
Pepper Gomez vs. Ric Flair
Geoff Portz vs. Tony Rocco