• Photos & Video Of Bret Hart Managing Top AEW Tag Team
2-Time WWE Hall Of Famer Bret Hart managed current AEW Tag Team FTR (fka The Revival in WWE) at the June 10th Big Time Wrestling event in Webster, MA.
FTR defeated Brian Pillman Jr. & Brock Anderson at this event.
Below are the photos & video from this event:
FTR and Bret Hart! @CashWheelerFTR @DaxFTR pic.twitter.com/wOjVAv6zam

— MikeyLaFraah89 (@MikeyLaFraah89) June 11, 2022
@DaxFTR @CashWheelerFTR @BretHart Thank you for an amazing night in Webster! 🥰 #BTW @BTWwrestling pic.twitter.com/HCctEo3AFz

— *hurt herself in confusion* (@RainbwCooknctin) June 11, 2022
@BretHart @DaxFTR @CashWheelerFTR

Glad to have been a part of this moment.@BTWwrestling pic.twitter.com/2Kr12Cqfww

— Freeway (@JoeyXVIII) June 11, 2022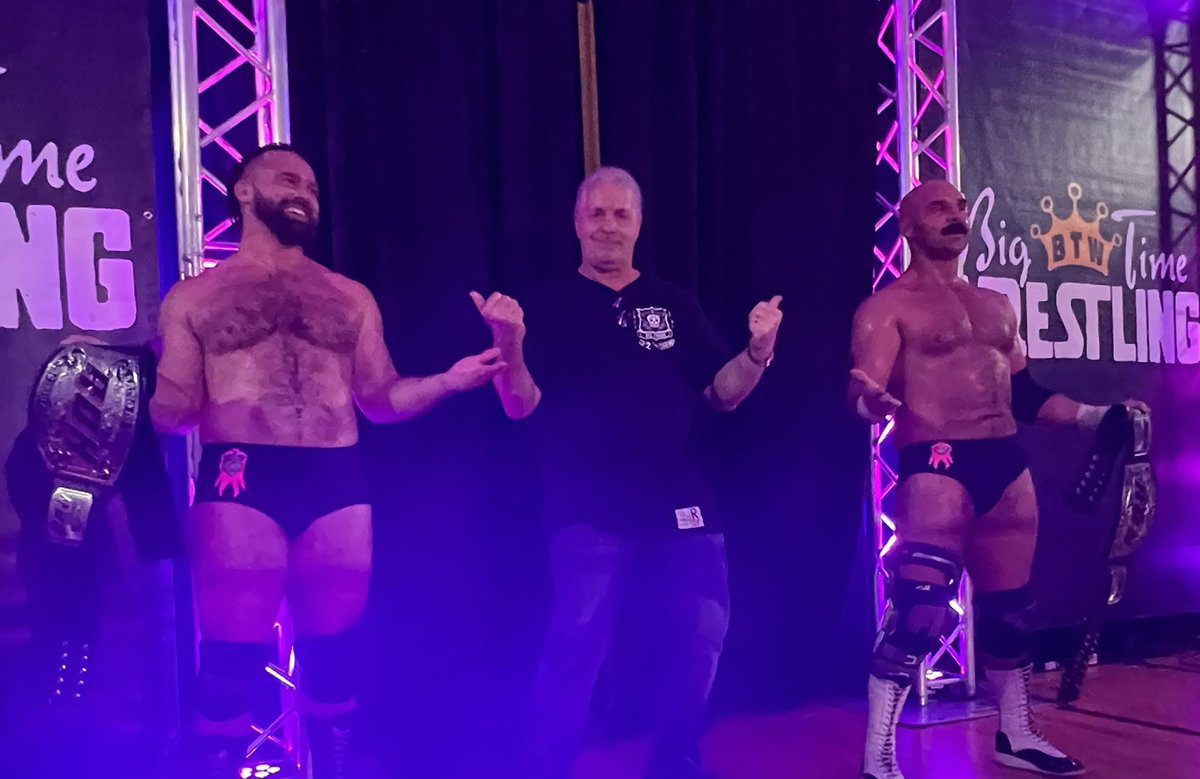 During an interview on Barstool Rasslin' last month, FTR talked about Bret managing them and The Hitman not being able to manage them in All Elite Wrestling (word going on is that Bret signed a new Legends deal with WWE).
Below is what they said:
Dax: I just think people can resonate with admiration for their heroes. Obviously, there's nobody on the planet Earth who has more admiration for Bret Hart than I do because personally, without him even knowing it, he's done a lot of sh*t for me.
We do get an opportunity to work with him on June the 10th in Massachusetts.
He's going to be our manager against the Sons of the Horsemen, Brian Pillman Jr. and Brock Anderson with Arn Anderson in their corner. That's going to be a pretty special night.
Cash: Those are cooler for me. I would love obviously for Bret to be here and to do all that, but I would rather do one night stuff like we're doing with Bret. Foley this weekend is going to be walking to the ring with us.
Dennis Condrey will do that the night after Bret. Those are cooler for me because it's one night. We get to pay respect. We get to be out there with these guys.
But as far as AEW right now full time, I'm happy it just being me and Dax and doing our thing. We had a manager for a long time, and now that we don't, I'm okay with it just being the two of us and running and seeing what happens for the time being.
Also Read: Bret Hart On Why He Doesn't Want An On-Screen Role In AEW
WATCH: Paige's Big Knockers (Part 1):
• ON THIS DAY IN WWF HISTORY (June 12, 1982) – WWF Championship Wrestling
On this day in 1982, the World Wrestling Federation aired another episode of their weekly TV show 'WWF Championship Wrestling'.
This episode was pre-taped at the Agricultural Hall in Allentown, Pennsylvania and featured matches & interviews with several 1982 WWF Wrestling Superstars.
You can find the card below:
Salvatore Bellomo vs. Frank Williams
Ivan Putski vs. Terry Gunn
Rick McGraw & Steve Travis vs. Johnny Rodz & Tony Colon
SD Jones vs. George Rosello
WWF Tag Team Champions Mr. Fuji & Mr. Saito vs. Pete Sanchez & Miguel Feliciano
Buddy Rose vs. Barry Hart
Tony Atlas vs. Jeff Craney
WWF Intercontinental Champion Pedro Morales vs. Mac Rivera