• Police Called After Former WCW/TNA Diva Daffney Teases Committing Suicide
Former WCW/TNA Diva Daffney went live on Instagram today and teased committing suicide.
This concerned a lot of fans regarding her well being, and WWE Hall Of Famer Mick Foley even tried calling her.
Fans who watched her live stream described it as:
"She went live on IG and was in a very dark place, dude. Was talking about ending her life and had a gun."
"Yo Daffney is on IG live talking about suicide. She seems all f**ked up and has notes in her hand. She needs help."
Sean Ross Sapp provided the following update regarding this situation:
"I've been told emergency services have been dispatched to a couple of known addresses, and are still making efforts to contact her.
Her family have been reached, and have her current address. She'd moved in the past couple of weeks. Police have been dispatched."
Below is a photo of Daffney from her WCW days: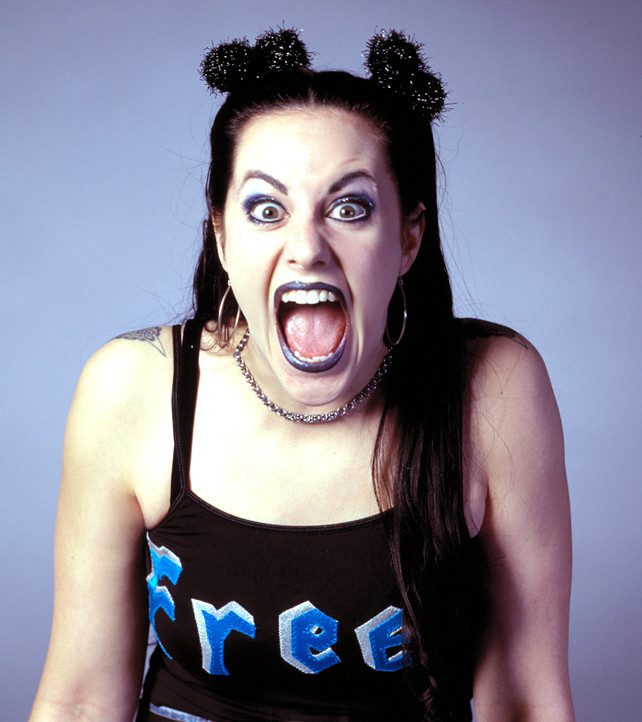 Foley tweeted the following:
"If anyone has a way of reaching Daffney Unger, or knows her address, please help out. She's in a bad personal place and is threatening to harm herself.
My phone call went straight to voicemail."
WCW Veteran Crowbar tweeted the following:
"Been Trying to text / call Daffney non stop – her vm is full, I do not know her address if anyone does please call the police."
Former ECW World Champion Justin Credible tweeted:
"I tried also Straight to voicemail. Someone please let me know."
We'll keep you updated regarding Daffney here on WWFOldSchool.com and on our WrestleFeed App.
Also Read: Niece Of WWE Hall Of Famer Murdered
• On This Day In WCW History (September 1, 1990) – NWA World Championship Wrestling
On this day in 1990, Ted Turner's World Championship Wrestling aired an episode of their weekly TV show 'NWA World Championship Wrestling'.
This episode featured pre-taped matches, interviews & storyline segments on the road to the 'NWA Halloween Havoc 1990' PPV.
The card can be found here:
Brad Armstrong vs. Brian Carr
Wrestling Wrap Up – The Black Scorpion
Sting vs. Sheik Ali Shikar
Mean Mark Callous vs. Jason Knight
Rick & Scott Steiner vs. Death Row & Snake Watson
Lex Luger vs. Doug Vines
Sid Vicious vs. Joe Cazana
Video – The Master Blasters