Former 2-time AEW World Champion CM Punk was scheduled to return to AEW programming next month, but it looks like that might not happen.
All Elite Wrestling officially announced the debut of their new Saturday night TV show 'AEW Collision' on Wednesday.
CM Punk, who's rumored to return on the debut episode on June 17, wasn't listed for this show in the press release.
However, Warner Bros. Discovery's press release headline for the AEW Collision announcement originally mentioned CM Punk and other wrestlers, which you can see in the cached listing (left) before it was edited (right):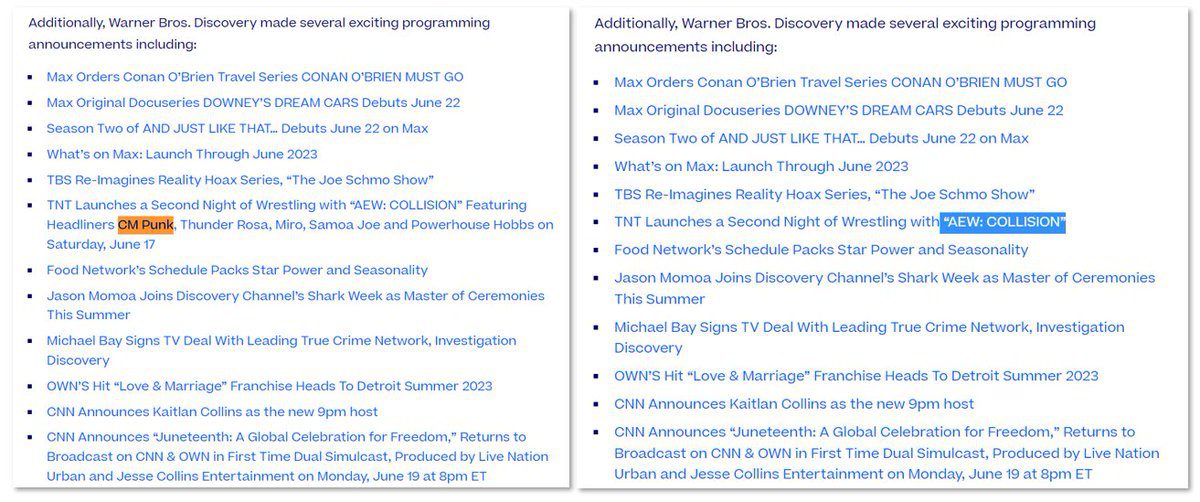 Punk wasn't mentioned in AEW's press release either, while other wrestlers were mentioned:
"AEW: Collision will feature headliners including Miro, Samoa Joe, Thunder Rosa, Powerhouse Hobbs, and Andrade El Idolo."
Many fans thought this was a work and they're trying to keep Punk's return a secret.
Warner Bros. Discovery then issued the following statement to ComicBook:
"CM Punk is not affiliated with TNT's AEW Collision."
PWInsider then reported that backstage producer Ace Steel was expected to return to AEW along with Punk, but decision was then made to not bring Steel in, and this put Punk and AEW on the "opposite sides of the discussion" regarding his return on Collision.
Steel is a very good friend of Punk. He got fired last year for being involved in the backstage fight at the All Out 2022 pay-per-view.
Ace Steel was also involved in an on-screen segment with Punk on an episode of Dynamite before All Out 2022: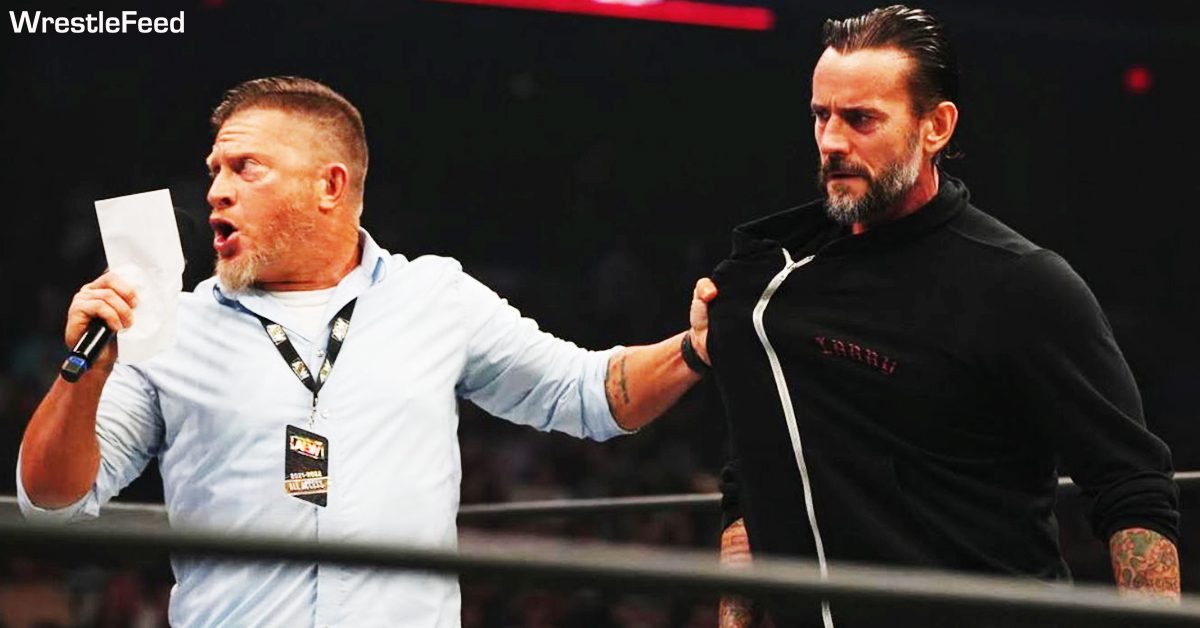 There was interest from IMPACT Wrestling in bringing Steel in for a tryout recently, but Steel passed on the offer because the belief was that he was heading back to AEW.
According to the Wrestling Observer, WBD Officials think Tony Khan is going to work things out with Punk before the premiere of Collision:
"There were people who thought this was the ultimate blow-up, and Punk screwed Tony on Tony's big announcement on Tony's big day to WBD.
From the WBD side, because nobody from the AEW side has talked about this at all nor confirmed any of this, from the WBD side, they have said their belief is there will be an attempt to work it out. They're hopeful that they work it out and it's not a dead deal.
This is the situation. The United Center is booked, but if there's no Punk, do you go to a different arena? Do you go to the United Center without Punk? Because if you go to the United Center, everyone is going to assume, even if you announce him or not, that he's going to be there."
The location of the premiere episode of AEW Collision will be officially announced next week.