• On This Day In WWF History (September 6, 1999) – WWF RAW IS WAR
On this day in 1999, the World Wrestling Federation aired another episode of their weekly TV show 'WWF RAW IS WAR'.
It was LIVE from the Civic Center in Hartford, Connecticut and featured matches & segments on the road to the 'WWF Unforgiven 1999' PPV.
Here's the card:
1. WWF World Tag Titles: Mankind & The Rock vs. Kane & X-Pac
2. Jeff Jarrett vs. Jacqueline
3. No.1 Contenders Match: Christian & Edge vs. The Acolytes
4. The Big Show vs. Val Venis
5. Gerald Brisco & Pat Patterson & Test vs. Mean Street Posse
6. The Hollys vs. New Brood
7. D-Lo Brown vs. Steve Blackman
8. Hardcore Match: Ivory vs. Tori
9. WWF World Heavyweight Title: Triple H vs. Mr. A$$
• Reby Hardy Says Matt Hardy Suffered A Concussion At AEW All Out, AEW Is Hiding It To Protect Itself
As we noted earlier, Matt Hardy's wife, Reby Hardy, was very angry at what happened with her husband during last night's AEW All Out 2020 pay-per-view.
Hardy was supposed to land on a Table, but missed and he landed on the concrete floor. Hardy's head bounced off the floor and the match almost got stopped because of this bump.
You can watch it below:
In an update on Hardy's condition this morning, Reby stated on Twitter that Hardy suffered a concussion and he's still in the hospital.
"They needed additional imaging done after his CT. He's still in the hospital. 1000% concussion. Anyone with eyes could have told you that tho."
When a journalist questioned the contradictory statements of AEW and Reby Hardy, she responded:
"Gee, I wonder. Could it be the company trying to justify & protect itself from backlash or the family with no stake in this who now has to deal with the repercussions? I guess we'll never know 🙄 "
Due to some fans being intolerant towards Reby for her comments about AEW, she has turned her Twitter account private.
You can view the screenshots of her tweets below: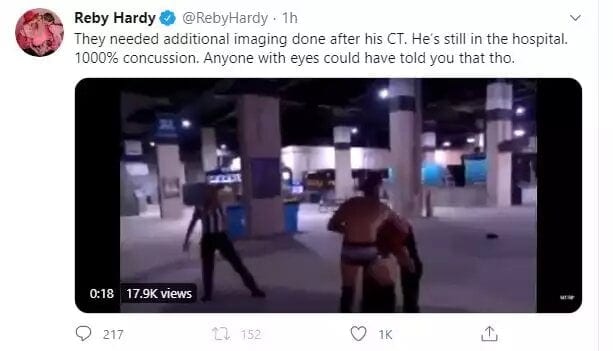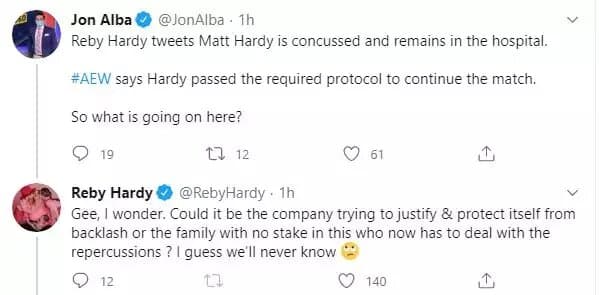 Also Read: "Talk about f***ing marrying down" – Jim Cornette On Renee Young Marrying Jon Moxley