Up next is the main event of the evening and it's the 30 man Royal Rumble match!
Two time WWE Hall of Famer Booker T comes out for commentary for this match.
Michael Cole announces that Rusev & Bobby Lashley will no longer be a part of this match as they were involved in a backstage brawl.
#1 Entrant – WWE Champion "The Beast" Brock Lesnar makes his way out first!
#2 is Elias from SmackDown. Elias disrespects Brock with a song and Brock goes running out of the ring to attack Elias!
Brock hits Elias in the back with his Guitar, but he didn't do it correctly and the Guitar didn't break.
Oh no. @BrockLesnar #RoyalRumble pic.twitter.com/Q0ZsJhToLH

— Italo Santana (@BulletClubIta) January 27, 2020
Brock then throws Elias out of the ring.
Eliminated: Elias
#3 is RAW's 315 lbs monster, Erick Rowan. Brock immediately eliminates Rowan! Rowan got eliminated in 8 seconds.
Eliminated: Erick Rowan
#4 is Robert Roode. Roode delivers a series of punches to Lesnar and a boot to the face in the corner, but Lesnar comes back with a Clothesline and an F5!
Fans chant "one more time", but Lesnar throws Roode over the top rope.
Eliminated: Robert Roode
#5 is John Morrison. Morrison enters the ring and immediately gets kicked and Lesnar suplexes Morrison out of the ring! Morrison eliminated in 9 seconds!
Eliminated: John Morrison
WELCOME BACK JOHN MORRISON!!! @BrockLesnar #RoyalRumble pic.twitter.com/YyWtL7wsyc

— Italo Santana (@BulletClubIta) January 27, 2020
#6 is Kofi Kingston. Kofi tries to fight Lesnar, but Lesnar delivers a devastating German Suplex to Kofi!
#7 is Rey Mysterio! Lesnar takes down both Rey & Kofi with a double clothesline! Lesnar delivers a German Suplex to Mysterio and then to Kofi.
#8 is Big E. Big E, Kofi & Rey all attack Brock. Kofi hits Brock with the Trouble In Paradise, Big E hits Big Ending and Rey hits the 619 on Brock!
Brock eliminates Rey and then clotheslines Big E out of the ring and then puts his attention back on Kofi. Brock F5s Kofi out of the ring!
Eliminated: Rey Mysterio
Eliminated: Big E
Eliminated: Kofi Kingston
Brock has eliminated 7 wrestlers already!
#9 is Cesaro. Cesaro delivers uppercuts to Brock, but Brock fires back with knees and a suplex. Brock then clotheslines Cesaro out of the ring!
Eliminated: Cesaro
Brock poses with his WWE Championship while he awaits the next participant.
#10 is Shelton Benjamin. Brock smiles as they are former tag team partners. Paul Heyman shakes Shelton's hand and hugs him.
Brock & Shelton hug in the ring and they plan on teaming up against other wrestlers, but Lesnar turns on him! Lesnar suplexes him and then eliminates him from the match!
Eliminated: Shelton Benjamin
#11 is Intercontinental Champion Shinsuke Nakamura. Lesnar and Nakamura have faced each other before in New Japan Pro Wrestling.
Nakamura takes down Lesnar with a few shots and a kick to the head. Nakamura goes for the Kinshasa, but Lesnar counters and throws him out of the ring!
Eliminated: Shinsuke Nakamura
Lesnar has now eliminated 10 straight opponents.
#12 is former WWE Superstar MVP! Lesnar is dancing to MVP's theme song! MVP chases Heyman, but Lesnar grabs him and brings him in the ring.
Lesnar F5s MVP and then eliminates him. 11 Wrestlers eliminated by Lesnar so far.
Eliminated: MVP
#13 is NXT North American Champion Keith Lee and Lesnar is surprised! Lesnar & Lee exchange some big shots and both of them go down with a double clothesline!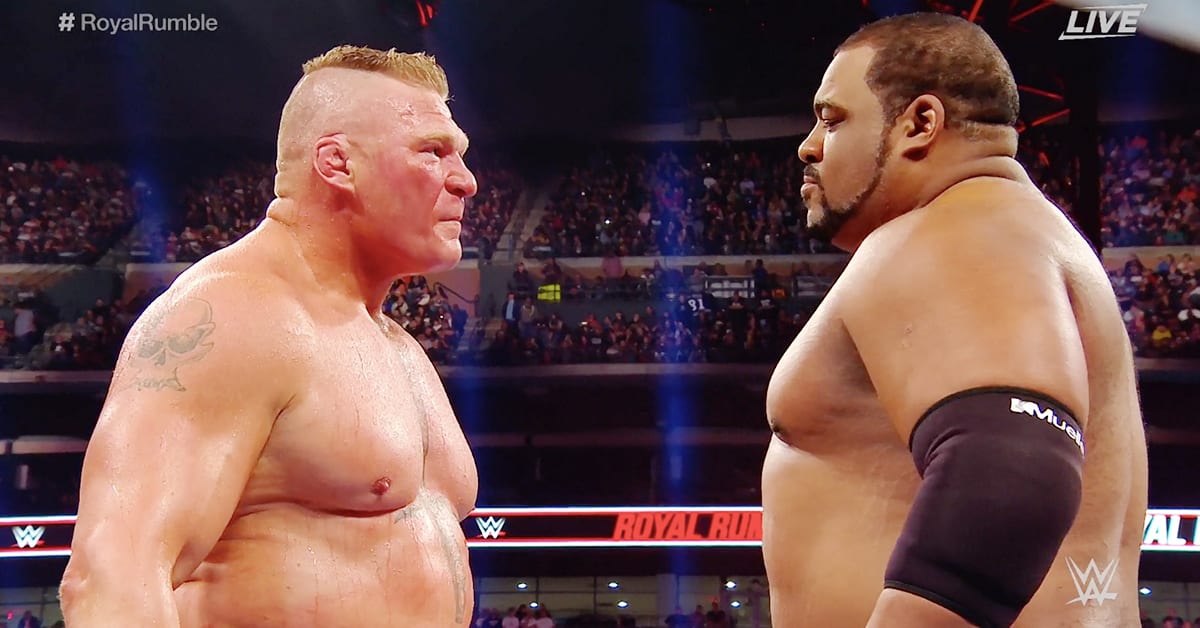 #14 is Braun Strowman!
Lesnar takes both of them down with Suplexes. Braun & Keith are fighting now and Lesnar eliminates both of them!
Eliminated: Keith Lee
Eliminated: Braun Strowman
#15 is Ricochet. Lesnar suplexes Ricochet. #16 is Drew McIntyre!
McIntyre & Lesnar face off. Lesnar is removing his gloves and Ricochet low blows Lesnar from behind.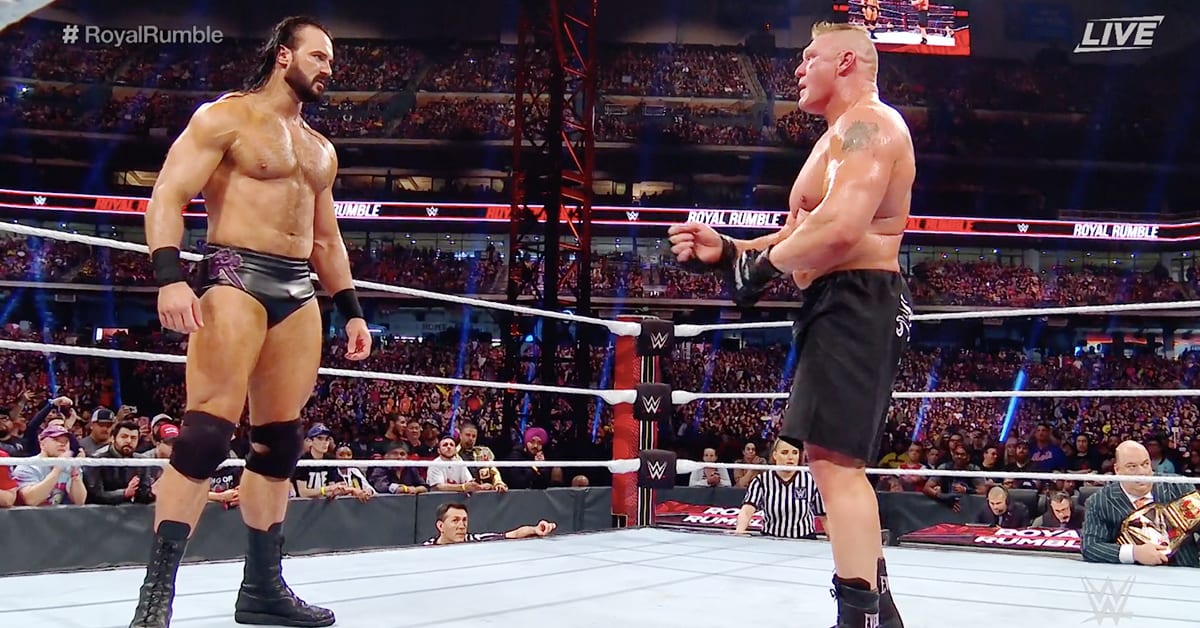 McIntyre then hits a Claymore Kick on Lesnar and eliminates him from the match!
Eliminated: Brock Lesnar
Brock broke the record for most eliminates in the Royal Rumble match with 13 (equalling Stowman's record from Greatest Royal Rumble).
McIntyre throws Ricochet out of the ring after this!
Eliminated: Ricochet
#17 is The Miz. He gets hit with the Claymore Kick and gets eliminated.
Eliminated: The Miz
#18 is AJ Styles, #19 is Dolph Ziggler and #20 is Karl Anderson.
#21 is WWE Hall of Famer Edge! Edge has come out of retirement and he's spearing everyone!
ON THIS DAY… I SEE @EdgeRatedR CLEARLY!

➡️ https://t.co/NsQTgz3q4X pic.twitter.com/H6YXykb3NI

— TDE Wrestling (@tde_wrestling) January 27, 2020
Spear from @EdgeRatedR!!

➡️ https://t.co/NsQTgz3q4X pic.twitter.com/vY8IMujAtC

— TDE Wrestling (@tde_wrestling) January 27, 2020
Eliminated: AJ Styles
#22 is King Corbin and #23 is Matt Riddle from NXT. Corbin eliminates Riddle.
Eliminated: Matt Riddle
WATCH: WWF Diva Sable's Bare Buns Exposed: