This is part 2 of our Royal Rumble 2022 live coverage (part 1 is here).
Up next is the Women's Royal Rumble 2022 match. Entry #1 is Sasha Banks and Entry #2 is Melina!
Melina did her iconic split during her entrance, but she got quickly eliminated by Sasha.
Eliminated: Melina
#3 is Tamina and #4 is Kelly Kelly. Tamina eliminated the former WWE Divas Champion.
Eliminated: Kelly Kelly
#5 is Aliyah. #6 is Liv Morgan. #7 is WWE Women's Tag Team Champion Queen Zelina Vega. Zelina eliminates Sasha!
Eliminated: Sasha Banks
#8 is Bianca Belair, who won the Women's Royal Rumble last year. She went on to main event Night 1 of WrestleMania 37, where she defeated Sasha Banks to win the SmackDown Women's Championship.
#9 is Dana Brooke. #10 is Michelle McCool. McCool kicks Dana out of the ring, but Reggie catches her and puts her back in the ring. But McCool eliminates her.
Eliminated: Dana Brooke
McCool hits her finisher on Zelina, before being taken down by Tamina.
#11 is Sonya Deville. Sonya went straight to the commentary table. She says she's wearing her jacket right now, which means she's a WWE Official at the moment. She will enter the match when the time is right.
#12 is Natalya. Bianca eliminates Tamina.
Eliminated: Tamina
#13 is Cameron, the former Funkadactyl. Since she's a former tag team partner of Naomi, Sonya removes her jacket and enters the match. She attacked Cameron right away. Sonya eliminates her.
Eliminated: Cameron
#14 is Naomi. She checks on Cameron first, then enters the ring and brawls with Sonya. Naomi eliminates Sonya.
Eliminated: Sonya Deville
#15 is WWE Women's Tag Team Champion "The Most Beautiful Woman In All Of WWE" Carmella. She is just standing at ringside, isn't entering the match.
#16 is Rhea Ripley. Ripley brings Carmella in the ring and eliminates the Tag Team Champions!
Eliminated: Carmella
Eliminated: Queen Zelina Vega
#17 is SmackDown Women's Champion Charlotte Flair. She eliminates Aliyah.
Eliminated: Aliyah
Charlotte pushes Naomi out of the ring, but she lands on her hands, with feet balancing on the ropes. Sonya then grabs Naomi's arms and pulls her out of the ring.
Eliminated: Naomi
#18 is Ivory of Right To Censor. She bad mouths today's female wrestlers. Ripley picked her up and put her on the ring apron and then pushed her out of the ring while Ivory was still talking.
Eliminated: Ivory
#19 is Brie Bella. #20 is IMPACT Wrestling's Knockouts World Champion Mickie James and she came out to her Hardcore Country theme song. McCool attacked her right away, but she managed to eliminate her.
Eliminated: Michelle McCool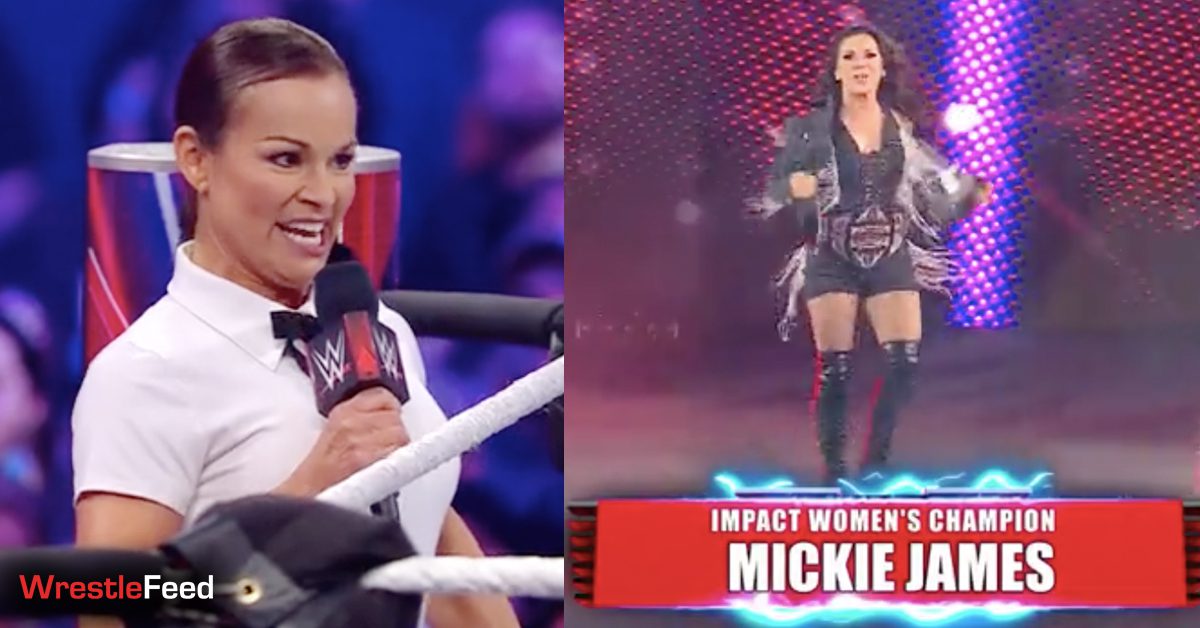 #20 is Alicia Fox. #21 is Nikki A.S.H. and she went right after Ripley. #22 is Summer Rae. Natalya eliminated her.
Eliminated: Summer Rae
#24 is Nikki Bella. The Bella Twins team up to eliminate Liv Morgan.
2️⃣4️⃣ Nikki @BellaTwins is back in action at #RoyalRumble! pic.twitter.com/UBaTHZAZYg

— WWE (@WWE) January 30, 2022
Eliminated: Liv Morgan
#25 is Sarah Logan and The Bella Twins eliminate her.
Eliminated: Sarah Logan
#26 is Lita! She gets a huge pop! She eliminates Mickie.
Eliminated: Mickie James
#27 is Molly Holly and Nikki A.S.H. attacked her outside the ring. She then eliminated her.
Eliminated: Molly Holly
#28 is Ronda Rousey! Brie eliminates Nikki and Ronda eliminates Brie.
2️⃣8️⃣ 🤯🤯🤯🤯#RoyalRumble @RondaRousey pic.twitter.com/yYaGkX0fkU

— WWE (@WWE) January 30, 2022
Eliminated: Nikki Bella
Eliminated: Brie Bella
#29 is Shotzi. #30 is Shayna Baszler and Ronda is happy to see her friend. Rousey eliminates Shotzi and Bianca eliminates Natalya.
Eliminated: Shotzi
Eliminated: Natalya
Charlotte eliminates Lita & Rhea.
Eliminated: Lita
Eliminated: Rhea Ripley
Charlotte eliminates Bianca and Shayna at the same time!
Eliminated: Bianca Belair
Eliminated: Shayna Baszler
Only Ronda & Charlotte are left. Ronda eliminates Charlotte to win the match!
Eliminated: Charlotte Flair
Ronda Rousey wins the Women's Royal Rumble 2022 Match
👏👏👏👏#RoyalRumble #WrestleMania @RondaRousey pic.twitter.com/HZ93RoKbrM

— WWE WrestleMania (@WrestleMania) January 30, 2022
Also Read: Ronda Rousey's WrestleMania 38 Opponent Revealed
Announcement: The #1 prize of the WrestleMania 38 season of our WrestleMoney league is $1,000! Download our WrestleFeed App to take part for free! Tap here to download.
WATCH: Kelly Kelly Exposes Her Big Buns: