• Old School WWF Veteran Celebrates His Birthday
Old School WWF Veteran "The Natural" Butch Reed (Real name: Bruce Reed) celebrates his 65th birthday today.
Most Old School Wrestling Fans remember Butch Reed for his time in Bill Watts' Mid-South Wrestling (1983-1986), the World Wrestling Federation (1986-1988) and Ted Turner's World Championship Wrestling (1988-1992), where he formed a famous Tag Team with Ron Simmons called 'Doom'.
During his time in the WWF, Reed was considered to become the Intercontinental Champion, but the decision was changed, when Reed no-showed an earlier house show, so they decided to put the belt on The Honky Tonk Man instead.
Unlike his former Tag Team partner Ron Simmons, Butch Reed has not been inducted into the WWE Hall of Fame yet, which might not happen anytime soon either, as he was named part of a lawsuit against the WWE regarding traumatic brain injuries, which was dismissed in September 2018.
HAPPY BIRTHDAY BUTCH REED!
• Sami Zayn Possibly Spoils SummerSlam 2019 Plan (Photo)
While responding to a fan tweet on Twitter, Sami Zayn might have spoiled WWE's plan for SummerSlam 2019. You can check out a screenshot of a tweet that Sami posted below: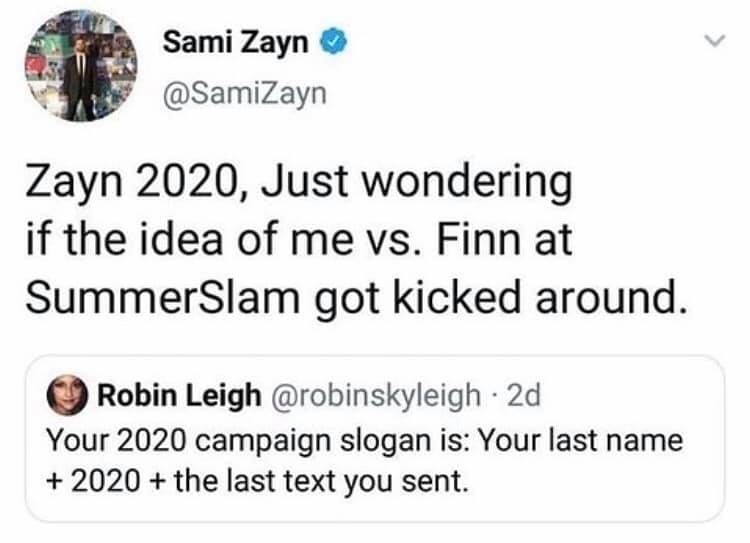 Sami went on to delete this tweet later and this began speculation among fans that Zayn might have spoiled upcoming SummerSlam 2019 plan.
Balor is currently feuding with Shinsuke Nakamura. The two faced off in a non-title match on this week's SmackDown and Balor lost clean to Nakamura.
You can watch it below:
No word yet on if WWE is indeed going to add Zayn to the Intercontinental Title picture heading into SummerSlam 2019.
Announcement: Please download our official "WrestleFeed" app for the latest WWE News & Extreme Rules 2019 updates!
Below are the download links for our Android/iOS app:
Android – http://bit.ly/2IVQ3yU
iOS – https://apple.co/2Oido0R