• Old School WWWF Legend Would Have Celebrated His Birthday
Today would have been the 98th birthday of Old School WWWF Legend Antonino Rocca (Real name: Antonino Biasetton).
Rocca wrestled for Vince McMahon Sr.'s Capitol Wrestling Corporation (which in 1963 was renamed "World Wide Wrestling Fderation") from 1949 till the 70s.
In 1995, he was posthumously inducted into to WWF Hall of Fame (now known as WWE Hall of Fame) by then World Wrestling Federation World Heavyweight Champion Diesel.
HAPPY BIRTHDAY & † REST IN PEACE!
April 13, 1921 – March 15, 1977
• Sasha Banks Now Hinting That She's Going To AEW, Becky Lynch Challenges Her To A Fight
As we noted before, Sasha Banks asked for her WWE release when she found out she was going to lose the WWE Women's Tag Team Titles at WrestleMania 35.
According to Ryan Satin, Sasha Banks & Bayley laid down on the floor in the locker room and in the Hotel outside their room after they found out they were losing the WWE Women's Tag Team Titles at WrestleMania 35.
Sasha & Bayley made a fool out of themselves by pulling this move as doing something like this won't change Vince McMahon's mind one bit.
Heard from a few sources now saying Sasha Banks and Bayley were laying on the floor of the locker room on Sunday, and back at the hotel in front of one of their rooms, loudly making it known they were unhappy about losing the tag titles.

— Ryan Satin (@ryansatin) April 12, 2019
This info is from four different sources I've spoken with the past day. All independent from each other and all came to me about it, not the other way around.

— Ryan Satin (@ryansatin) April 12, 2019
Well damn pal. I heard this also but didn't want to report simply because I didn't believe it. However if @ryansatin heard it as well, good chance it's true. And it's beyond immature of both Sasha & Bayley. Get over it. https://t.co/T0wluVEO36

— WrestleVotes (@WrestleVotes) April 12, 2019
Sasha also took a shot at WWE by posting a photoshopped graphic of WWE Champions over the years by putting her face on them and writing the following:
"If haters only knew!! You know it, I know it, I should be the champion, headline and face of this company but I guess I need to be blonde with fake b00bs….#bossout"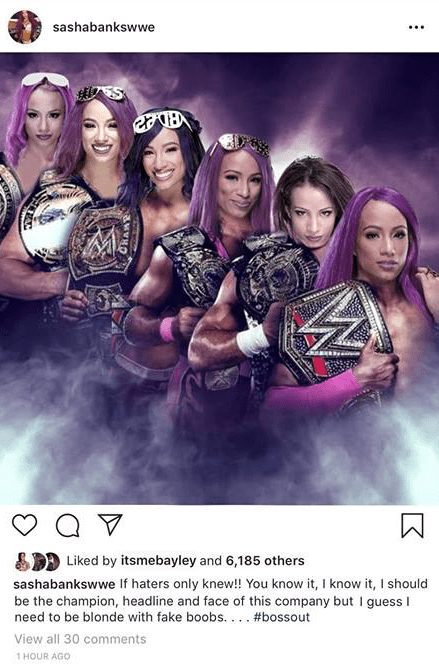 Sasha later deleted this post, but as seen in the above screenshot, Bayley liked Sasha's post.
Sasha is now teasing fans about the possibility of going to All Elite Wrestling. Sasha unfollowed WWE and Vince McMahon on Twitter, and went on to follow AEW.
Took me ages to find the inspiration behind this gear but it finally became clear to me, should have known pic.twitter.com/srslO8tvL9

— Dan the Wrestling Fan ?? (@danthegrapsfan) April 12, 2019
With all of this going on, RAW & SmackDown Women's Champion Becky Lynch tweeted the following:
.@SashaBanksWWE, fight me.

— The Man (@BeckyLynchWWE) April 12, 2019
WATCH: Revealing Photos Of John Cena's Ex-Wife Go Viral: